Naples does not go gently into anyone's good night.
The sun may set, but the city always seems capable of kicking into a new gear, seems to find a new kind of energy. What had been a bright, electrifying city in the daytime becomes a vast, pulsating organism in the darkness. Move southwards, however, and the night takes on a different quality. Here, orange clusters of light glow softly against the blackness of sea and land. The blaring clubs are a long way off and instead small towns appeal to us with gentle siren songs, offering peace and pleasure for our often-weary journeys.
Sunrise reveals new wonders. We behold picturesque towns teetering precariously above the glittering seas. We see stately villas perched in mid-air; cathedrals that occupy any available openings in the rock face; cafés, restaurants and throngs of people that gather like children at their feet. Rugged yet refined, the Amalfi Coast epitomizes perfectly the natural drama and cultural elegance we speak of when we speak of Italy.

Once a string of modest fishing villages, the towns around Amalfi soon became the home of Emperors. Drawn by in by the region's abundant resources and strategic positions, Tiberius and Augustus were among the first to apprehend the qualities that would later allow the Duchy of Amalfi to evolve into a maritime republic that could rival Venice in the Middle Ages. Nineteenth-century aristocrats on their "Grand Tours" added prestige to the region; intellectuals and artists, a sprinkle of inspiration; film stars, a squeeze of glamour and wealth. By the time you and I plan our trip the cat has not just been let out of the bag—it's been to college, got married, and set up a family in an up-and-coming bag somewhere very far away.
Fortunately for us, the relative lack of infrastructure connecting these separate conurbations over the centuries means that each town has managed to preserve some of those distinct characteristics that differentiate it from the next. In this article we'll take our own Grand Tour down the coastline, starting in Sorrento and ending in Vietri Sul Mare. The Amalfi Coast is perfection incarnate but is diverse enough to accommodate everyone, from celeb spotters, to nature lovers, to book nerds.
Hopefully, if I do my job right, by the time you've finished reading this article you'll know which town on the Amalfi Coast best encapsulates your perfect type of perfection.
1. Sorrento

Once the playground of Europe's rich and famous, Sorrento is a fairly small town with a glamorous past. As the northern gateway to the Amalfi Coast, Sorrento benefits from easy access and offers spectacular sweeping views over the bay, meaning that it's a very popular destination for first-time visitors.
The food and drink are excellent. Lemon groves are a key feature of the region and Sorrento is one of the best places to taste the delicious local limoncello, an obligatory part of every trip. The Piazza Tasso, the central square, is home to the town's best cafés and is the perfect spot to set up shop with a newspaper, or simply watch the world go by. The Museum Correale houses a decent art collection in an 18th Century villa, and while the 15th Century Cathedral is perhaps not as striking as some in the area, it's still worth your time to investigate.
Pros: Easily accessed. English quite widely spoken. Stunning views.
Cons: A little more crowded than some spots. On the more expensive side.
Perfect for: Explorers. It's the perfect destination for people who intend to combine their visit with a trip to Naples or Pompeii.
2. Capri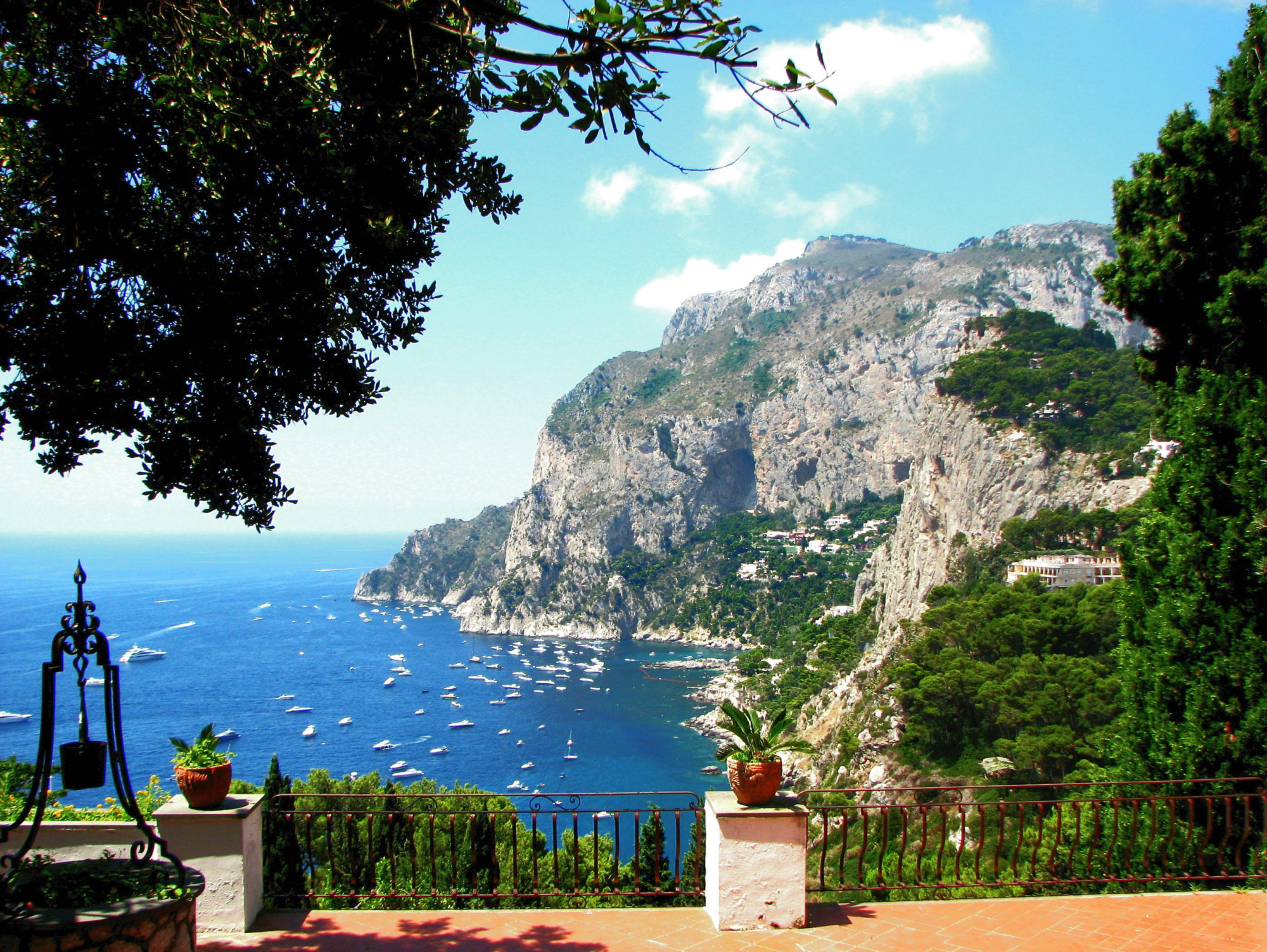 Brigette Bardot, Clark Gable and Sophia Loren, these are just some of the names whose presence in Capri during cinema's Golden Age helped create it as a space of style and elegance in the public imagination. Not that Capri needs much help, of course. But beyond the glittering façade there's actually a lot to see and do on this small island on the Amalfi Coast.
Among the highlights are the ruins of Villa Jovis in the North East. The Roman Emperor Tiberius, fearing assassination, founded the villa as a safe refuge, and governed from there until his death in 37 AD. It's now one of the best-preserved Roman villas in all of Italy. Capri was also the former home of Maxim Gorky, a prominent Soviet intellectual who once played host to Vladimir Lenin himself in Capri. A monument to their meeting now stands in the Gardens Augustus in Central Capri.
Perhaps the most unforgettable of all Capri's many treasures, though, is the Grotta Azzurra, or "Blue Grotto". Strange natural lighting means that the water in this naturally formed cavern takes on a shade of blue that is deeper and richer than you'd think possible. It's a popular destination so be prepared for long queues; however, if you go towards the end of the day then it's less likely you'll have to wait around, and less likely the pilot of your boat will hurry to rush you out.
Pros: Lots to see. Charming streets and squares. A touch of glamour.
Cons: Can get crowded. Expensive.
Perfect For: Instagrammers, historians and movie buffs.
3. Nerano

Our next stop along the coast is the small, quiet town of Nerano. Prices here are much more reasonable and there are fewer human bodies competing for space, so it's a great place to unwind. Despite being smaller than its coastal cousins, Nerano still has plenty to be proud of. Its local cheese and spaghetti dishes are among the best in the region and its also home to a Marine Reserve, making it an ideal spot for those with an interest in diving or snorkeling.
Pros: Quiet. Relatively inexpensive. Secluded beaches with marine diversity.
Cons: A little too quiet, perhaps?
Perfect for: Literature lovers. The peaceful vibe is perfect for reading, and it's also said to be the spot where The Sirens beckoned to Odysseus in Homer's Odyssey.
4. Positano

Arguably the brightest gem in the crown of the Amalfi Coast, and by consequence, it's most crowded, Positano's reputation rests on the idea that it's the most quintessential and picturesque town on La Costiera. If you're not put off by large crowds, then Positano certainly has a lot to offer. The pastel-colored houses that line the cliff faces are an undeniably spectacular site, especially at dusk when each window seems to invite entry into a unique world of sensuous pleasure. The trattoria and gelateria are among the region's best, as are the boutique shops, meaning the town attracts everyone from local Italian holidaymakers to A-list celebrities. If you need a bit of break then Arienzo Beach, a short walk from the main marina, provides a slightly quieter spot for swimming and sunbathing.
Pros: Beautiful setting. Lively nightlife. Good beaches
Cons: Very crowded in peak season. Very expensive.
Perfect for: Families and luxury seekers.
5. Praiano

Praiano, a beach lover's paradise between Positano or Amalfi, is less busy than its more illustrious neighbors. Wide, spacious sands offer plenty of room to spread out and enjoy a slice of the coast to yourself—it also benefits from sunshine all day long. Those long hours of daylight can make it feel like the sun never sets sometimes, but when it does you're sure to notice: Praiano is famous in the region for its glorious sunsets. Climb the cliffside to watch the evening draw in and Praiano's fortuitous setting will reward you with views that lead the eye down the coast to Positano, and on towards Capri.
The nearby town of Conca dei Marini is home to the Grotta dello Smeraldo, another sea cave that is bigger and less frequented than the one on Capri. Unlike Capri, here the water deepens from royal blue to emerald green as the light changes throughout the day. Maybe a spot to try a time-lapse photo?
Praiano is also one potential starting point for the rather grandiloquently named "Path of the Gods", a relatively gentle hiking trail that winds over the clifftops towards Nocelle, a small town just east of Positano. Prepare to annoy your companion with audible gasps as each small town and cove comes into view below.
Pros: Excellent Beach. Hiking.
Cons: Not as easily accessible
Perfect For: Nature lovers, honeymooners and romantics.
6. Amalfi

In my mind's eye I sometimes think of the Amalfi coast like a chessboard. Sorrento and Salerno are the rooks and Positano is the Queen—the town with the widest reach and biggest influence. Amalfi, however, is the King. This is the lynchpin, the crown jewel, the seat of power and the center around which everything is built.
Like its sister towns, Amalfi is picture-postcard beautiful. The duomo, easily the most stunning on the whole coastline, is the centerpiece and has an interesting history to boot. After the "Sack of Constantinople", in 1204, the remains of the Apostle Andrew were removed and transported to Amalfi, where they still stand to this day. The duomo was built around these relics and is particularly striking for the ways in which it blends Arabic architectural influences with the more traditional Norman and Romanesque styles of the age. Arabic influence is also felt in the local production of "bambagina", a sort of robust and valuable writing paper that has been made in the town since the Middle Ages and can still be bought today.
Pros: History. Architecture. Art.
Cons: Crowded and more expensive
Perfect For: People who want to be at the heart of the action.
7. Ravello

In the hills above Amalfi lies the town of Ravello, a rarefied, harmonious kind of place that feels like an eyrie perched high above the clutter of the human world. This is a space of stately villas and manicured gardens where the scents of flowers mix with the sea air to leave you feeling a little bit like you're in a slightly fantastic but particularly pleasant dream. One of its most famous former residents, the writer Gore Vidal, set up camp in a villa called La Rondinaia (The Sparrow's Nest), a retreat which he described as "a wonderful place from which to observe the end of the world".
Two of Ravello's finest villas are the Villas Cimbrone and Rufolo, and you'd be hard pressed to find two more elegant spaces anywhere in Italy. In 1880 the German composer Richard Wagner visited the latter of these and was so besotted with the place that he used it as inspiration for his opera Parsifal. To honor his visit, and somewhat controversial legacy, the town of Ravello now hosts a music and arts festival in his memory every year.
Pros: Beautiful gardens. Not too crowded. Views to die for.
Cons: Not on the beach.
Perfect for: Botanists, musicians and those who like their art "highbrow". 
8. Vietri sul Mare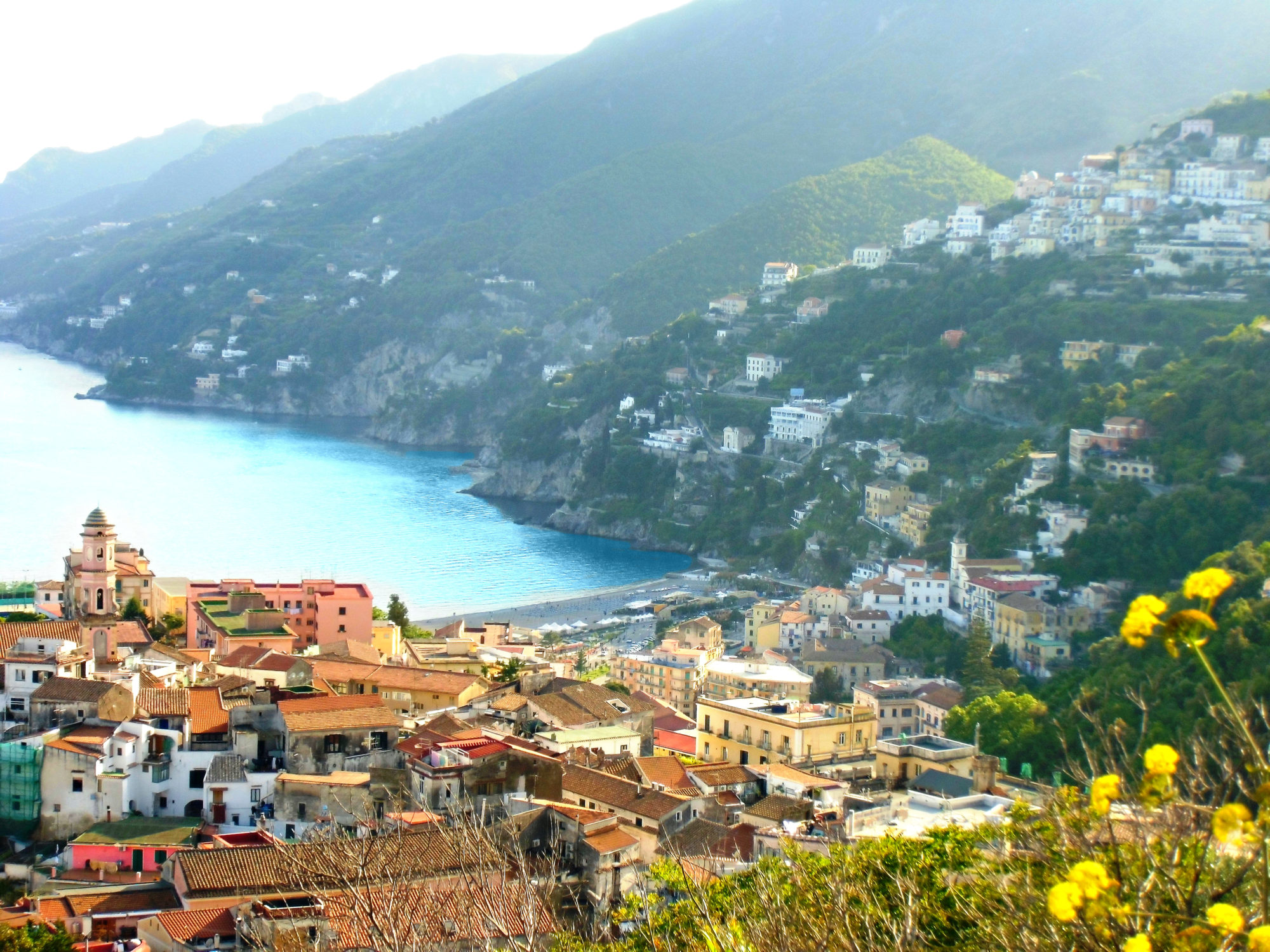 The last stop on our trip down the Amalfi coast takes us to Vietri sul Mare. This is a very small town and not really set up for tourists, so it's a different sort of prospect than some of the towns we've encountered far, but let me try to make the case for a visit nonetheless.
Traveling south, Vietri is only accessible via the "Road of 1,000 bends", a narrow and occasionally precipitous thoroughfare that can be a bit tricky to navigate, even for experienced drivers, so let the buses do the work if you have the option. English is not widely spoken here and some of the amenities lag a little behind the rest of the coast. Vietri more than makes up for that, though, with rustic charm by the bucketload. If you want to see what the Amalfi coast really was before the jet-set discovered it, this is the place for you.
Vietri is a charming but basic fishing village. Lightweight boats bob lazily in the harbor and not a whole lot seems to happen. That sounds pretty good to me, but if you're looking for something extra then you'll find it in Vietri's age-old ceramics tradition, known as majolica. Arts and crafts aren't always my thing, but this stuff really is beautiful. Striking, creative and authentic, it's the perfect memento to take home from your trip. Even if you're reluctant to buy, take a few shots of the brightly colored dishes piled high in the shopfronts and you'll know you've been somewhere really different.
Pros: An authentic experience of small-town life
Cons: A bit tricky to reach, English not widely spoken. Not as beautiful as Amalfi, Ravello or Positano.
Perfect For: Getting off the beaten path.

The Amalfi Coast won't let you down. Whether you're planning a bit of rest and relaxation after Naples, a family holiday the kids will never forget, or a romantic getaway, the Amalfi Coast has it all. Yes, it's popular, but some places are popular for a reason, and no less amazing for that.
If you've read our guide and still can't decide which town is right for you then why not sail the coast and see a few? Sounds expensive, I know, but there's a way of doing it that won't break the bank. Think of IntersailClub* as the Airbnb of sea travel. Here you can reserve a cabin that will allow you to sail from town to town without the expense of chartering a boat yourself.
The Amalfi Coast is a smorgasbord. Take a nibble at each piece and see which bit tastes best to you.
Suggested next reading: Nowhere Like Naples: Why You Need To See Italy's Best Hidden Gem
---
*This is not an affiliate link. We have no financial incentive to promote InstersailClub.