In the interest of transparency, I suppose I should let you know that I may have some bias towards the picturesque city of Bath.
Firstly, because I was born there and secondly because it's absolutely awesome. Historical, cultural, architectural and totally loveable, Bath is a brilliant day out and an even better weekend stay.
But don't take my word for it, here are, in my opinion, the best things to do in Bath!
1. Roman Baths
Slap bang in the heart of Bath sits its most famous attraction. As Britain's only hot spring, the site of the Baths has always been a popular place to be. But it was when the Romans built a temple and bathhouse around the bubbling water, that the springs were really put on the map.
The water in the baths may look a suspicious shade of green but it's all very innocent. In Roman times the baths would have been covered by a large roof which would have kept the sunlight off the water. However without this cover algae flourishes and turns the pool a dramatic shade of green. All the better for atmosphere and Instagram, but not so much for interaction.
Nowadays you're not advised to touch, drink or even swim in the pool. But you can try a glass of cleaned spa water for 50p in the Pump Room restaurant next door.
Tips, tricks and tidbits:
London coach tours arrive around midday so go early to avoid queues.
Alternatively, head in late and go by torchlight. (Torches are lit at around 4pm in winter and 9pm in summer.)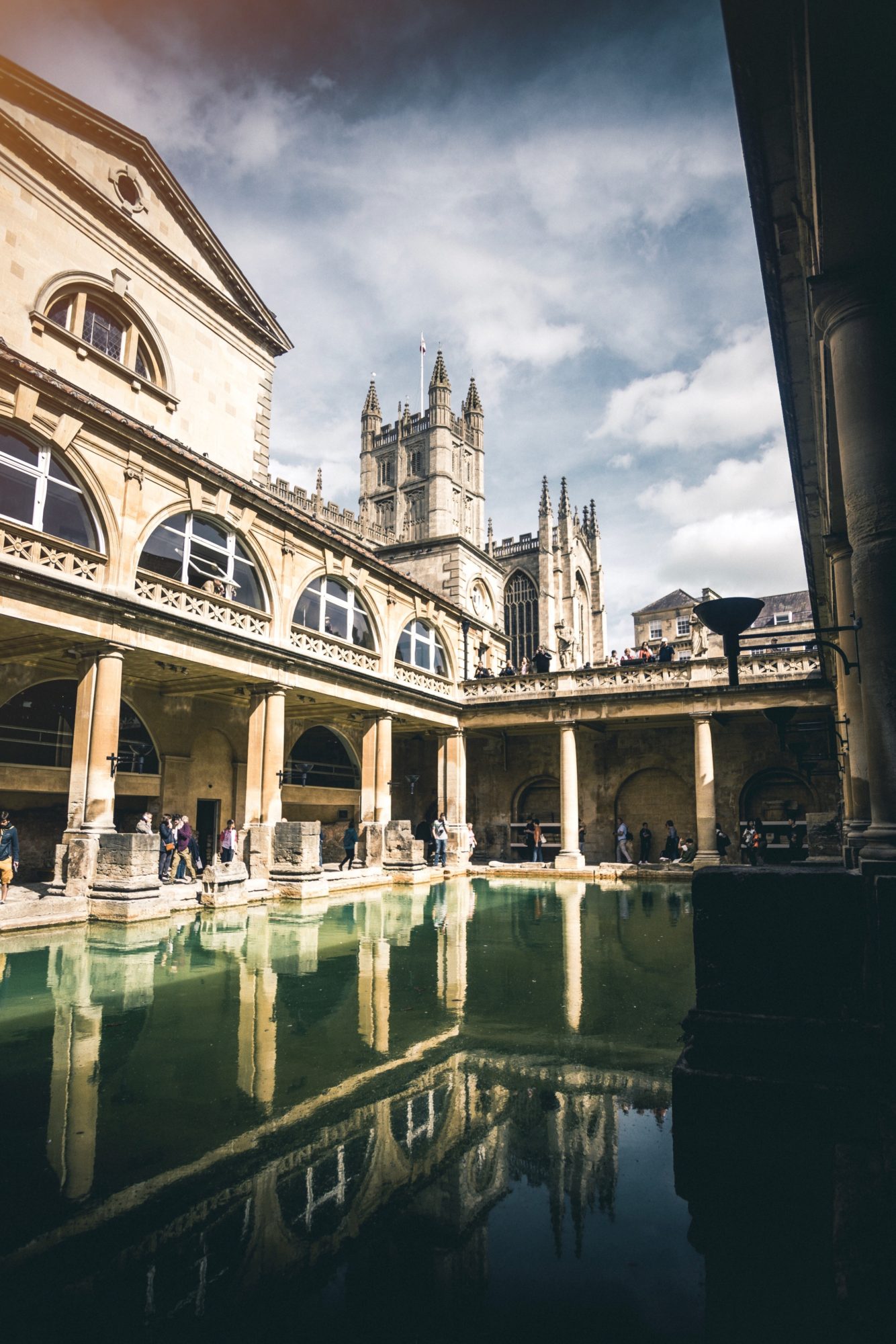 2. Thermae Bath Spa
If you're slightly disappointed you're not able to get into the mineral-rich, health improving waters then be assured that all is not lost. You can always head to the Thermae Bath Spa which uses the same beautiful spa water but cleanses it so it's safe for soaking in.
Choose from the open-air rooftop pool or the indoor Minerva Bath. Either way, you'll be echoing the experiences of Romans and Celts of over 2000 years ago. Only they probably didn't have their choice of spa treatments to indulge in afterward.
3. Bath Abbey
Just across the street from the Roman Baths stands the still working and rather beautiful, Bath Abbey. Founded in the 7th Century, it's has a slightly arduous history and has had to been rebuilt and reorganized several times. Once in the 10th, once in the 12th and finally again in the 16th Century.
However, you wouldn't tell by looking at this magnificent building today. You can take a tour of the abbey for a small fee (tours run daily 10am to 4pm). Or you can climb it's 212 steps and look at the rooftops of Bath from the Abbey's tower. You can also have a little sit inside its clock face, if that takes your fancy.
Tips, tricks and tidbits:
Be aware that as a working abbey, it has to shut occasionally for services. Just check the door for details of when it reopens and take advantage of its central location to potter around the local shops to pass the time.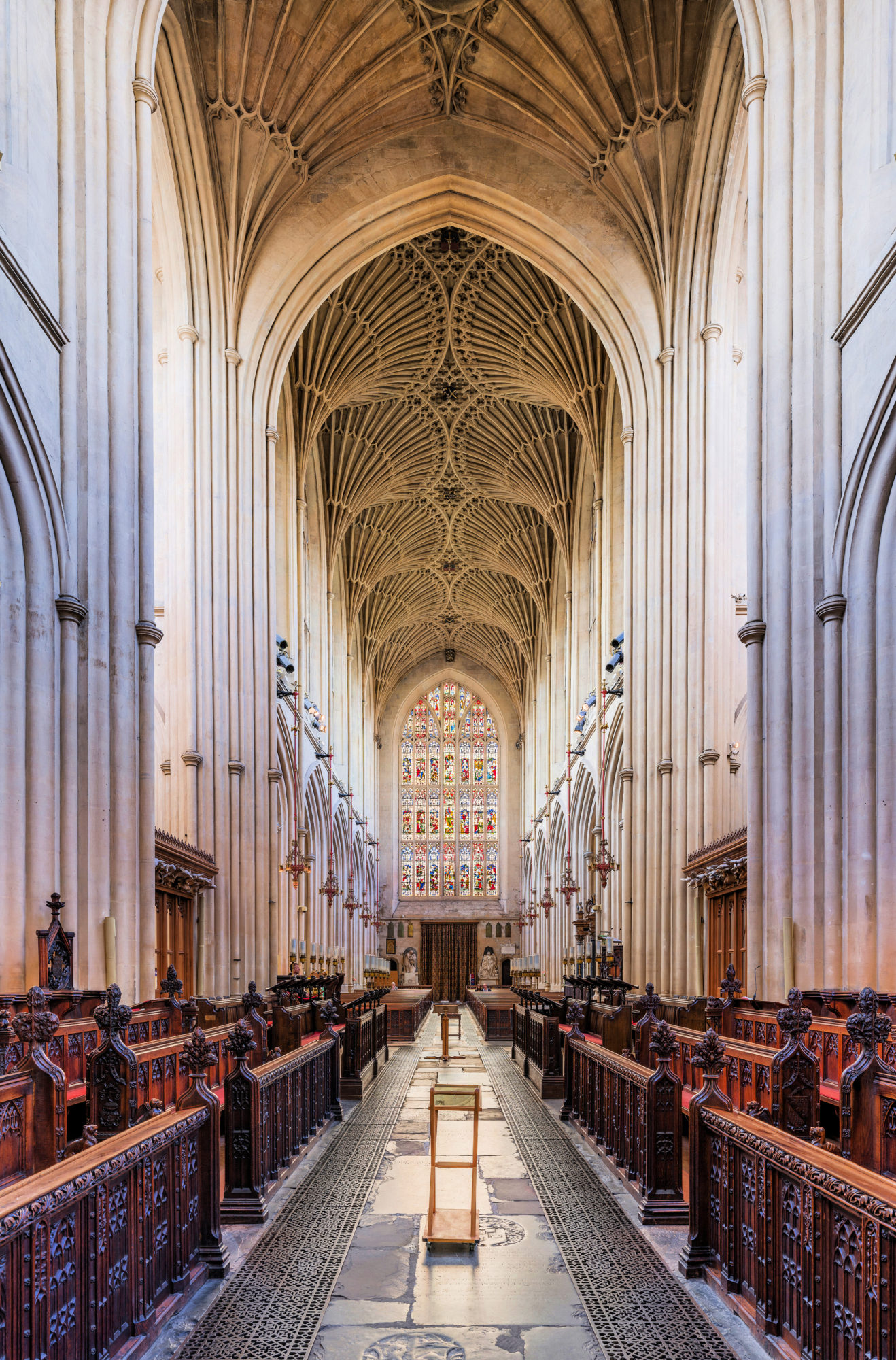 4. Pulteney Bridge
You may not have heard of Pulteney Bridge but you've probably seen a photo of it. Instantly recognizable with its horse-shoe shaped weir, the bridge was built in 1769 by Robert Adam.
Originally designed as a toll bridge between parishes, it is now one of only four bridges in the world that has shops lined up on both its sides. It really is the perfect place for a bit of chilled out retail therapy, or even to just stop and admire the scenery from one of its cafés or restaurants.
Tips, tricks and tidbits:
Budding photographers are advised to stroll across the bridge at sunrise or sunset in order to get truly breathtaking shots.
Or see the bridge from the water by popping on a boat ride right by the weir. Boats leave regularly throughout the day.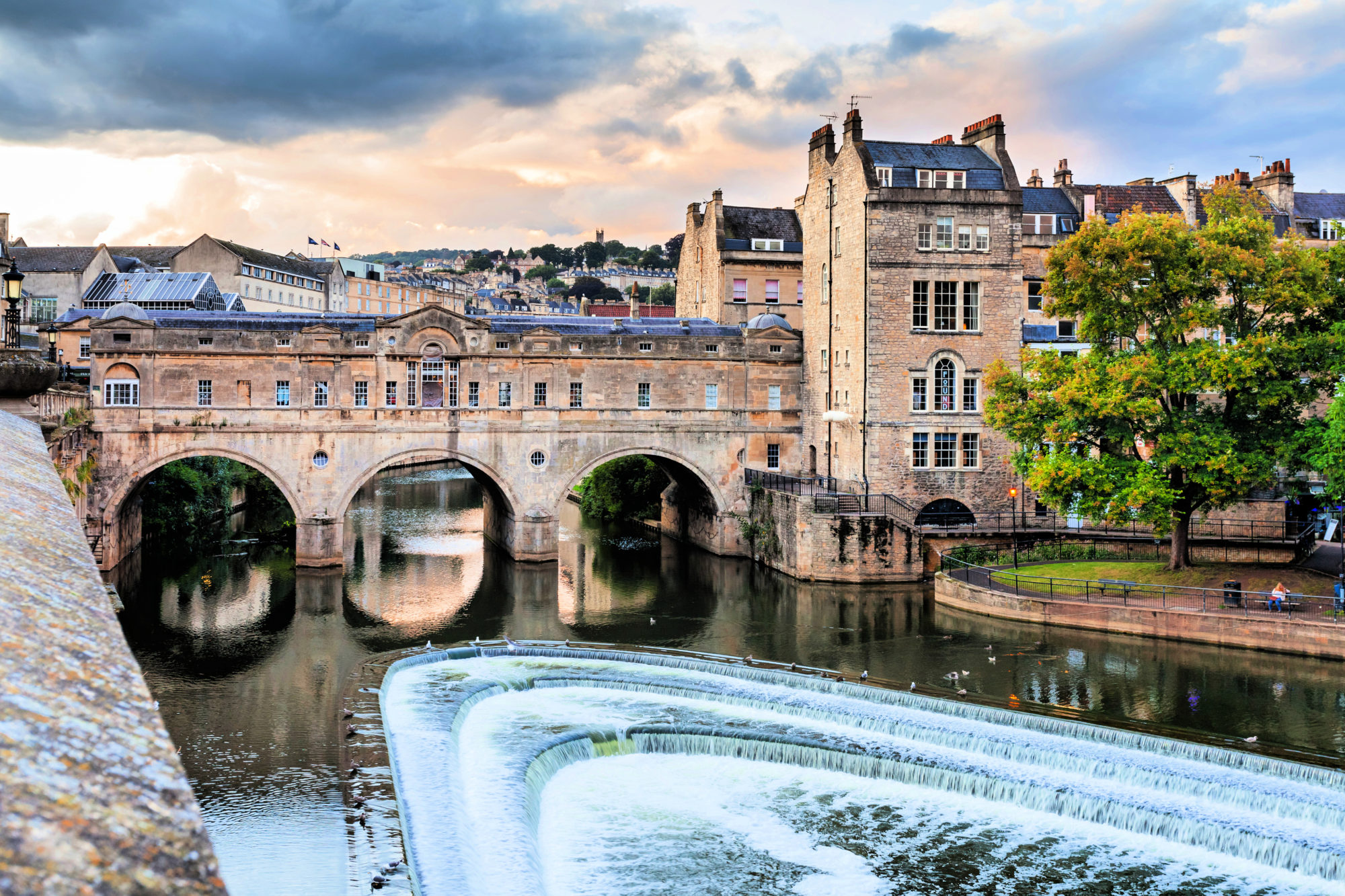 5. Bath Skyline Walk
One of the best things to do in Bath for the more active type, the Bath Skyline Walk is a 6-mile circular walk that allows you to view the rooftops of Bath without having to climb to dizzying heights.
It really says a lot about the beauty of Bath that such stunning countryside is a very short walk away. The pathway is well signposted and is peppered with wildflowers and historic sites along the way.
Tips, tricks and tidbits:
You should leave about 3 hours for this moderate walk. But if you want the views but don't have a lot of time, you can always try the shorter version. At 1 ½ hours you can retrace the steps of Georgian high society and get a little glimpse of the countryside at practically no exertion. Details can be found at the National Trust Website.
6. Have your cake and eat it too
What could be better than going somewhere new and trying the local sweet treat? That's right, trying two! Bath is famous for its Bath Bun and Sally Lunn, both of which are round, bread roll like in appearance and served alongside a good cup of tea.
So what's the difference? Well, a Bath Bun is small, sweet and sticky on top with sugar and fruit.
https://www.instagram.com/p/uAYAYKMfer/
And Sally Lunn is a much bigger and simpler brioche style bun. Excellent toasted and served with sweet or savory accompaniments.
Both also have a rich historical beginning with the Sally Lunn being invented by Huguenot refugee, Solange Luyon, or Sally Lunn as she later became known. Whilst the Bath Bun was created by Cornish doctor, William Oliver who originally used to feed it to his patients until they started putting on too much weight as a result.
Obviously the question you're now thinking is which one is better? Scholars and chefs have battled with this query for many a year and as yet no decisive answer has been found. Therefore the only thing you can really do is try both and find out for yourself.
Tips, tricks and tidbits:
If you choose to eat a Sally Lunn at the sit-down café onsite, be aware that the gigantic buns are served in halves. Usually, they serve a top half for a sweet topping and a bottom for savory but let them know if you have a preference either way.
---
These were, in my opinion, the 6 best things to do in Bath, what about you? What else would you like to do here? Feel free to comment below!
Suggested next reading: 6 Of The Best Castles To Visit In England That Have Incredible History