So, you have just 2 days to spend in Zürich. Need some ideas of things to do and places to see? Here's where I come in with some good old fashioned tourist information! I'll be sharing the 11 best places to visit in Zürich in 2 days.
Sure, you may find that 2 days in Zürich is not enough time to do all 11, but feel free to just pick which places out of the 11 appeals to you the most. Though if you are able to do all 11 in 2 days, let us know in the comment section at the bottom!
Zürich is known for being the financial capital of not only Europe, but the whole world. While the city does work hard, don't sleep on Switzerland's biggest city. A trip to Zürich is well worth the time. (So I salute your choice).
There's no way to downplay that the city is quite expensive, but there are plenty of free or low-cost activities that you can do throughout town.
From getting amazing views of Zürich to strolling the quaint, quiet streets of one of the oldest districts in Switzerland, there is an endless list of things to do that won't break the bank.
Without further ado, here are the 11 best places to visit in Zürich in 2 days.
1. Uetliberg

Uetliberg is Zürich's very own mountain. Looming over the city at 870 meters (2,854 feet), Uetliberg offers fantastic views of Zürich and the lake.
The mountain is easily accessible by train and it takes only 30 minutes to arrive at the top. Once at the peak, there are plenty of hiking trails to explore and get lost on.
I recommend doing the two-hour hike to the Felsenegg cable car that you can take down. From there, it is easy to get back to Zürich's main train station.
Of course, the best season for hiking is during summer, but Uetliberg is in use year round.
In winter, you can hit the slopes and go sledding down the mountain. To warm up, take in the view in the warmth and comfort of the UTO Klum hotel at the top of Uetliberg. It's the perfect way to wind down after a fun-filled nature day.
2. Old Town (Altstadt)

Altstadt (Old Town for those that are not German speaking) is a magical place, especially during December.
All of the small, windy, cobblestone streets are decorated with different Christmas colors and you can even visit one of the biggest Christmas markets in Switzerland in the Old Town.
There are quite a few places of interests that are located within the Old Town.
Be sure to check out Grossmunster church, one of the oldest churches in the city that has been standing since the 12th Century. It's considered an iconic landmark of Zürich and is a good marker to locate yourself throughout the city.
Another place to take a stroll is on Bahnhofstrasse, one of the world's most expensive and exclusive shopping districts. You can go window shopping at all of the perfectly arranged stores located on the street.
If you happen to visit during the Summer, make sure you take a boat tour that goes directly through the Old Town. On a beautiful, breezy summer day, it's hard to find a more relaxing activity than sitting on a boat as the world goes by and enjoying the view.

Zürich's Old Town is a can't miss destination when visiting!
3. Lake Zürich

The lake that the city is named after becomes the place to be come summertime. The lake is simply stunning as it is surrounded by Switzerland's famous Alps mountain range.
The water is so clean and fresh that you can jump in the lake anywhere you choose. The entire lake's water is drinkable, so don't worry if that cannonball water rushes in your mouth.
Besides being a good place to cool off, the lake has activities for everyone's tastes. It has everything from water sports to restaurants to parks to a path to enjoy a nice evening stroll and watch the sunset behind the mountains.

If you're looking for good day trips from Zürich, rent a car and check out Rapperswil, a town that is famous for its rose bushes and over 600 varieties of flowers. It's the perfect place to enjoy an evening meal before heading back to the city.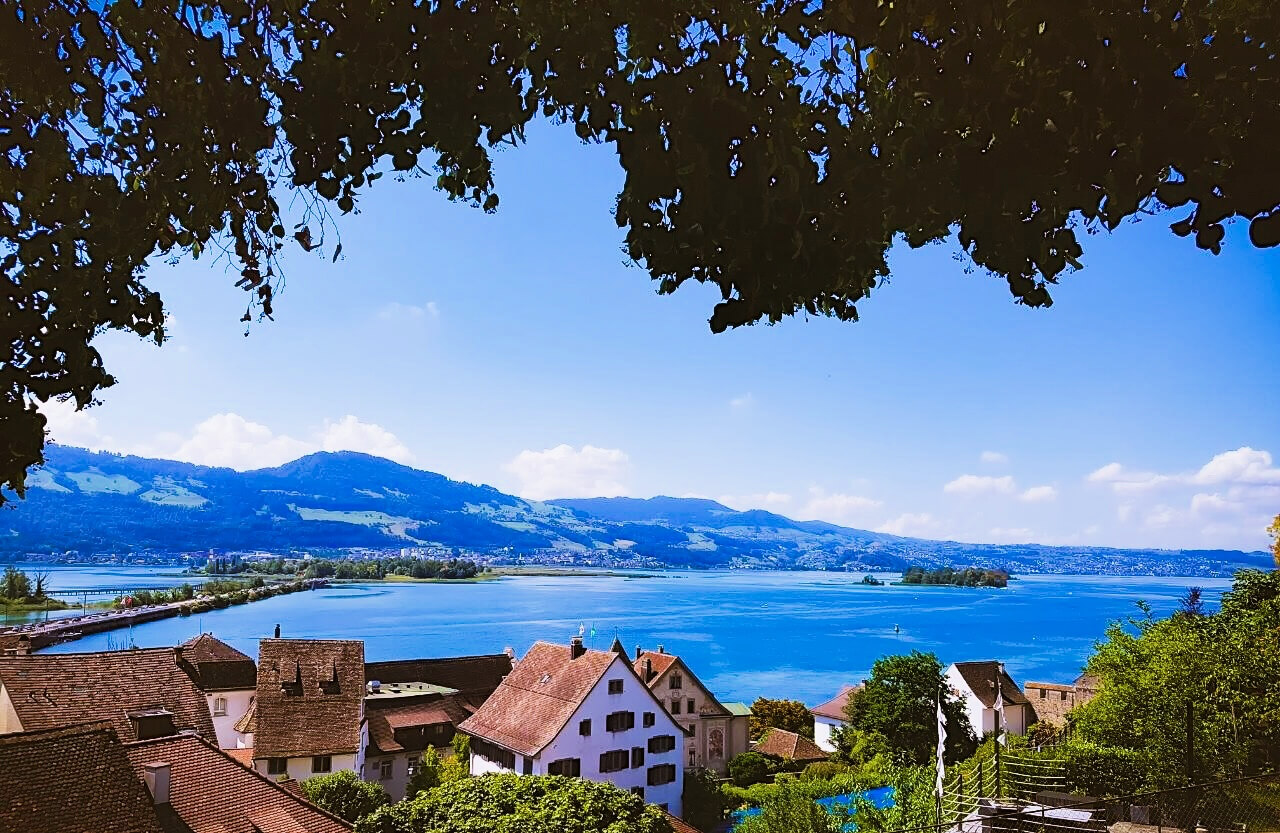 4. FIFA World Football Museum
Opened in late 2016, the FIFA World Football Museum is located across the city from the world headquarters of the largest football organization in the world. The interactive exhibits are perfect for football fanatics and non-football fans alike.
Spread out over 3 separate floors, the museum runs through the history of the game across the world and how it evolved to be one of the most played sports.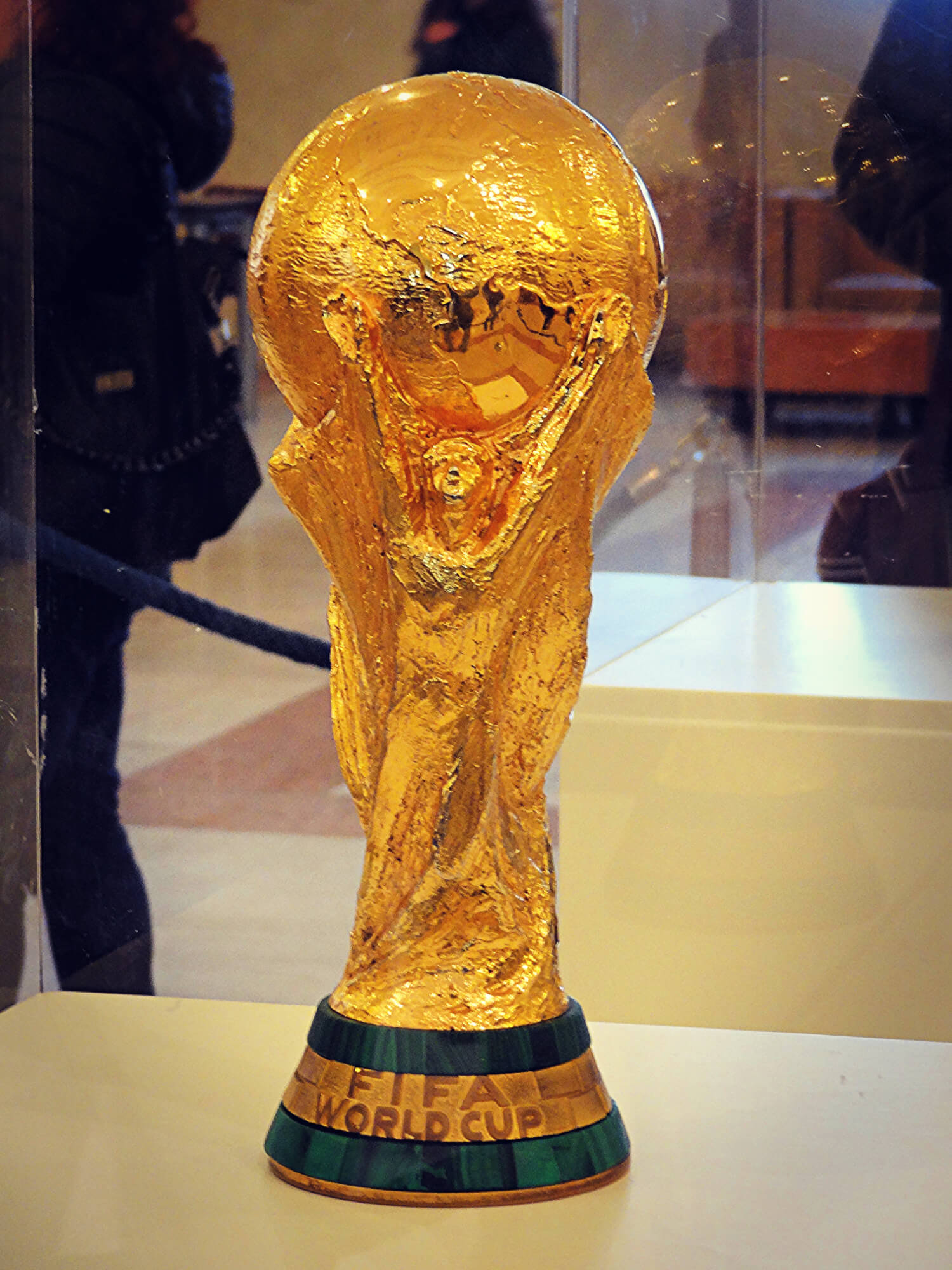 One of the coolest parts of the museum is seeing the real World Cup trophy. It was previously held in a bank vault, but now has a new home at the museum.
It's the perfect unique activity for a rainy, overcast day.
5. Im Viadukt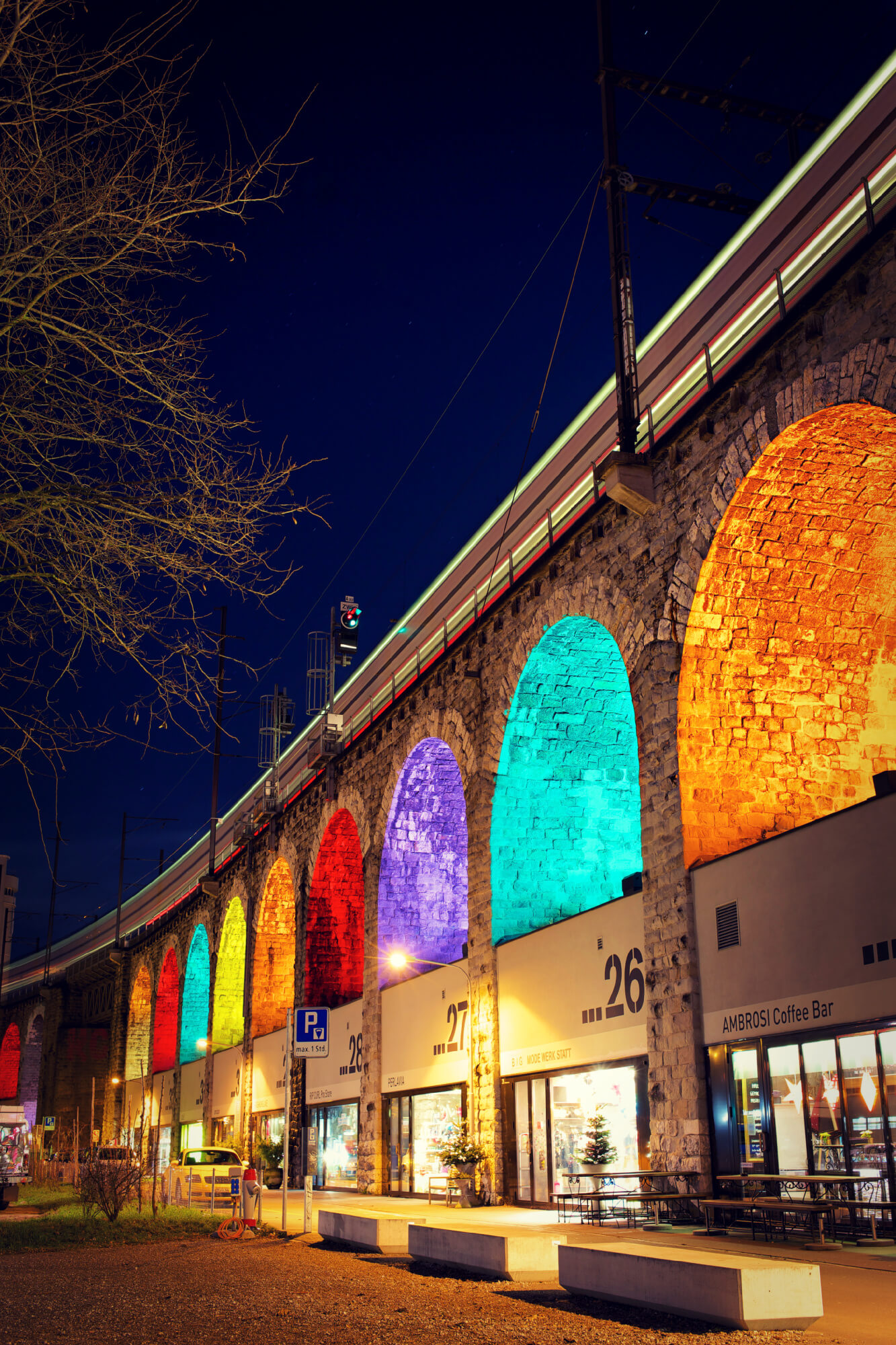 Originally built in 1894 for the national railway system, the Viadukt is now home to all things that are hip and trendy in the western district of Zürich.
The Viadukt features everything you could possibly need. From shopping to dining to eating and drinking, the area has it all.
Be sure to check out the Markthalle that features over 20 local food and drink vendors (They hand out samples if you ask nice enough!) It's one of the best places in Zürich to grab something to eat and have a picnic outside.
If shopping is calling your name, browse through the over 30 boutique shops in the Viadukt.
Whatever your reason for visiting the Viadukt, your bound to find something that is right for whatever you are searching for.
6. Jules Verne Panorama Bar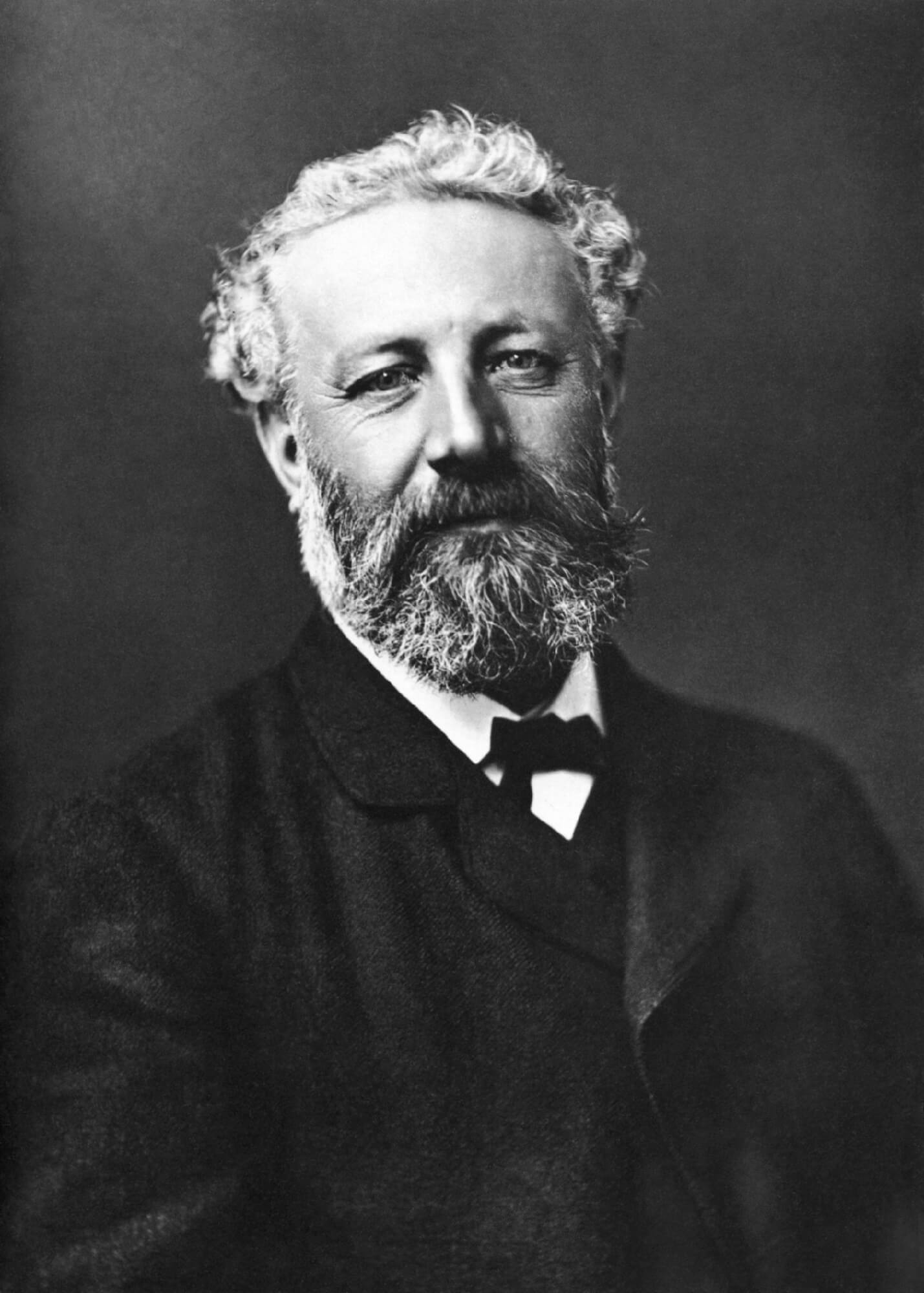 Need somewhere to sit back, relax, and have a drink after a long day of exploring Zürich? Look no further than the Jules Verne Panorama Bar, named after the French poet Jules Verne.
Home to arguably the best view in all of Zürich, Jules Verne is the best cocktail lounge to grab a drink or two before heading out to dinner or a night on the town.
Located in one of Zürich's tallest buildings, the drink list alone is worth the visit.
Of course, you can always have dinner at Jules Verne too. The food is quite good and they feature a seasonal, weekly, and monthly menu that constantly changes.
7. Zürich Opera House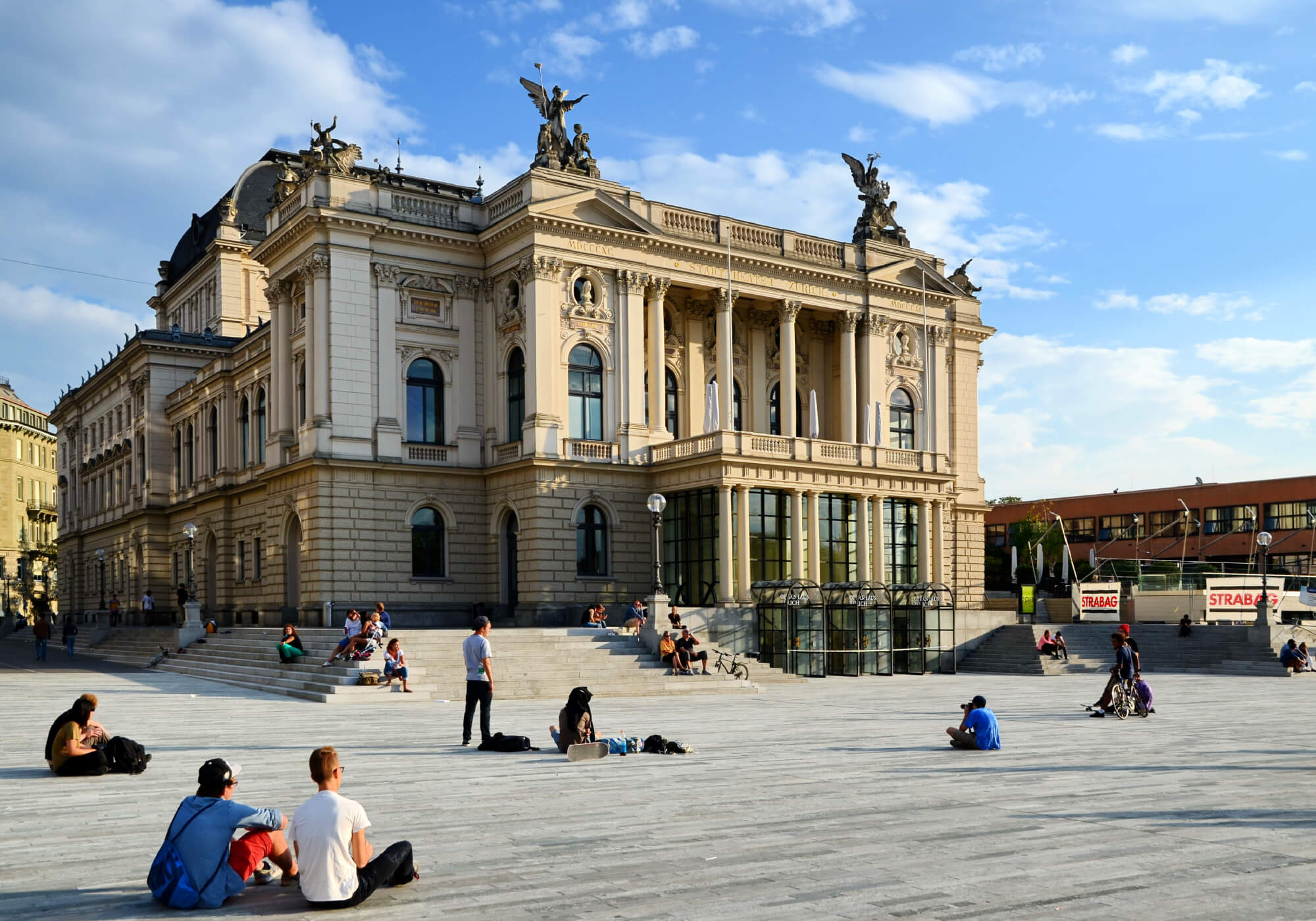 Opened in 1891, the Opera House is worth checking out for its beautiful architecture. It was even voted the best opera house in the world in 2014.
There are daily tours that talk about the history behind the opera house and the importance of going to the opera in Swiss culture.
8. Lindenhofplatz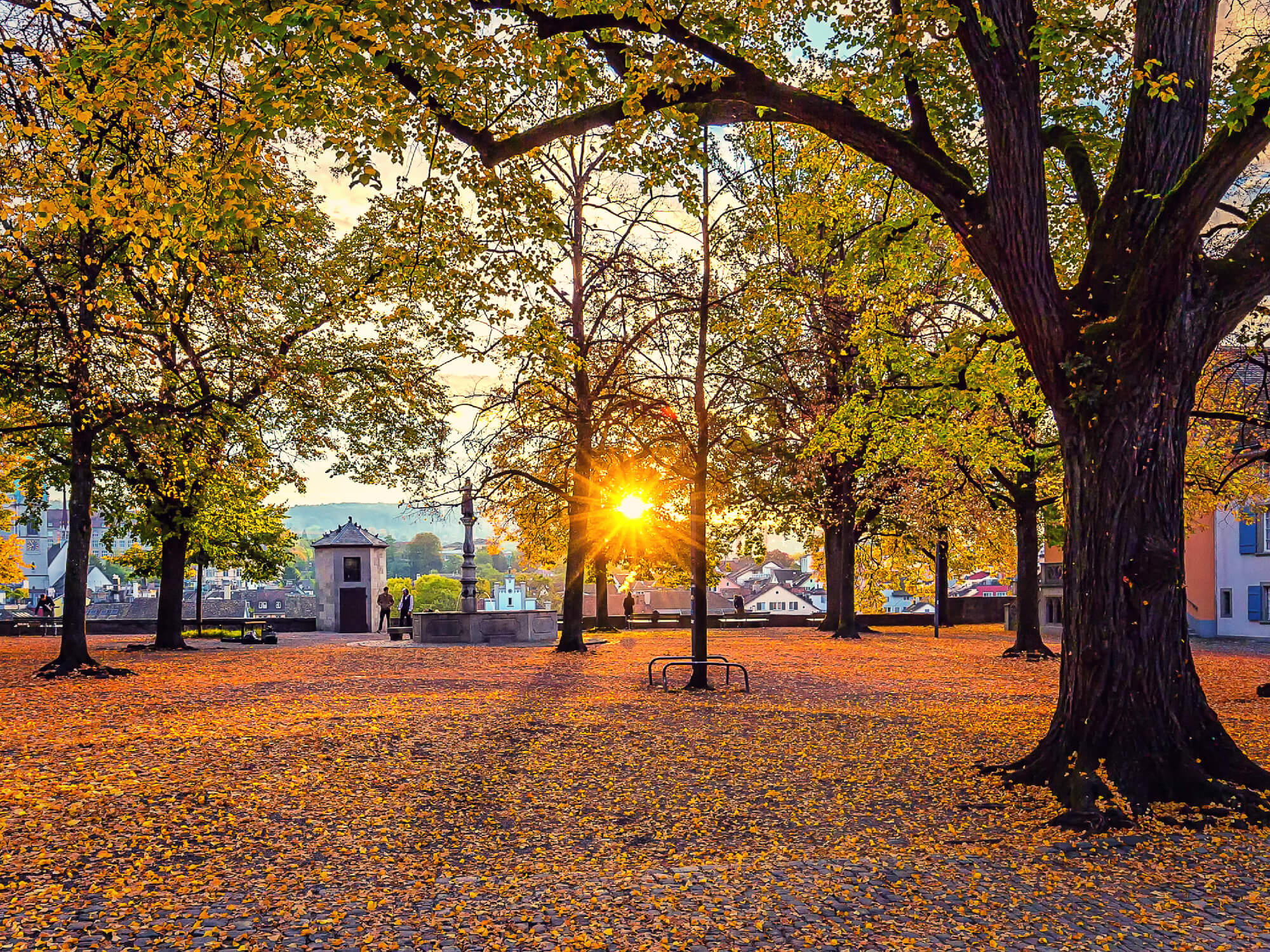 If you fancy finding a quiet place to chill in Zürich then Lindenhofplatz is a beautiful park where you can relax and take it easy.
Providing an amazing view of the Old Town, the river, and Grossmunster church, Lindenhofplatz also contains the Rietberg Museum that displays art from all around the world.
Fancy a game of chess? You can even play that here on giant chess sets.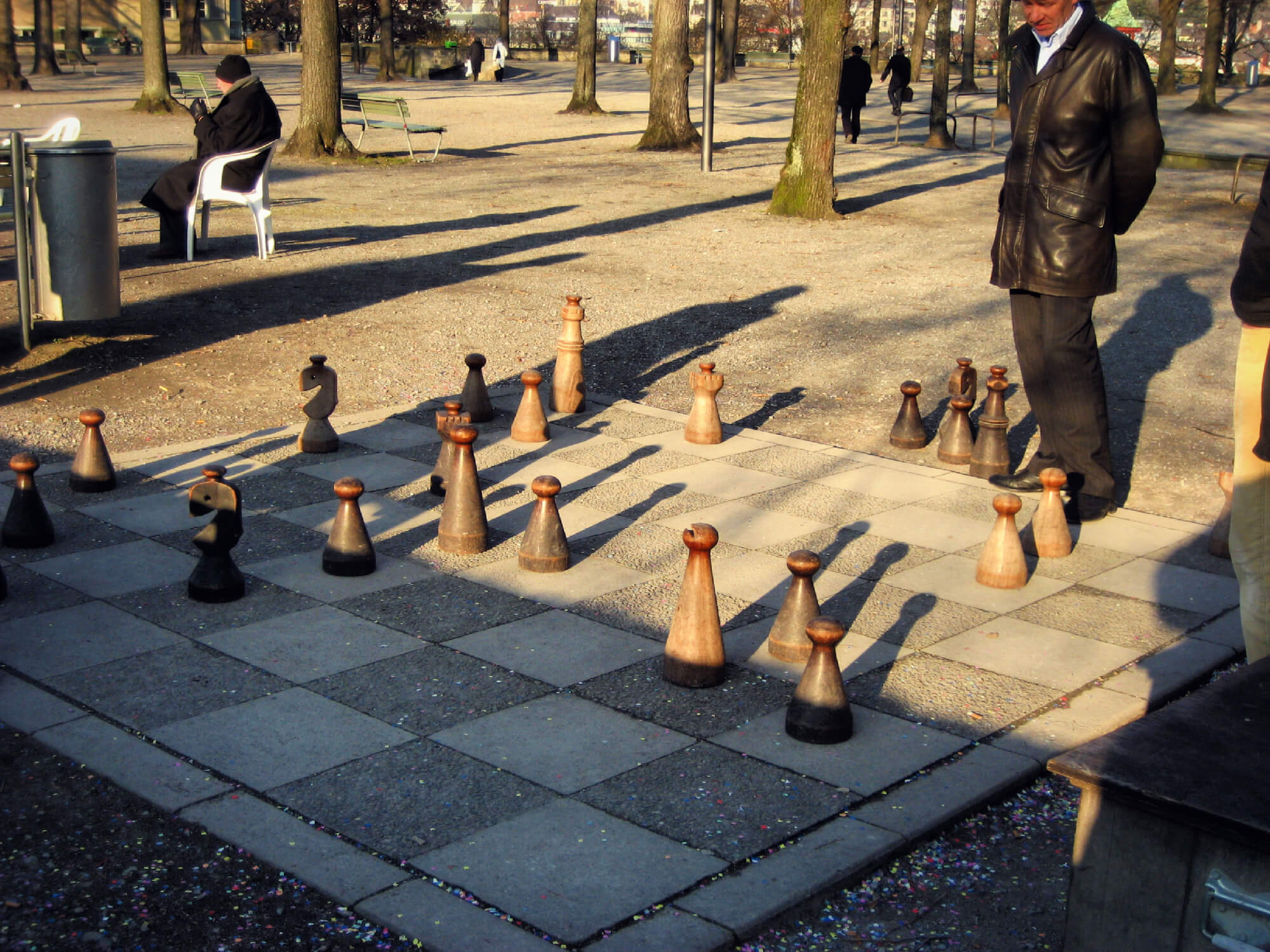 Lindenhofplatz often becomes an unexpected highlight for people visiting Zürich since the ambiance is unique and memorable. So keep that in mind as you're planning on your top 11 places to visit in Zürich in 2 days.
9. Fraumünster Church

Fraumünster church (which means "church of our Lady") is a 13th Century Gothic cathedral featuring debatable stained glass windows created by Marc Chagall. Some people love them, some people find them too abstract or modern. Either way, they're worth a look!
The architecture is incredible and the church has an interesting history. Originally once part of a convent, the recent renovations make this church a fascinating blend of new and old.

Fraumünster church is definitely worth checking out while exploring the winding streets of the Old Town!
10. Zoo Zürich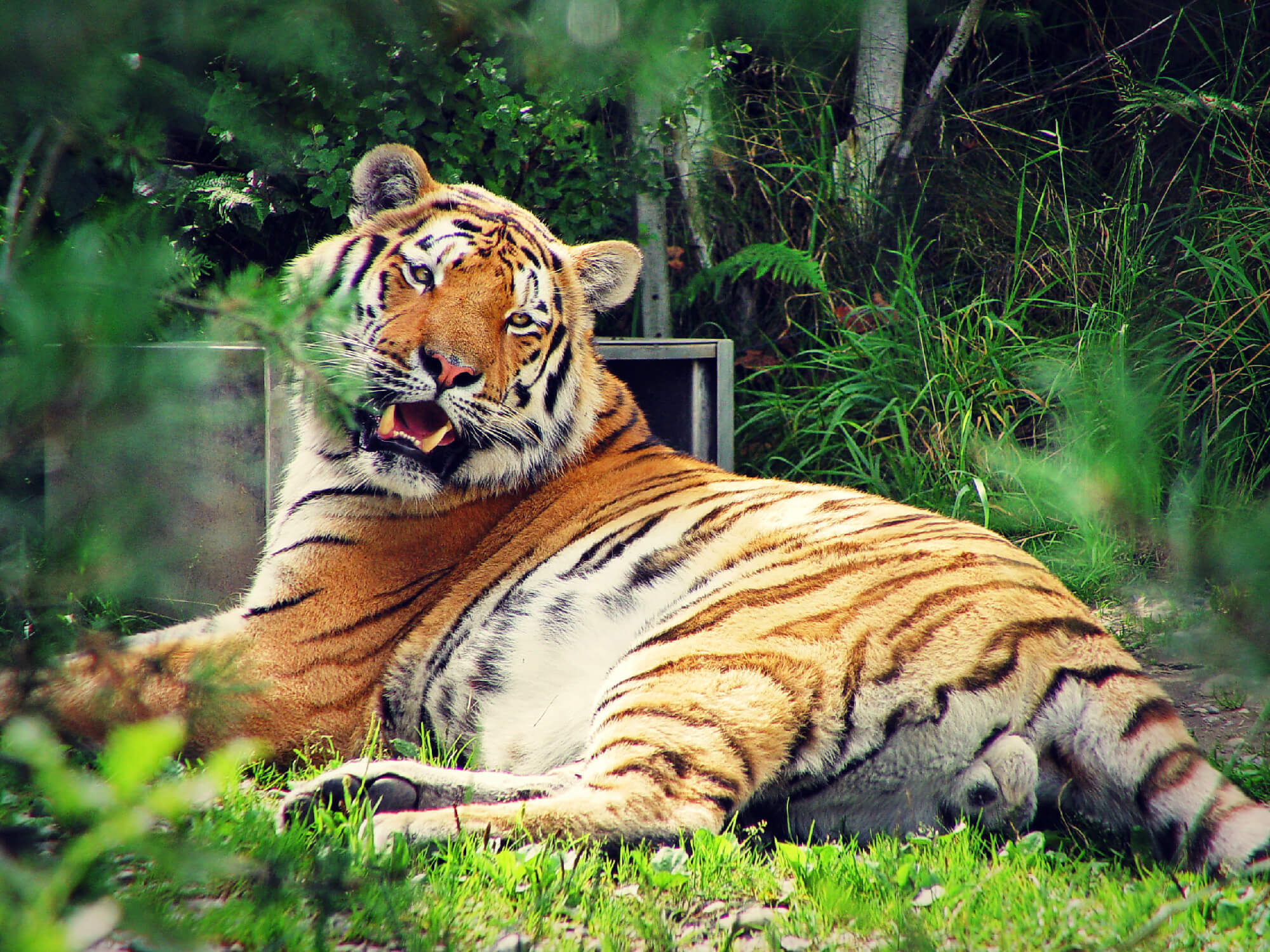 Visiting Zoo Zürich is a good idea even if you're not traveling with kids (though it is especially good with kids).
Offering great attractions such as an elephant house and a stunning Madacasgan rainforest environment in the Masoala Hall that stays at 95°F / 35°C indoors, this isn't just your typical zoo.
After exploring this Madacasgan experience in the Masoala Hall, you'll be rewarded with a restaurant allowing you to eat overlooking the tropical environment.
Great for a rainy day and for animal-lovers, Zoo Zürich has been dubbed by some as one of the best zoos in the world. So why not check it out?
11. Niederdorf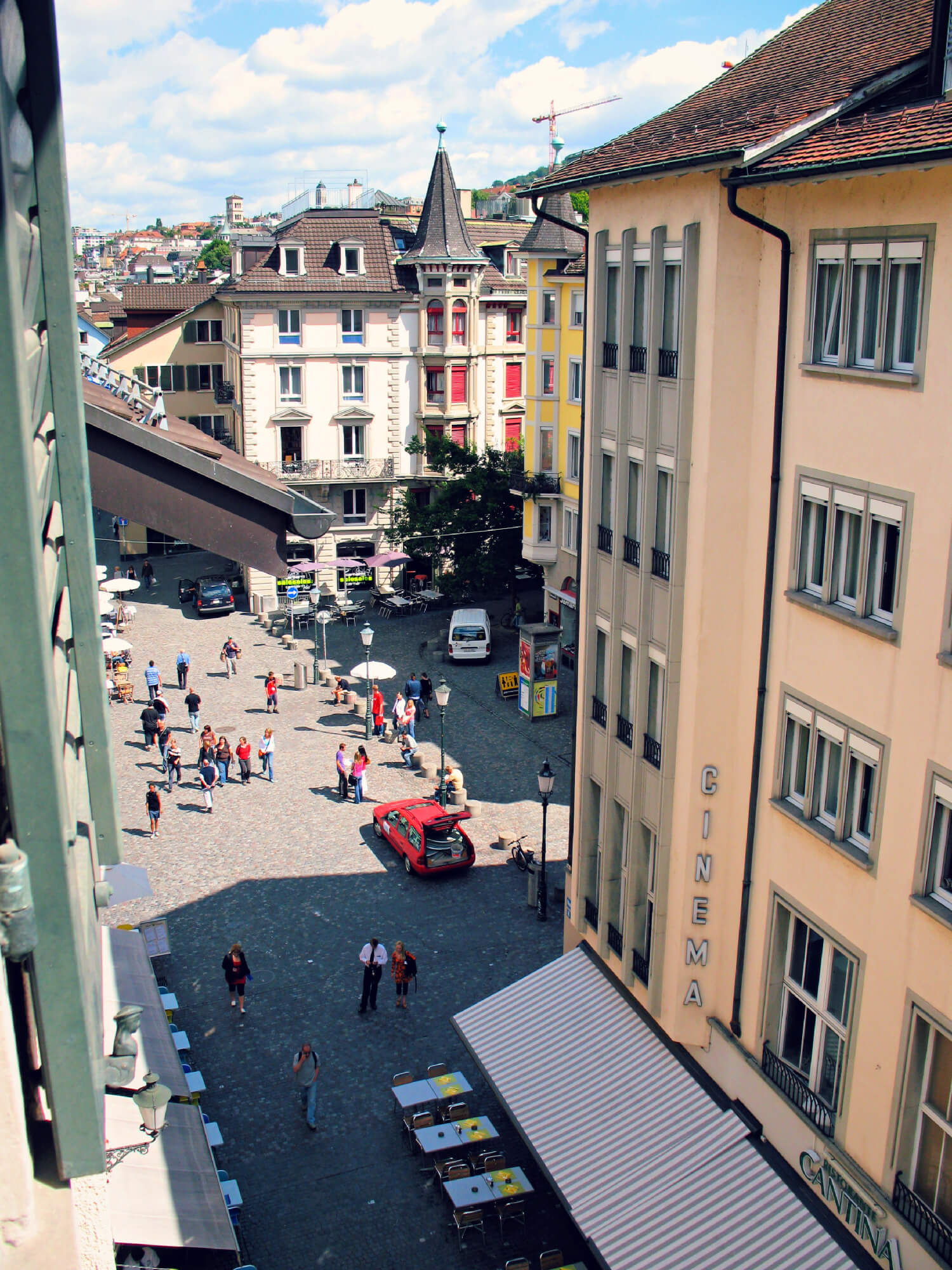 If you really needed some more old-world charm that Old Town (Altstadt) didn't quite provide enough of, Niederdorf is the place to go.
A very long street blessed with amazing architecture, interesting sites, restaurants and pubs of all varieties, this street oozes old-world European charm. You could literally spend most evenings eating here while in Zürich and still not fully take in the cultural ambiance of the area.
It has a perfect central location meaning that, while you can wander around and get emersed in the area, you will never actually get lost since it'll always be easy to find where you are again.
So, drink from the hundreds of fountains surrounding the area, or just grab a coffee at your table and people watch. Let the world pass you by and chill out in this cozy street!
---
In summary, a trip to Zürich, Switzerland is a great idea! And I hope you found all these ideas helpful.
Know of better places to visit in Zürich in 2 days? Or want to tell us how your trip went? Let us know in the comment section below! (That rhymed).
Suggested next reading: 7 Superb Things To Do In Switzerland For Curious People