Seoul is a big, bright, and chaotic city you should add to your "must go here" list. The beauty of this huge metropolis with almost 10 million people is that it's affordable, walkable, and always has some exciting event that's perfect for people watching. Although I had been to Seoul multiple times when I taught in South Korea after university, I was itching to go back four years later on an extended layover. Throughout five days I ate myself into a food coma, reminisced outside of the 7-Elevens, and walked uncountable miles each day through the busy streets.
Be it taxi, subway, bus, or by foot, it's easy to get all over Seoul. Even if you only have a few days, you'll be able to easily pop around the exciting city and take advantage of witnessing an area of the world that has been up and coming since the 1950s.
Here are seven things you must check out in Seoul.
1. Walk Everywhere
One of my favorite things to do when exploring a new city is walking around and getting lost. However, with our little internet sources attached to our bodies it's basically impossible to really get lost. Although Google Maps is not efficient in Seoul, downloading Seoul Map Offline will keep you on track if you are a bit worried about a wrong turn. Walking is a great way to see parts of the city that aren't accessible from your taxi window or subway commute. Also, it's free! While wandering through Seoul you'll bump into adorable little spaces that would otherwise be unknown if commuting by wheels. Whether you discover one of the various cutesy cafés, heart-shaped photo booths, test out some new street food, or workout at one of the various outdoor stations with a local ajumma, you'll have plenty to entertain you by foot. If you don't know where to start in this big city, check out this app to help you navigate a Seoul self-guided walking tour.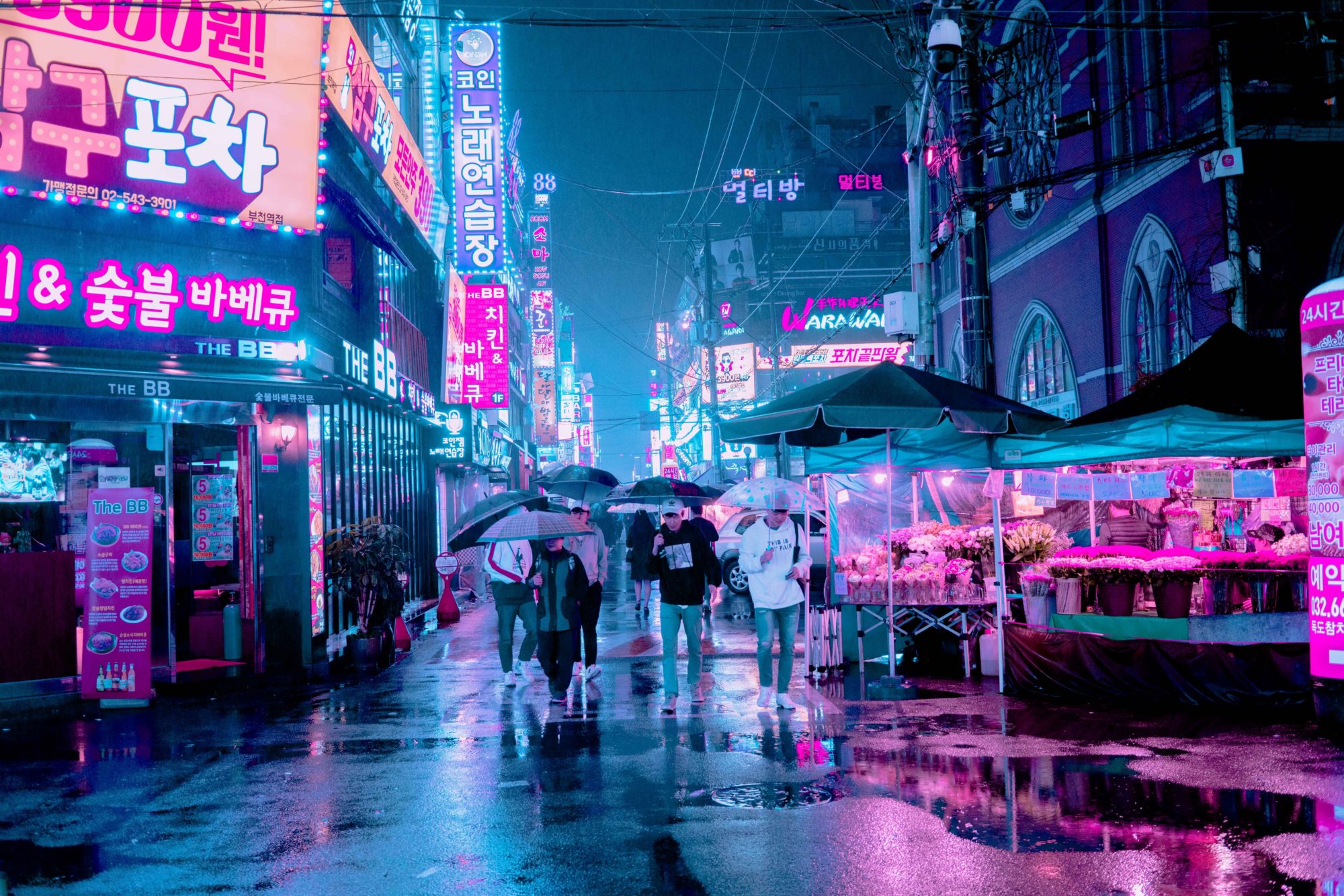 On the other hand, Seoul public transit is top notch. If you're feeling a bit like your feet may fall off by days end, squeeze on into the subway with millions of Seoulites.
2. Visit Gyeongbokgung Palace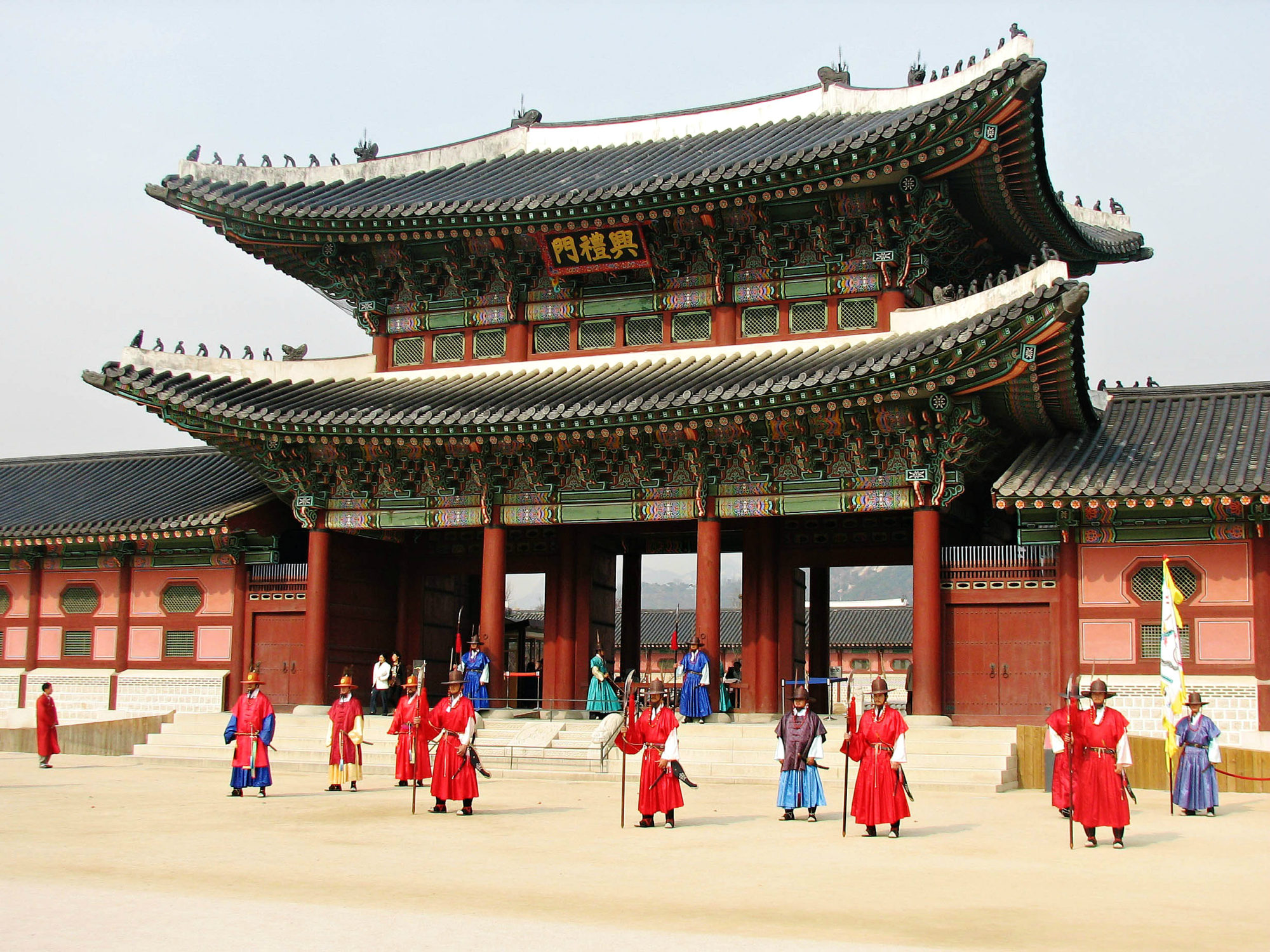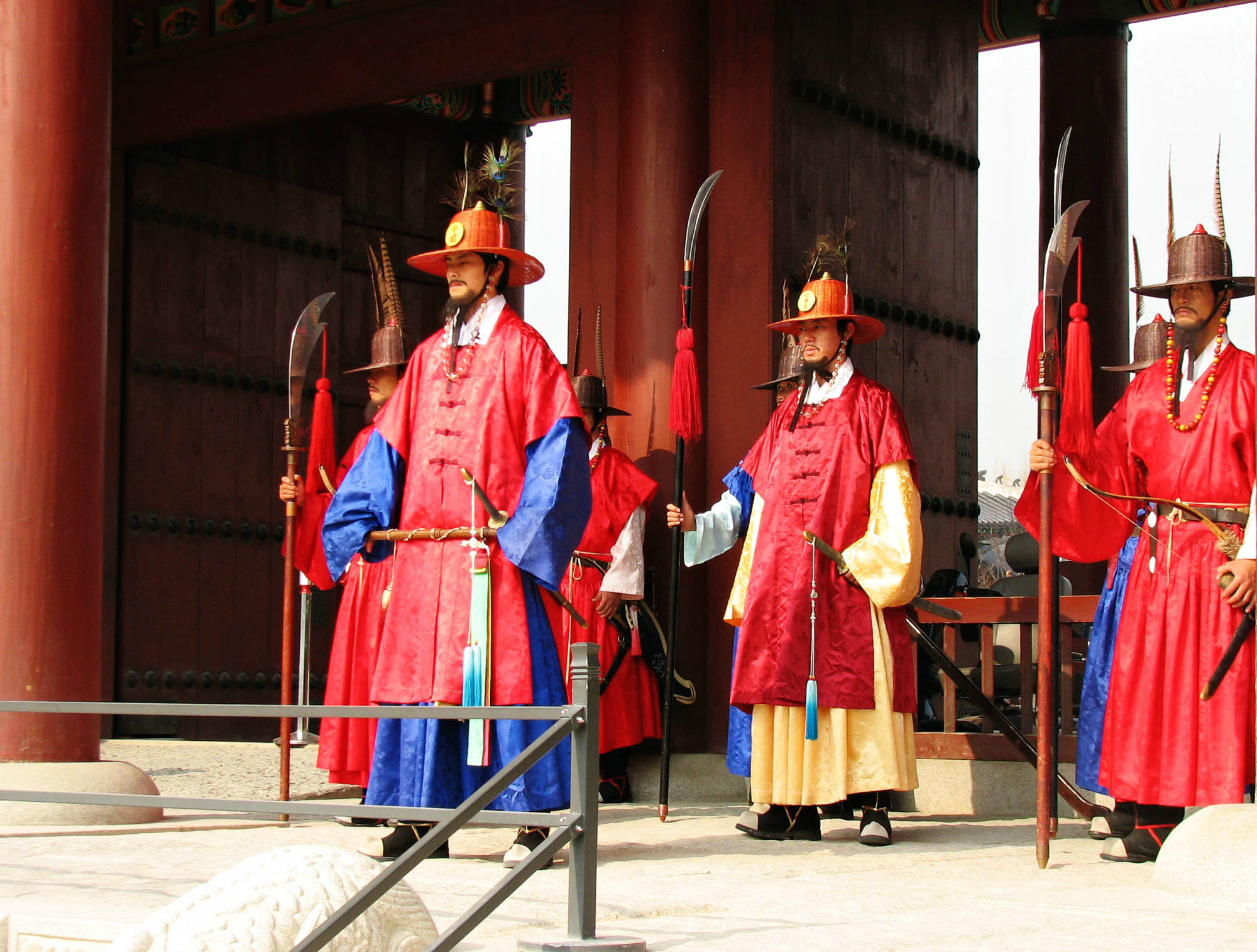 Start that walking tour with a leisurely morning stroll through Gyeongbokgung Palace. It's a ginormous Confucian designed structure sitting on the northern side of the city that was originally finished in the late 14th Century. It was later reconstructed in the 19th Century but soon enough almost completely destroyed again during the Japanese occupation after the turn of the century. However, in more recent years, Gyeongbokgung Palace has been partially restored and now contains about one-third of the 500 buildings that were originally located on site.
Once inside, you'll have a chance to weave through the multiple passages while watching Koreans dressed in traditional Hanbok clothing to make you feel as if you've stepped back in time. You can get your mix of history, culture, and architecture all in one quick afternoon at Gyeongbokgung Palace.
3. Meander through Bukchon Hanok Village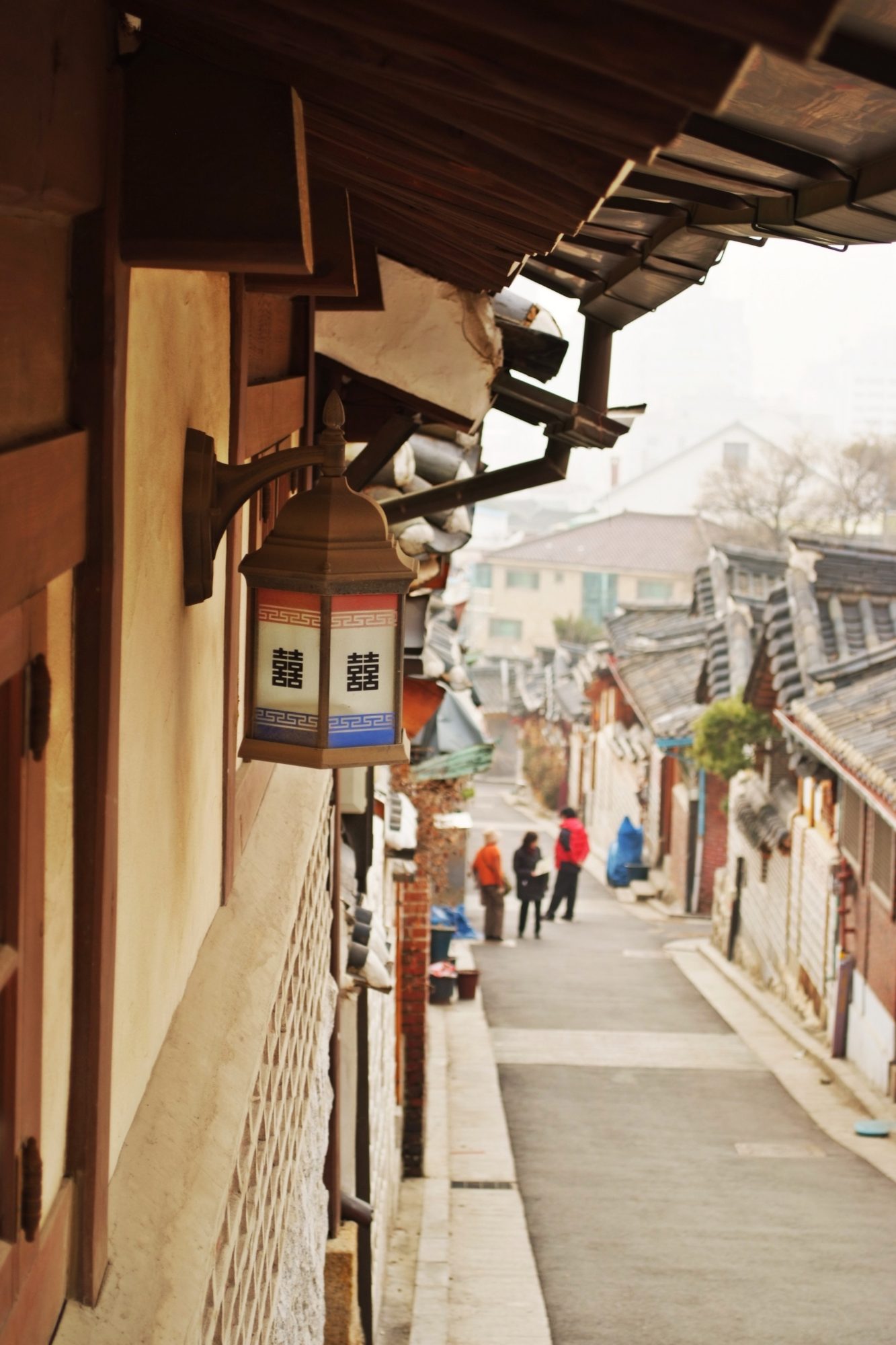 Speaking of history, you can mosey on over to this authentic neighborhood in the city. The Bukchon Hanok Village is just a stone's throw from Gyeongbokgung Palace and contains the country's best-preserved hanoks. The hanoks are the traditional Korean style houses that were first constructed in the 14th Century. Back in the day, depending on your style of hanok you lived in determined your class. Today you'll see people walking around in traditional clothing, be able to visit the various outdoor markets popped up everywhere, and take pics of the unique architecture. This neighborhood brings together a unique history that is still seen in the present day. It's a fun area to check out and view more of the older Korean culture.
4. Hike in Bukhansan National Park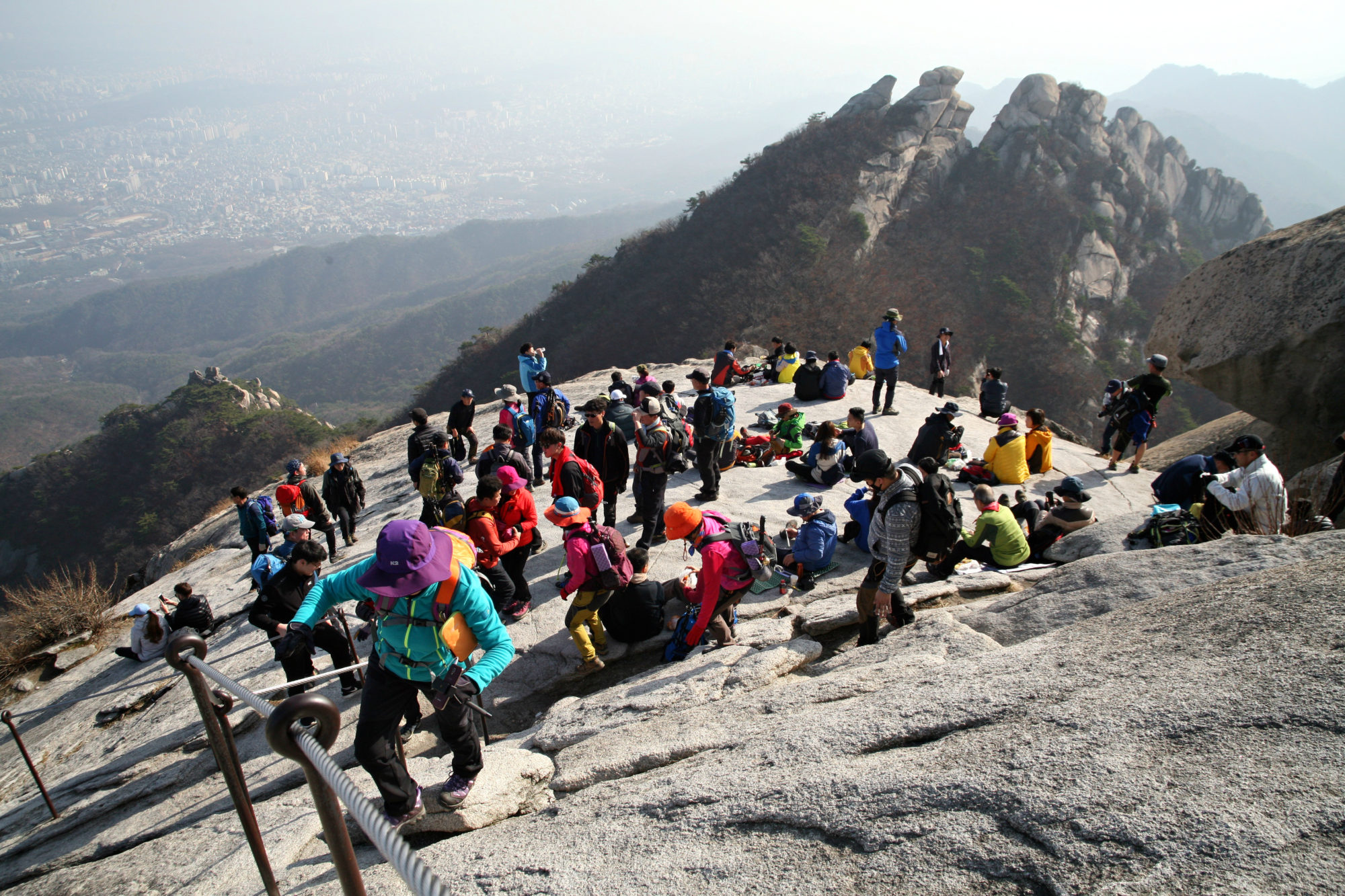 If you need a break from the city, no need to go far. Just north of Seoul is that mountain your craving. It's hikable year long, but spring and fall will be the best weather. At just 2,744 feet above sea level is Baegundae peak, the highest in the park, and it's not a very difficult trek. However, there are multiple trails, so you can choose your length of hike and difficulty level before you head into your outdoor jaunt. You'll only need some good shoes, full water bottles, and some snacks for your adventure.
If you want to hike the mountain true Korean style, be sure to bring your brightly colored windbreakers, visors, trekking poles, and a bottle of makgeolli for the summit.
5. Head to the Bangs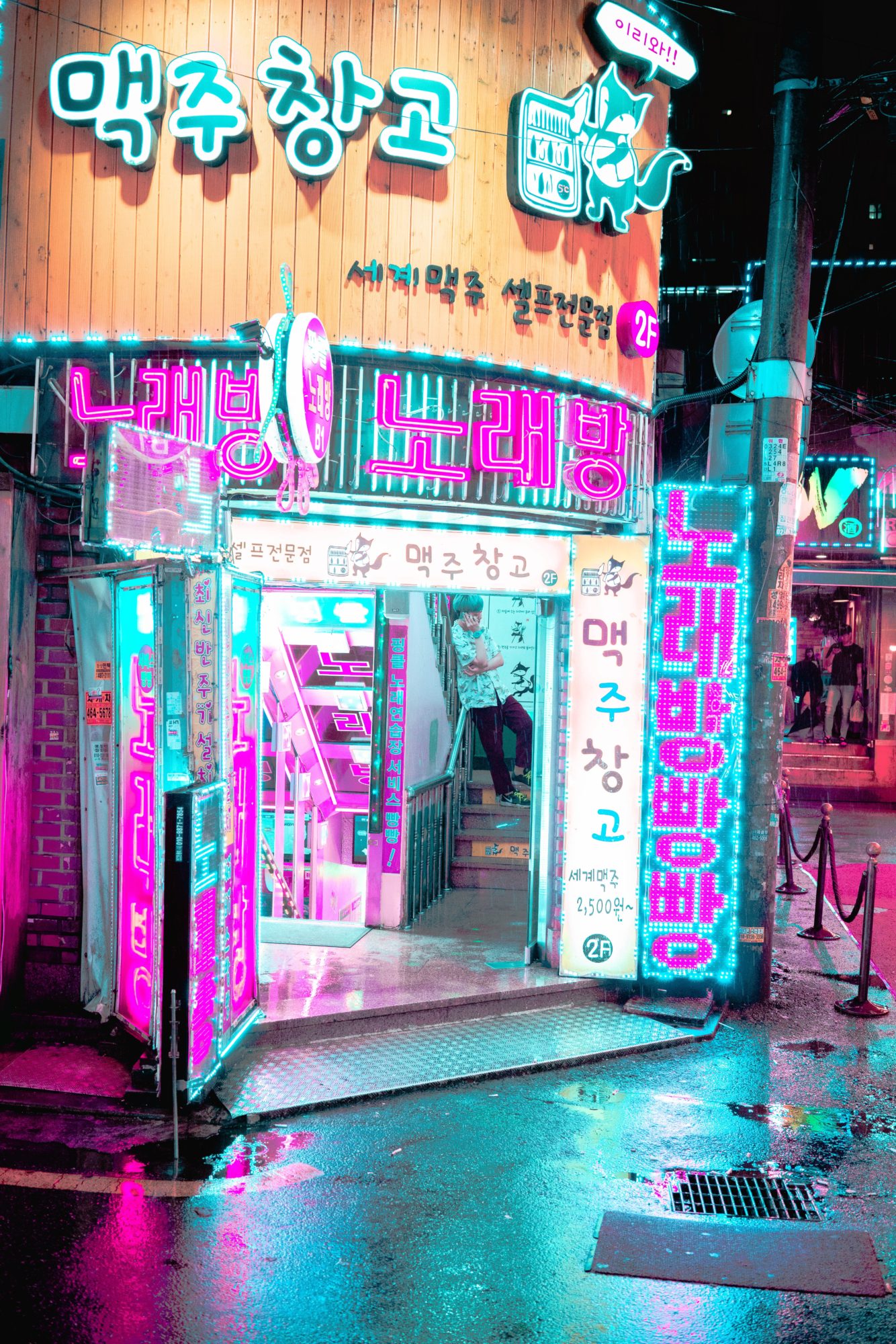 Bang in Korean means "room"—and there's a room for it all. It's fun to get a taste of Korean culture by experiencing at least one of the various bangs. If you're feeling sore from that hike or walking all day then you can head to a jimjillbang. Here you can relax in a nice bubbly spa or get a scrub down from an elderly Korean. If it's rainy and you can't go outdoors, head to a DVD-bang. This is otherwise known as your own private movie theater where you pick a film from the '90s that you forgot existed. Want to party? Grab some friends and sing your heart out at a karaoke room—also known as a noraebang. Nothing screams Korean culture like screeching along to some famous K-Pop tunes.
If you've seen these symbols "방" then you know you are on the right track for a banging time.
6. Shop at the Gwangjang Market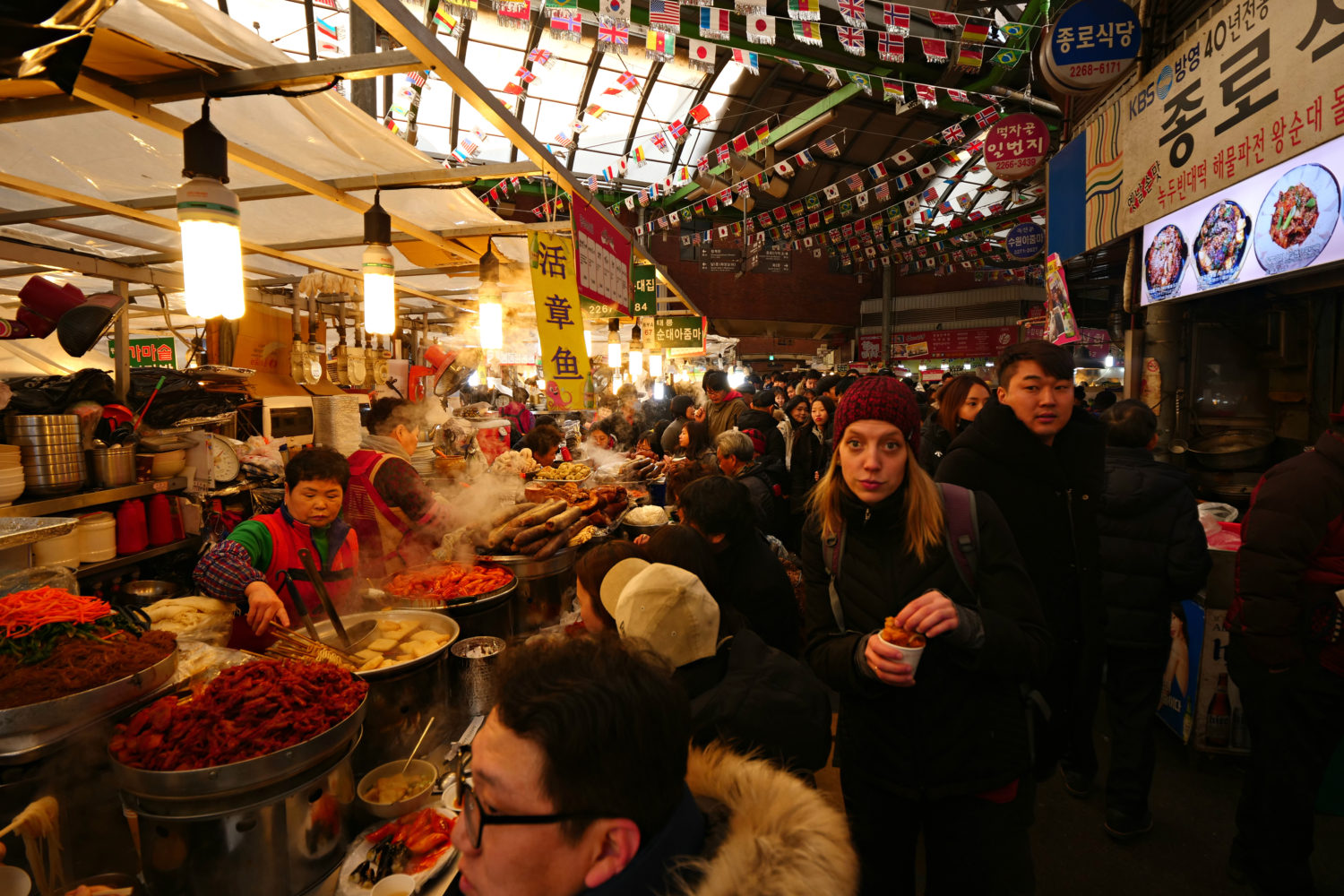 Are you longing for a smell that you'll never forget? Of course you are. Try and spend an afternoon grabbing lunch in one of Korea's oldest traditional markets: the massive Gwangjang Market. Walking through Gwangjang Market will be a whole new kind of culture shock. You can easily spend an entire day here squeezing through loads of locals and tourists. You'll be wide-eyed and entertained while watching locals stir up buckets of kimchi, quickly flip Korean pancakes for hundreds of hungry customers, and witnessing live octopus get chopped to bits.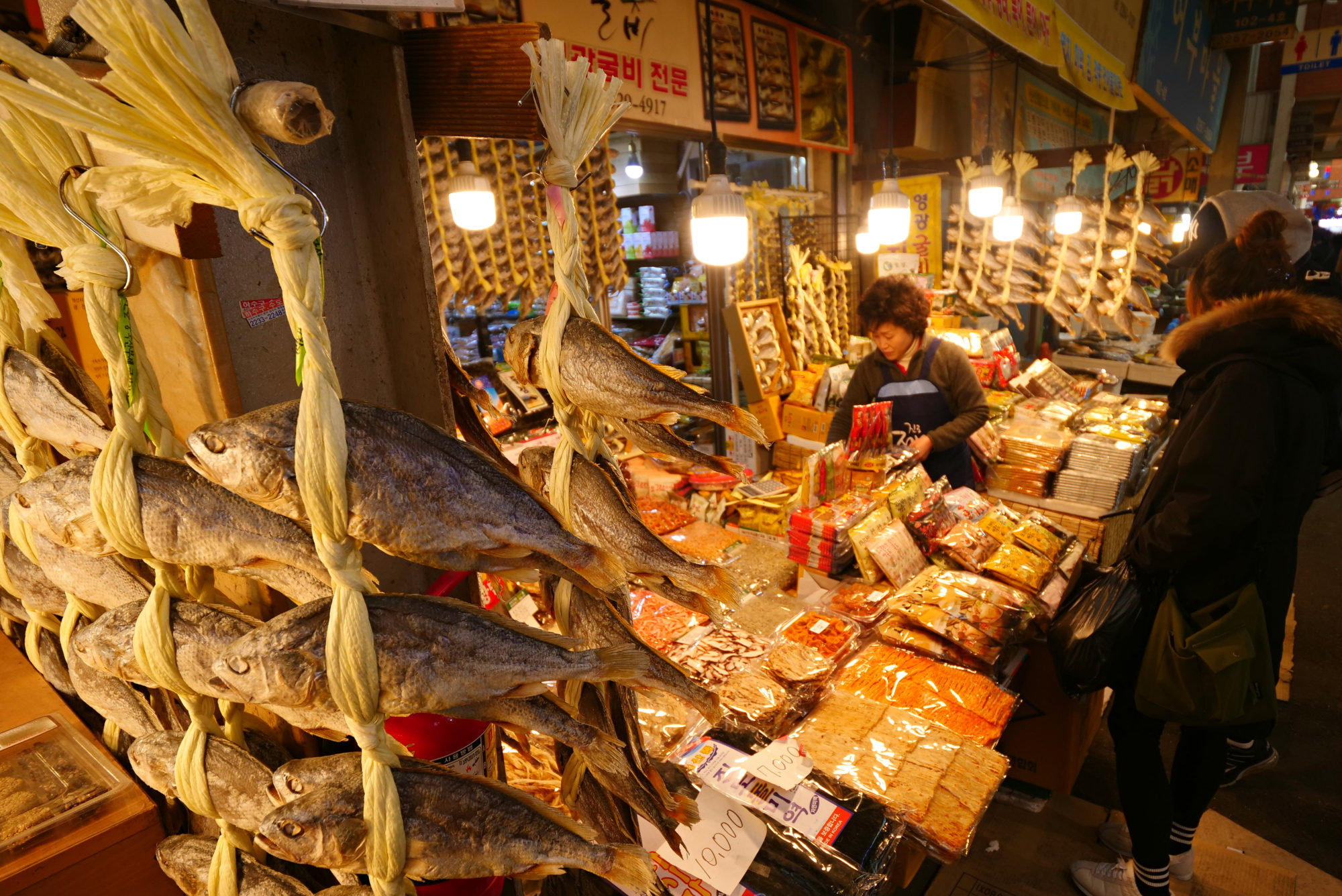 There are over 5,000 various shops throughout this 450,000 square foot market that will get you everything you need and more. Be it clothing, cosmetics, food, juice, crafts, and more. Even if you don't want to buy anything, make sure to at least test out a new type of food just for the experience. You will love walking through this crazy-busy-wonderful-colorful-pungent market.
7. Eat Everything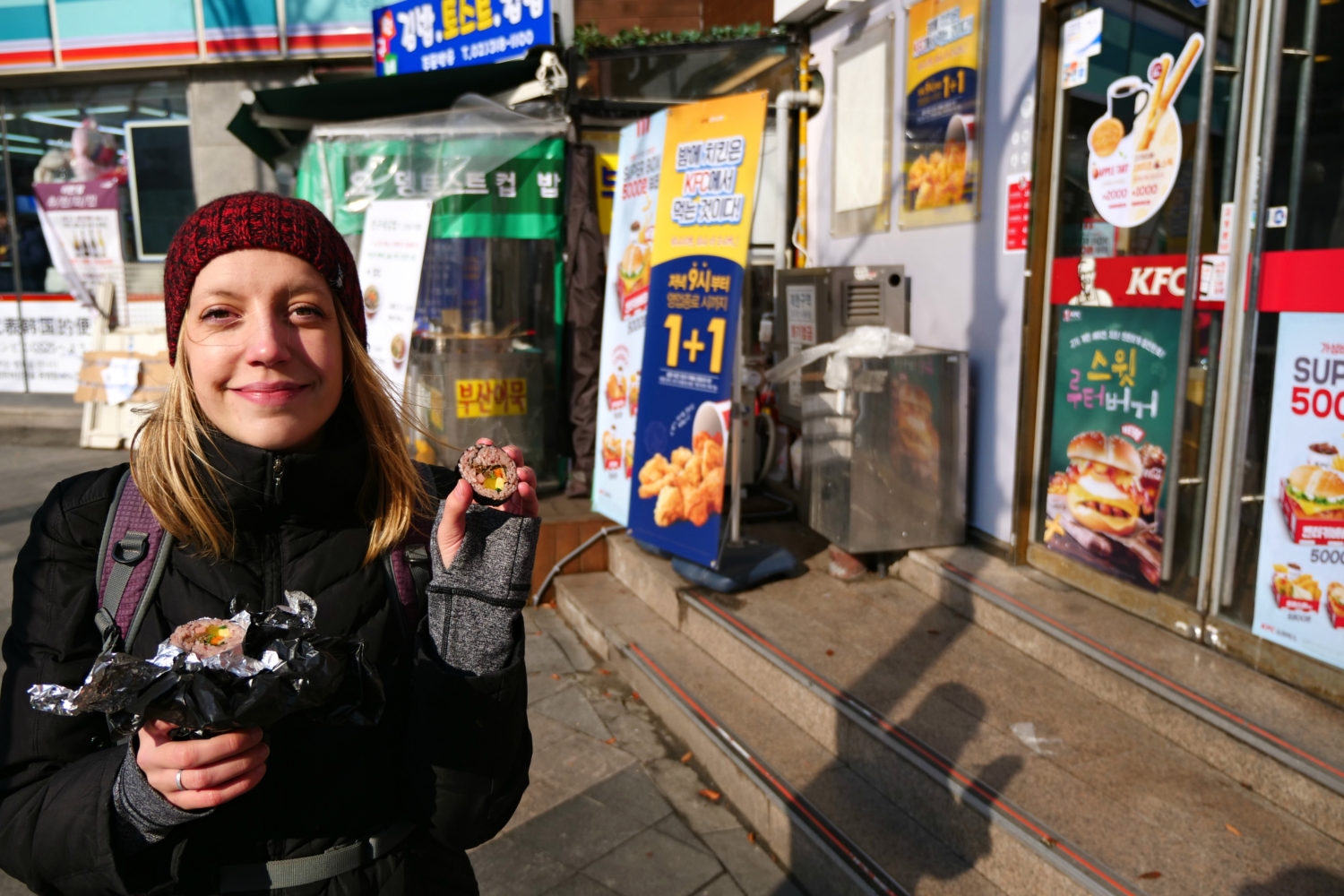 My mouth was watering for some bulgogi the second I stepped off of the airplane at Incheon International airport after four years. I had one main goal for my few days back in the ROK and that was to EAT. Eating your way around Seoul is an event in itself. Not only is Korean food absolutely delish, but I love that the Korean food culture allows you to sit at restaurants for hours without being rushed out the door. All you need to do is push a button and—voila!—the food magically appears before your eyes.
Be open to trying everything in front of your eyes. Seoul offers loads of unique spicy, savory, sweet, and smelly snacks. Best of all, you get loads of free side dishes with your meals.
Here are just a few things I make sure to binge on when traveling in Seoul.
Before a night out: Korean BBQ,

Dakgalbi

, or Shabu Shabu

On a rainy day:

Pajeon

and

Makgeolli

Street food hopping:

Kimbap

and

Dukbokki

Sit down fast food:

Bibimbap

,

mandu

, and

doenjang jjigae

For the brave: Raw octopus

Dessert:

Patbingsu
Best of all, none of these meals will break the bank. Eating local food (and drinking local soju) in Korea is very affordable so that you won't have to hold back. Another side of Gochujang, please!
Remember to slow down and take in all of the people that go by. You'll see cute couples hand in hand in their matching outfits, aspiring K-Pop artists dancing in the streets, and men in suits competing for who can throw back the most soju. It's quite a sight for those who have not yet been to this little peninsula in Asia. You'll love witnessing the cultural pride of South Korea while exploring Seoul.
Suggested next reading: 5 Incredible Places To Visit In South Korea Other Than Seoul