If you're dreaming of tropical Thailand—well, you are because you're reading this—then realize that it's all as good as you've imagined. You've probably heard of the mountainous north and are craving some adventure away from the touristy beaches and city high rises. So, escape to the north for adventures near Chiang Mai! It's a perfect getaway where you'll have loads of access to exciting outdoorsy things to do.
I discovered this myself when I moved to Chiang Mai in search of a slower-paced lifestyle. In between bites of authentic northern Khao Soi and "Sai Ua" sausage I was scrolling through my good friend "Google" to figure out where to hike next. The outdoor playground that neighbors the city is my new boundless backyard. The Chiang Mai province alone contains 13 national parks. The ability to escape to splash in various waterfalls, visit serene Buddhist temples dotted all over the forests, or play in the mountains are all within reach. For me, having a bit of city life without sacrificing the option to trek out into nature is why Chiang Mai is a perfect destination.
No matter your length of stay in northern Thailand, you will want to take advantage of some of these fun outdoor adventures near Chiang Mai.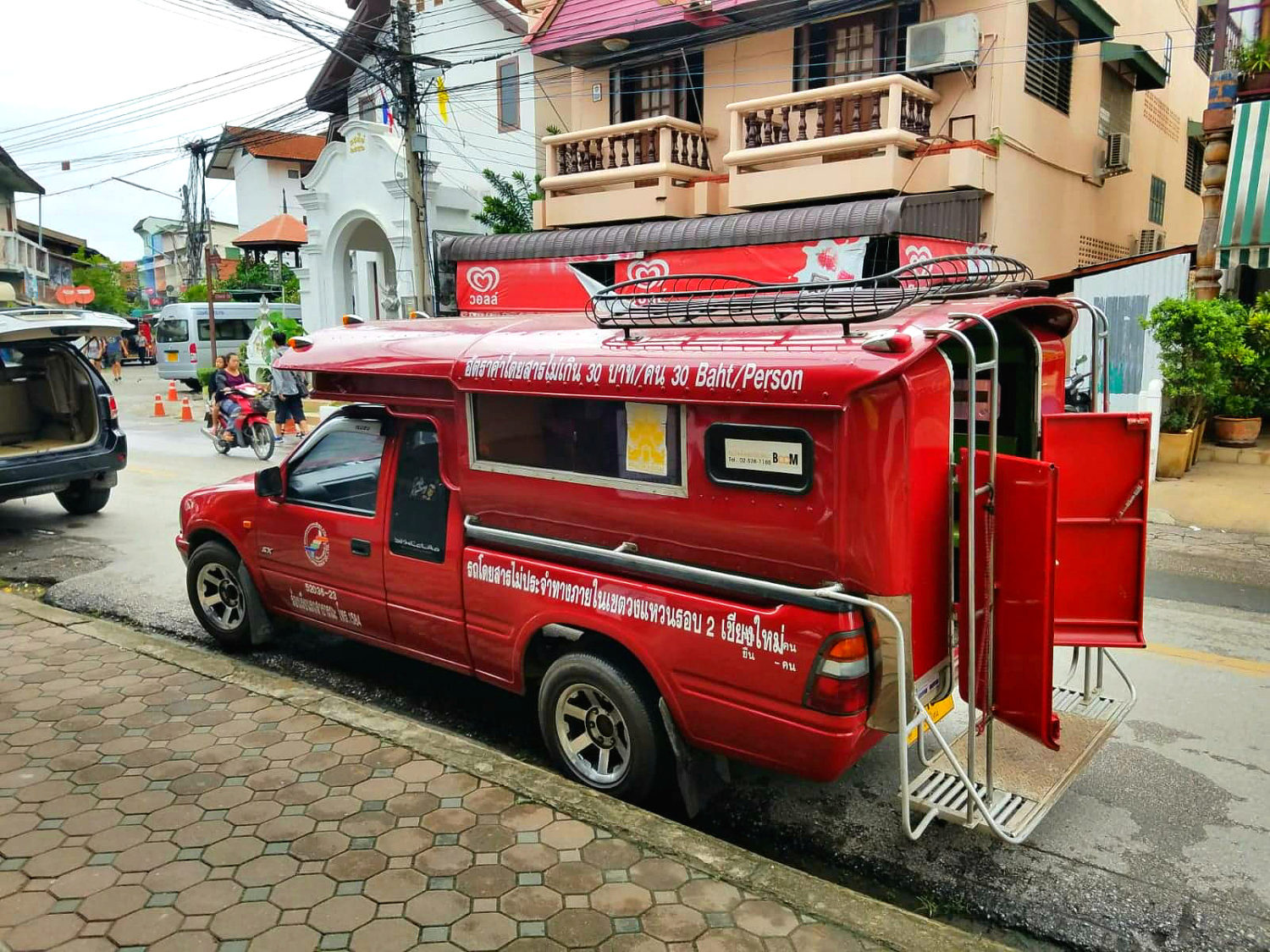 1. Hiking up to Doi Suthep:
Those famous golden spires you see perched on the mountain west of Chiang Mai are part of the famous Wat Phrathat Doi Suthep Temple. You can't miss it. You'll look up and wonder "Hey, what are those golden spikey things that are peeking out among the trees? Better go check!" The temple of Wat Phrathat Doi Suthep is a beautiful golden temple that overlooks the city. Although you can easily get there by Songthaew, the adventurous way to explore this temple is to make it a trek! If you love hiking and are ok with getting lost—wait, is that just me?—then make it a day-long excursion. Be sure to bring water, good shoes, and go for it!

From Chiang Mai, you can walk about 40 minutes to the trailhead if you're feeling ambitious. Otherwise, you can take a Songthaew or Grab (the Uber of southeast Asia) if you want to quickly get out of the city. You will want to go to the entrance of the Monk's Trail at the end of Suthep Road. Some people, like myself, make the mistake of starting from the Chiang Mai Zoo. However, then you have to pay entry even if you're just trying to sneak past it to access the trail. From the Monk's trail you will have a clearly marked trek up until Wat Pha Lat. This temple is a serene hidden escape that spies on the city below. You can then take a quick rest on your hike, get an iced coffee, and sit near the stream with views of the city off in the distance.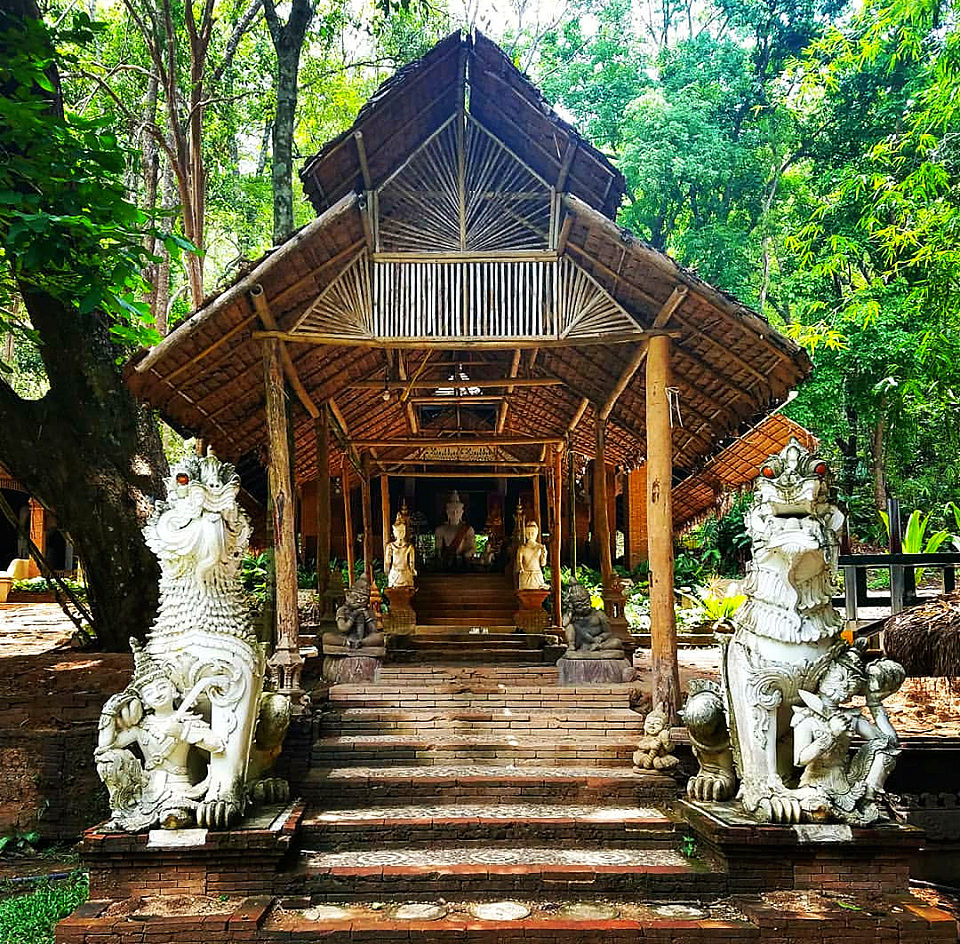 Once you continue your way up toward the golden spires, the trail becomes less clear. You will find some steep slopes that aren't as clearly marked as the beginning. However, this hike is the most common in Chiang Mai, so you likely will run into someone who can trek the path with you.  Once you make it to the top, you'll be greeted by loads of food vendors, elephant pants, and the bright dragon-faced staircase that leads you to the temple you saw from the city.
2. Climbing at Crazy Horse Buttress:
In the old city of Chiang Mai is CMRCA—Chiang Mai Rock Climbing Adventures. Although there is a small indoor bouldering wall for training, the outdoors is likely what you really want for an ultimate Chiang Mai climbing adventure. You can either book a group tour, private tour, or hire a songthaew through CMRCA to get you out to Crazy Horse Buttress for your climbing excursion. Even if you are going solo, it's easy to find a belay buddy through CMRCA. There's also no need to feel overwhelmed by bringing all of your climbing gear across the world to Chiang Mai as you can rent out everything you need from the shop before you take off. The limestone climbing crag of Crazy Horse Buttress is located in Mae On, about 45 minutes from the city. It's the highlight of Chiang Mai's climbing scene. Once you arrive, you'll have over 150 routes to conquer!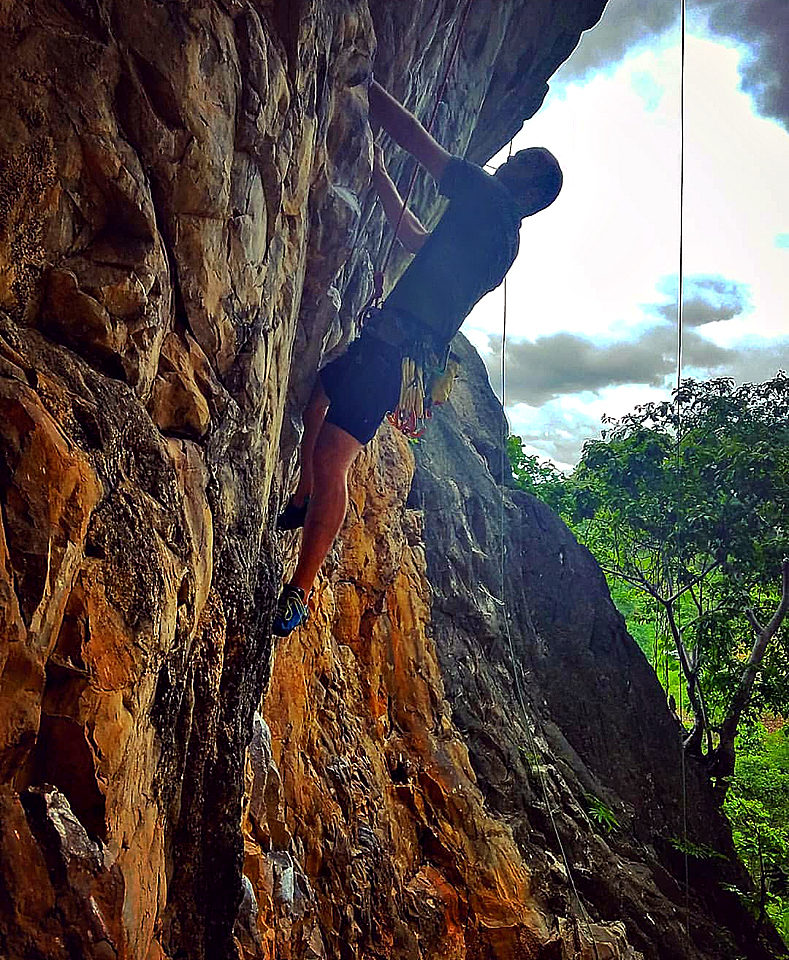 The beauty of Crazy Horse Buttress is that you have options for outdoor pitches, multi-pitches, and climbing inside a cave. You're sure to find like-minded climbers upon arrival which makes it easy to make new friends. Whether you're brand new to the sport or have been climbing for years, you will love your experience with CMRCA.
3. Visiting One of the Various Waterfalls: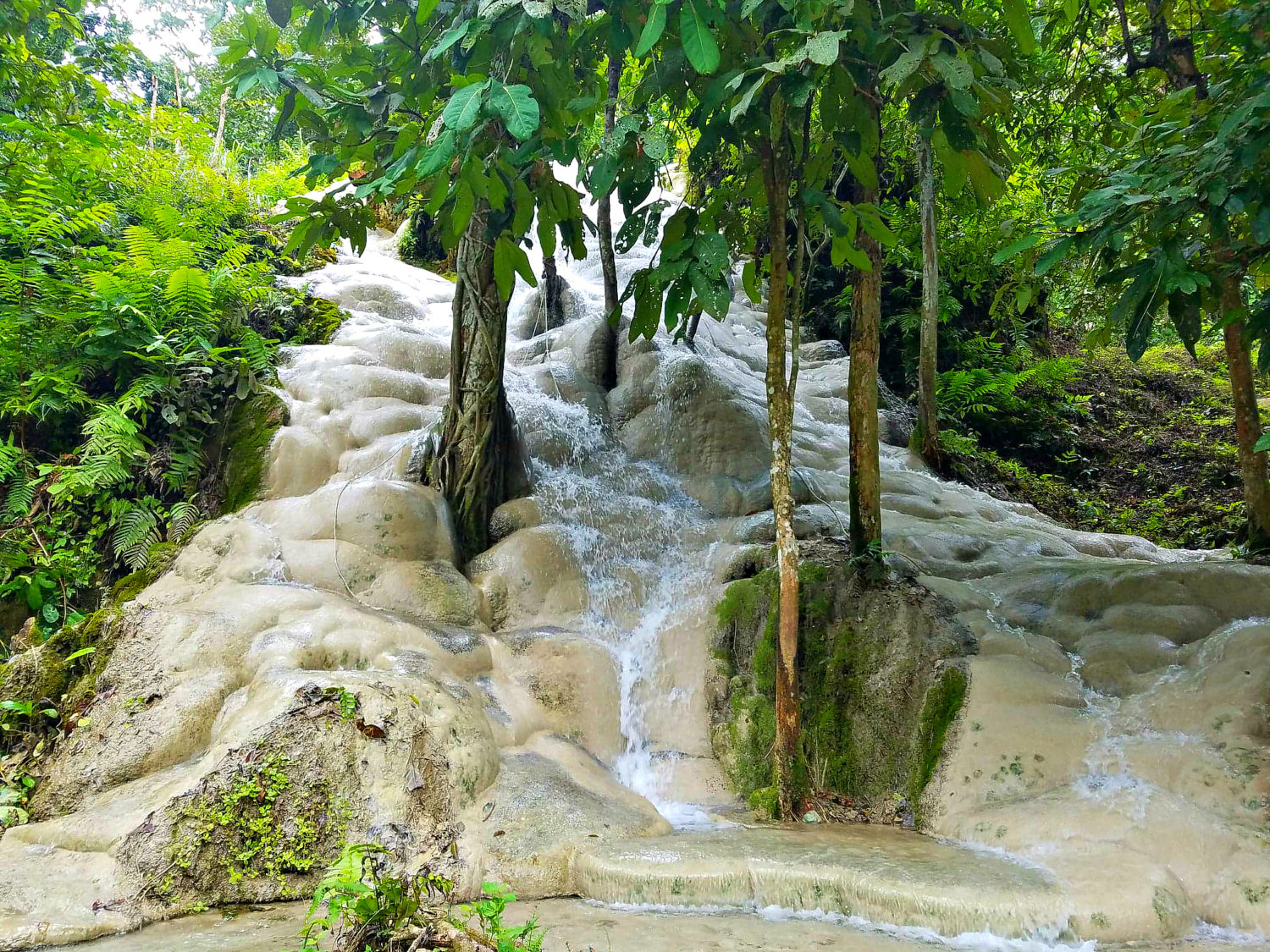 Chiang Mai may not have beaches, but there are great waterfalls to enjoy nearby if you're needing to cool down. Whether you want to lounge in the sun and have a picnic, swim in the crisp waters, or just be out in nature, you'll be pleased with the options nearby. A great recommendation for those passing through is the Bua Tong "Sticky" Waterfalls. It is not nicknamed that by accident. The falls are sticky due to the limestone rock that allows you to literally just climb on up! At the base of the waterfall, you can go for a swim, but it's really mostly known for the fun and sticky climb. Through the different tiers, there are spots to relax or put up a hammock. You'll think you're on a movie set with the lush backdrop of mountains that look at you across from the falls.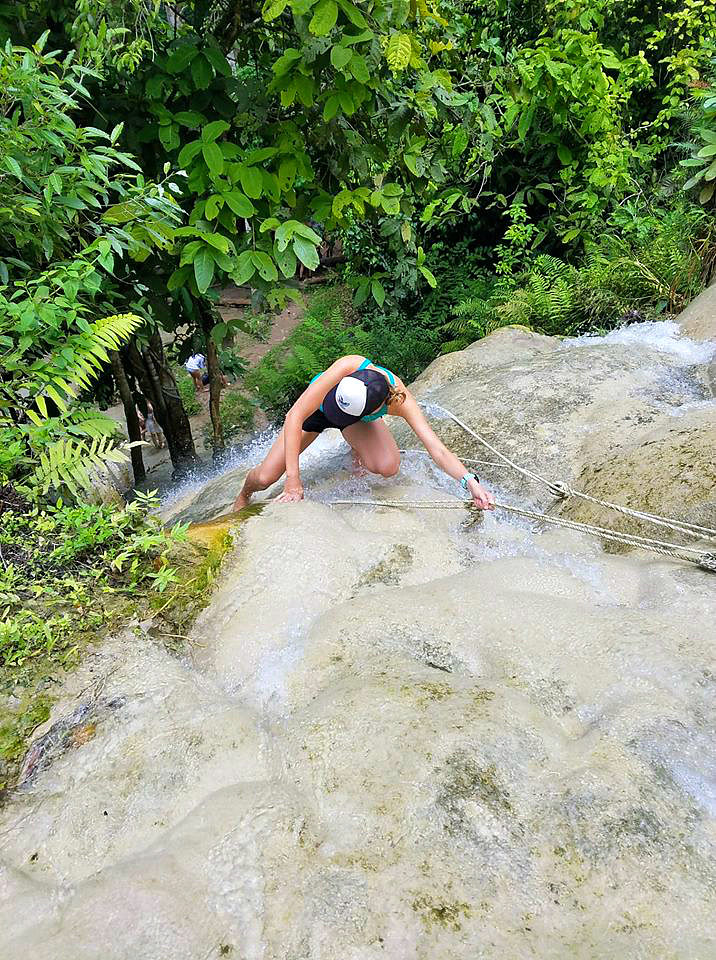 Chiang Mai has many other amazing waterfalls as well. There's the ginormous Mae Sa Waterfall which is a fun motorbike ride up north. If you want a quick half day trip, then check out the local Huay Kaew Waterfall near the Chiang Mai Zoo. Just past that is the Monthathan Waterfall. And if you have time to trek in the jungle and camp for a day or two, check out the Mae Takhrai Waterfall.
4. Trekking in the Jungle: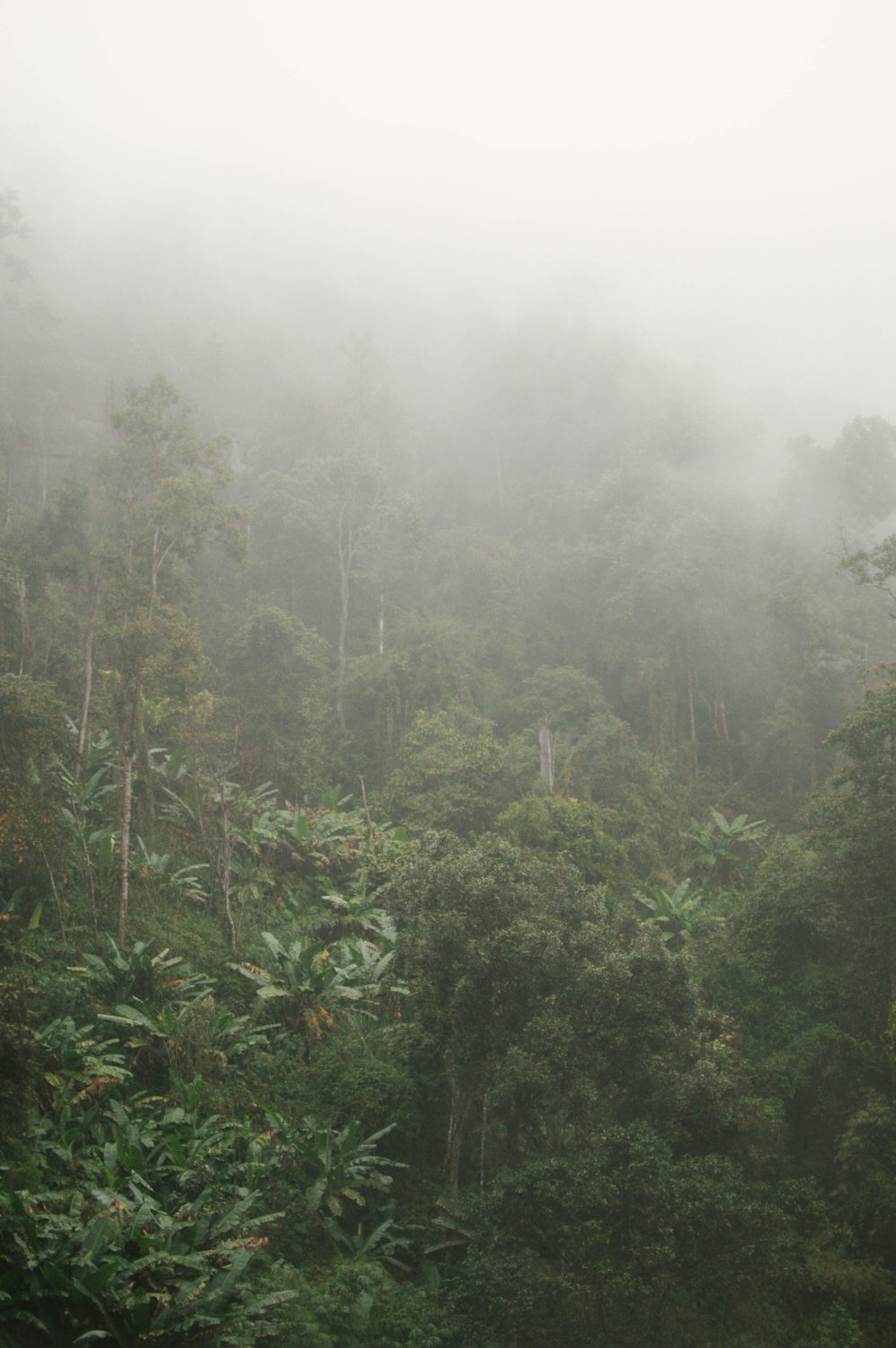 Chiang Mai offers various eco-tours for those who want an ultimate hiking adventure with a local guide who can immerse you in a cultural trek. The great part of booking a tour is that you get to be with experienced local professionals who are familiar with the area. Whether you are wanting to do a home-stay, see elephants, or just experience the jungle, you'll have a trekking adventure that will fit your needs. These tours can either be private or group tours so you can tweak your adventure to whatever suits you best.
If a guided trek is a bit too "planned" for you, go for a hike! Grab a pal from your hostel and get lost in nature. I personally like a mix of guided trekking and solo hiking to get a variety of different experiences.
Many treks may offer the opportunity to visit an elephant sanctuary or ride elephants. However, be wary of companies that offer elephant riding as it is very bad for the animals. Some tour companies take advantage of profiting off of these gentle giants.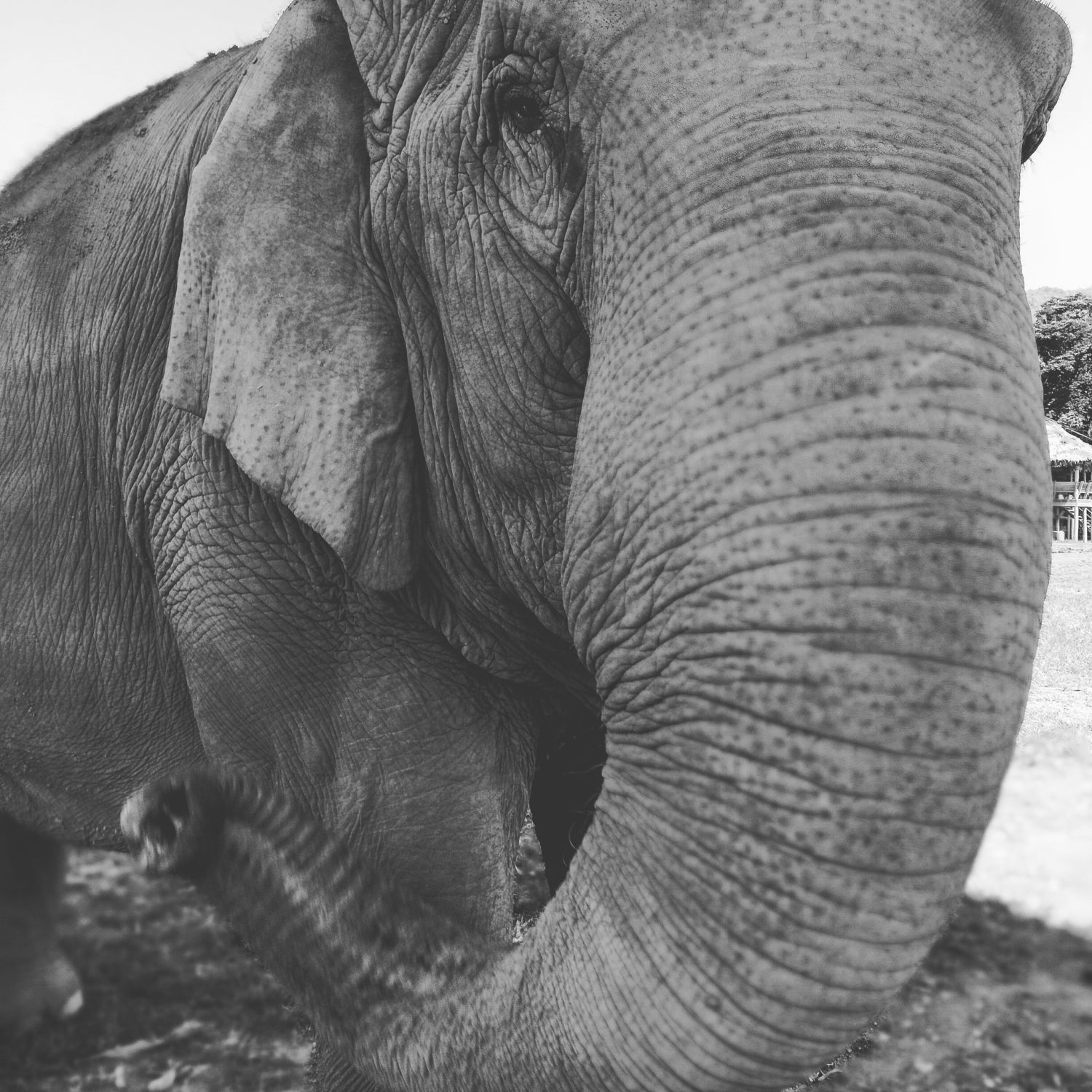 5. Camping at Doi Inthanon:
Just a two-hour drive from Chiang Mai is Doi Inthanon National Park. The park is home to Thailand's highest peak at over 8,000 feet. You can either grab a motorbike, hire a taxi, or rent a car to take you to Doi Inthanon. All you need to do upon arrival is head to the Campground Headquarter. From here you can rent all of your camping gear. It's a breeze. There's no stress and it's clearly accessible for tourists.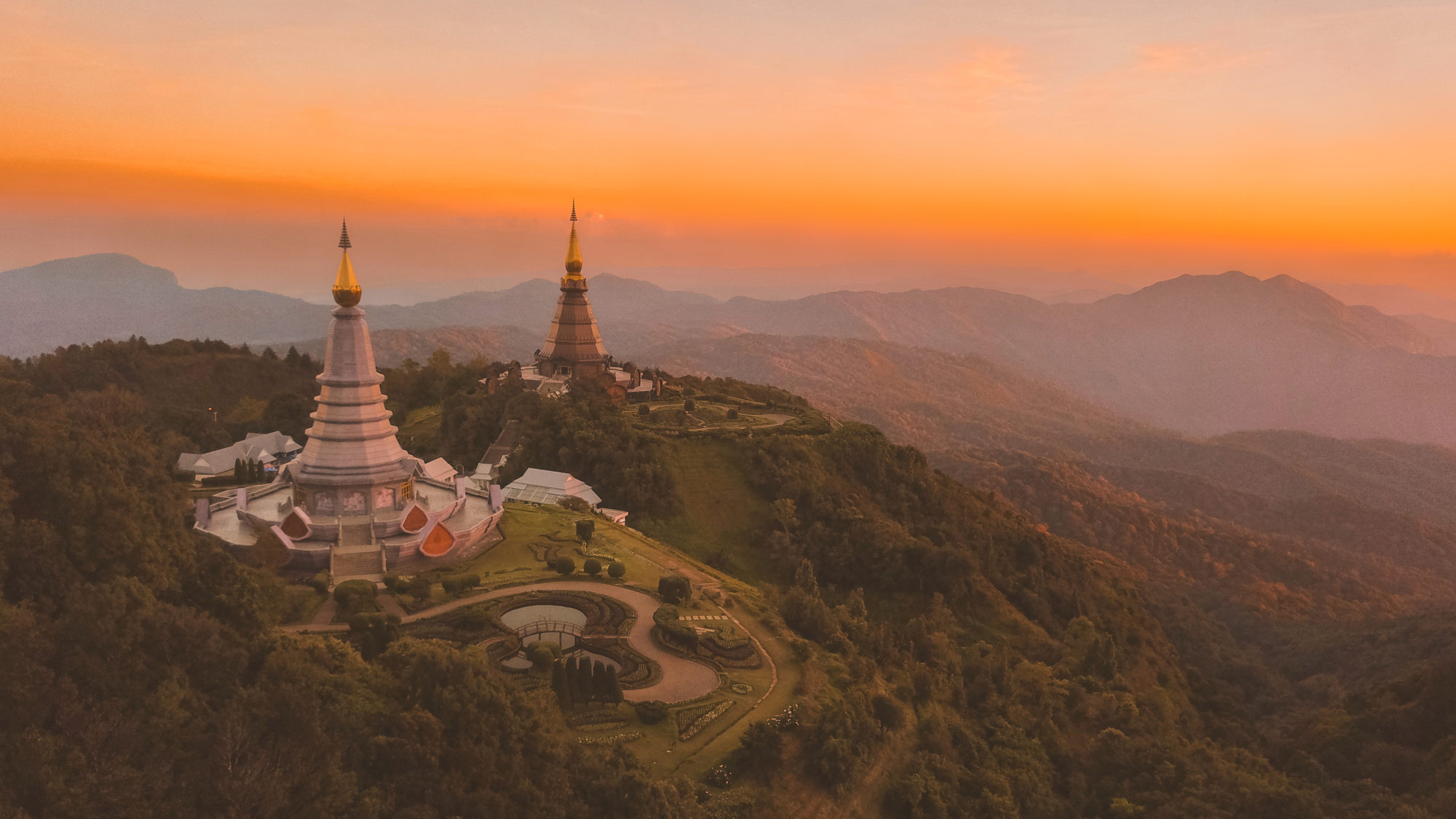 Once you are there, you will have access to loads of trails, waterfalls, and the famous image you see all over Google, The Royal Twin Pagodas. If you don't have much time or aren't keen on overnight camping, you can easily do a quick day trip and still have time to hike and see the Pagodas.
6. Ziplining:
If you want to fly with the birdies, zipline your way around the jungles near Chiang Mai. There's no better way to get the adrenaline pumping than by swinging through the trees. Everyone needs to fly like Superman at some point, right? Chiang Mai offers many ziplining adventures throughout its nearby national parks. You will need to book a tour for this experience and there are many to choose from. Why not get rid of your fear of heights in the tropics near Chiang Mai with a fun group of like-minded flyers? You'll be guided by professionals and be experiencing the jungle in one of the most unique ways possible.
7. Mountain Biking:
A while back I did my first mountain biking tour in Chiang Mai. I didn't really know what to expect, but I figured I knew how to ride a bike. I showed up to Mountain Biking Chiang Mai and was given all of my protective gear. I rolled my eyes as I put on my elbow pads, shin pads, hand pads, and all that good protection I thought I was too cool for. Little did I know what I was really getting myself into. We took off for the mountains and I immediately realized the truth behind a mountain biking adventure. Although a bit intimidated at first, there were options for the more "newbie" types to ditch the steep hills. I only fell three times and was thankful I was all geared up.
Overall, it was a blast. We cycled through coffee plantations, had stunning views weaving our way through mountains, and had great guides. Eventually, we rode down to Huay Tung Tao Lake for a late lunch and time to relax.
8. Relaxing at Huay Tung Tao:
If mountain biking isn't your thing, head over to Huay Tung Tao for an afternoon on the lake. It's a quick 20-minute drive from the city. The reservoir is speckled with over 100 little private huts that can easily fit small groups of friends. Each area provides local snacks and drinks in exchange for a space to sit. Bring a deck of cards, a book, some sketchbooks you've been meaning to get out and relax on the lake. It's peaceful, you can paddleboard or swim—despite the somewhat murky waters—and take in the beautiful mountainous surroundings. You can also walk or cycle the perimeter if you want a bit of exercise.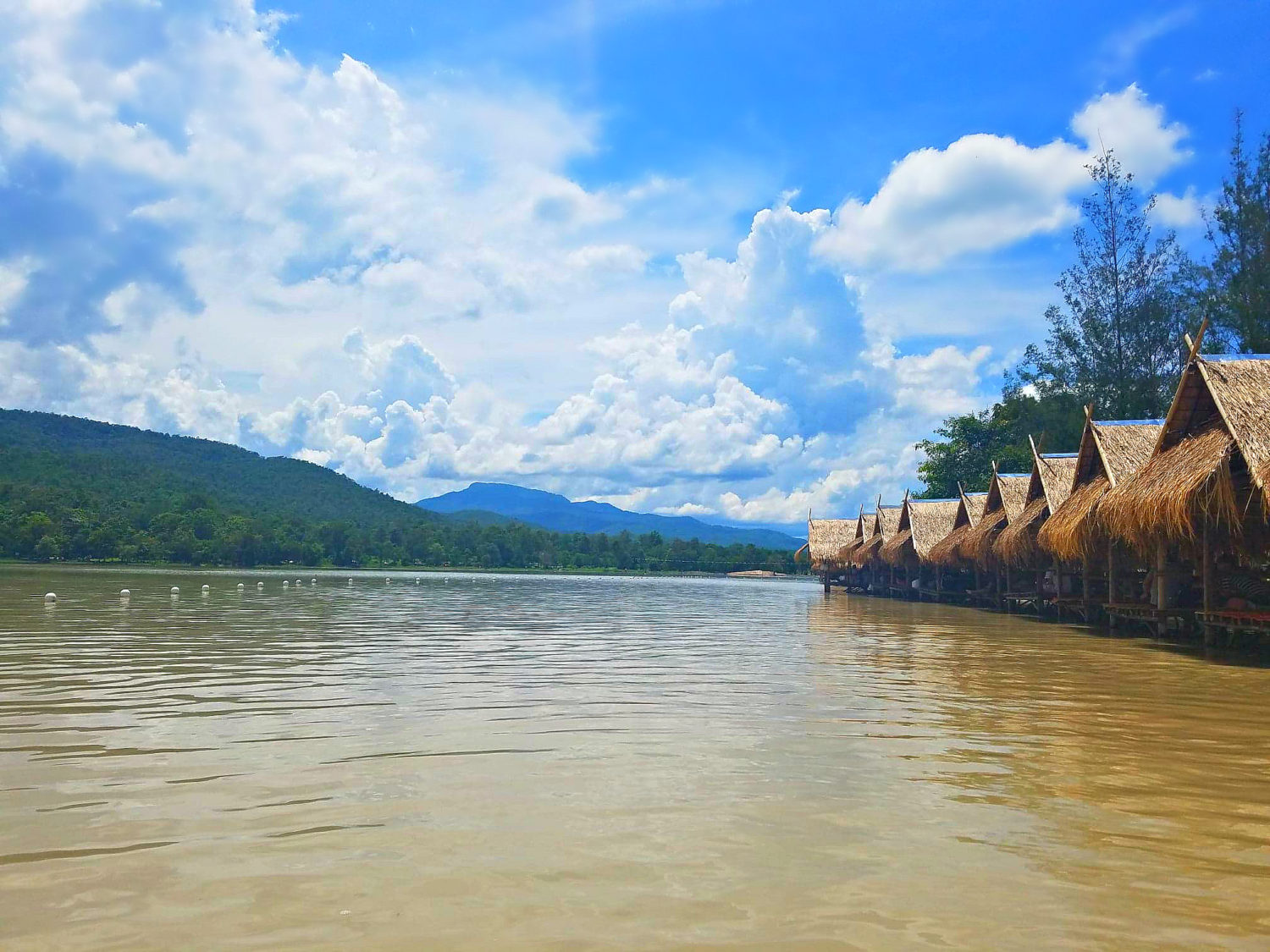 So many adventures near Chiang Mai await! Chiang Mai is both a great place to get a mix of blood pumping outdoor exercise on top of complete relaxation. After a day of working up a sweat, you can go relax at the night bazaar while getting a foot massage, fruit shake in hand, to heal those sore muscles. What are you waiting for?! A Chiang Mai outdoor adventure is calling your name—go and book those tickets!
Suggested next reading: How To Go Rogue And See Southeast Asia By Motorbike