What makes for the perfect Australian road trip? It takes awesome scenery, safe, open highways, and interesting towns. Beautiful beaches are a bonus—as is great weather—and the occasional bustling city certainly helps you experience the best cuisine and nightlife the region can offer.
So, not an easy combination of things to find, especially if you want to get away from some of the major routes in Europe and the Americas.
However, as I discovered recently, the state of Queensland offers one of the best road trips in the world. In this article, I'll share some of the things we learned on our trip, from major attractions to local insider tips, as well as practical advice, so you can plan your perfect Australian road trip, fomo-free ("fear of missing out"-free).
Cairns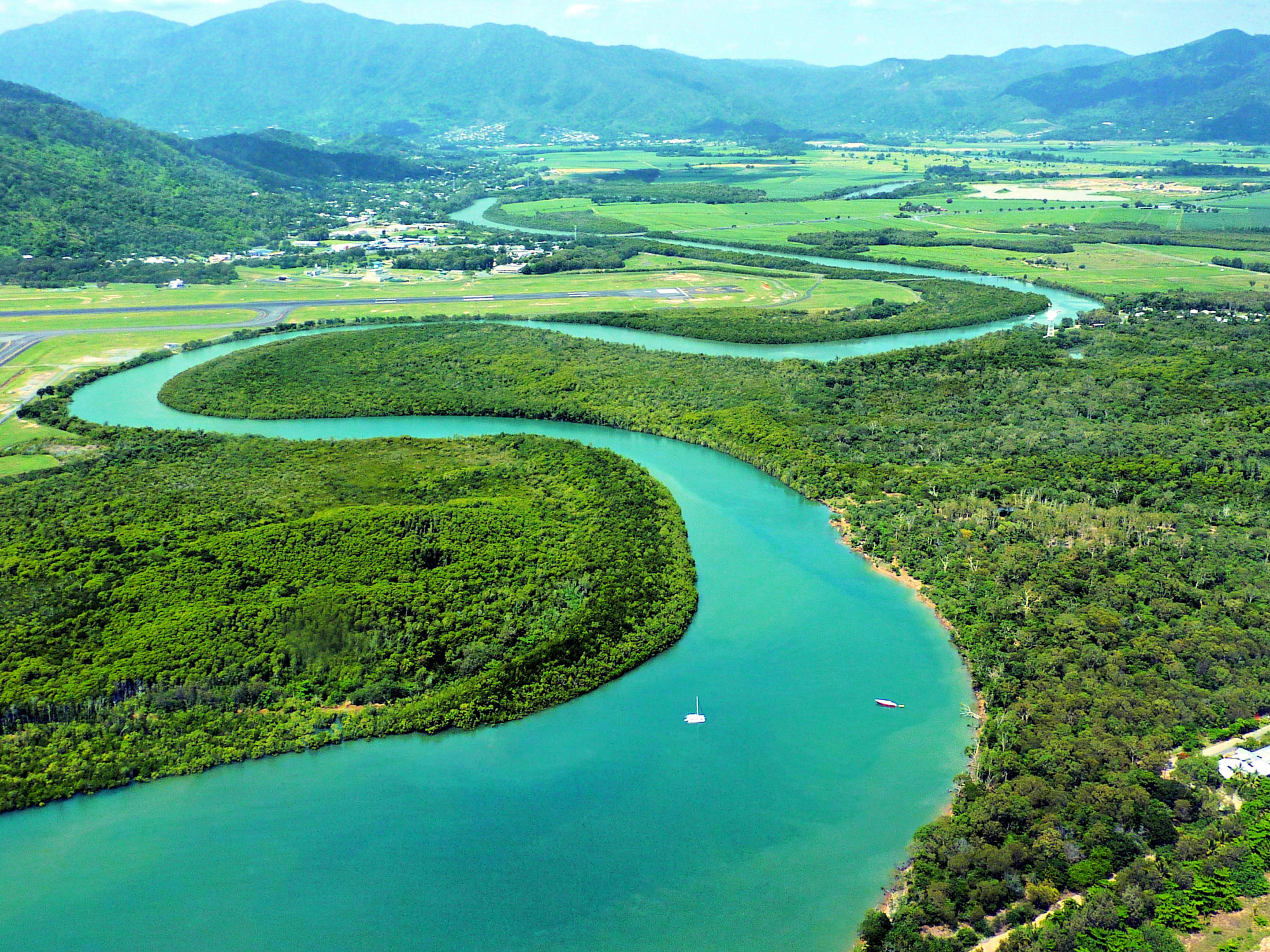 Cairns is Queensland's second-largest city but is still small enough to be charming and super laid-back. It's a great place to pick up your campervan or rental car, but before you do, make sure to leave at least a few days to explore everything the city has to offer—believe me, you won't be short of options.
There are a plethora of world-class dive operators offering to take you out for snorkeling and diving experiences on the Great Barrier Reef and they cater to all experience levels, so don't be put off if you're not the strongest swimmer.
The tourist information center in Cairns can help you find the best dive operator for you, but if you'd prefer to book ahead then my personal recommendation would be Cairns Dive Adventures.
If you're feeling adventurous then Cairns is a spectacular place to skydive, as it gives amazing views out over both the Great Barrier Reef and the rainforest known as the Wet Tropics of Queensland—one of the only places in the world where two UNESCO World Heritage sites meet.
If you're looking for something more relaxing then head to the beachfront: Cairns doesn't have a great natural beach, but it does have a cool artificial one with a swimming pool right on the esplanade. There are a host of restaurants and bars in this area in which to unwind, and if you're lucky you might also catch a gig, or even a festival, in the adjacent park.
Port Douglas and Cape Tribulation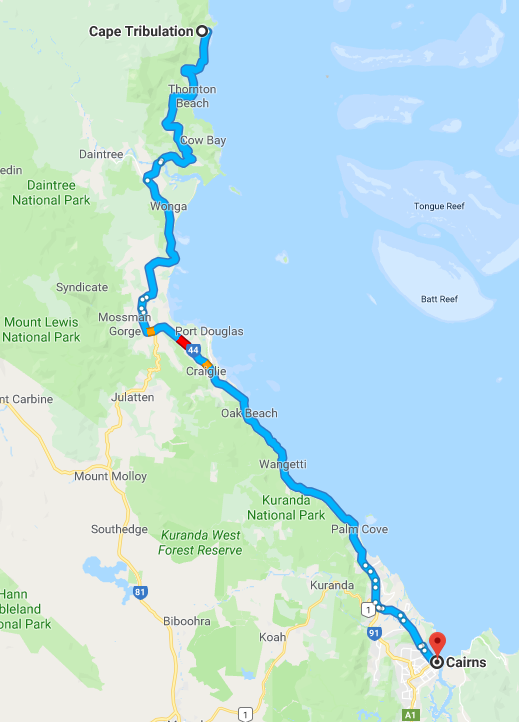 Once you're done exploring Cairns, head North towards Cape Tribulation, arguably the most spectacular point in the Wet Tropics. You'll need to take a ferry to cross the river south of Daintree, so you may need to allow a two-day round trip from Cairns if you're going all the way and want to make stops.
If you only have a day to spare, then head to Daintree Forest National Park for a saltwater crocodile spotting tour on the river or zip-lining over the jungle canopy. The pretty town of Port Douglas, home to the stunning Four Mile Beach, is well worth a stop, too.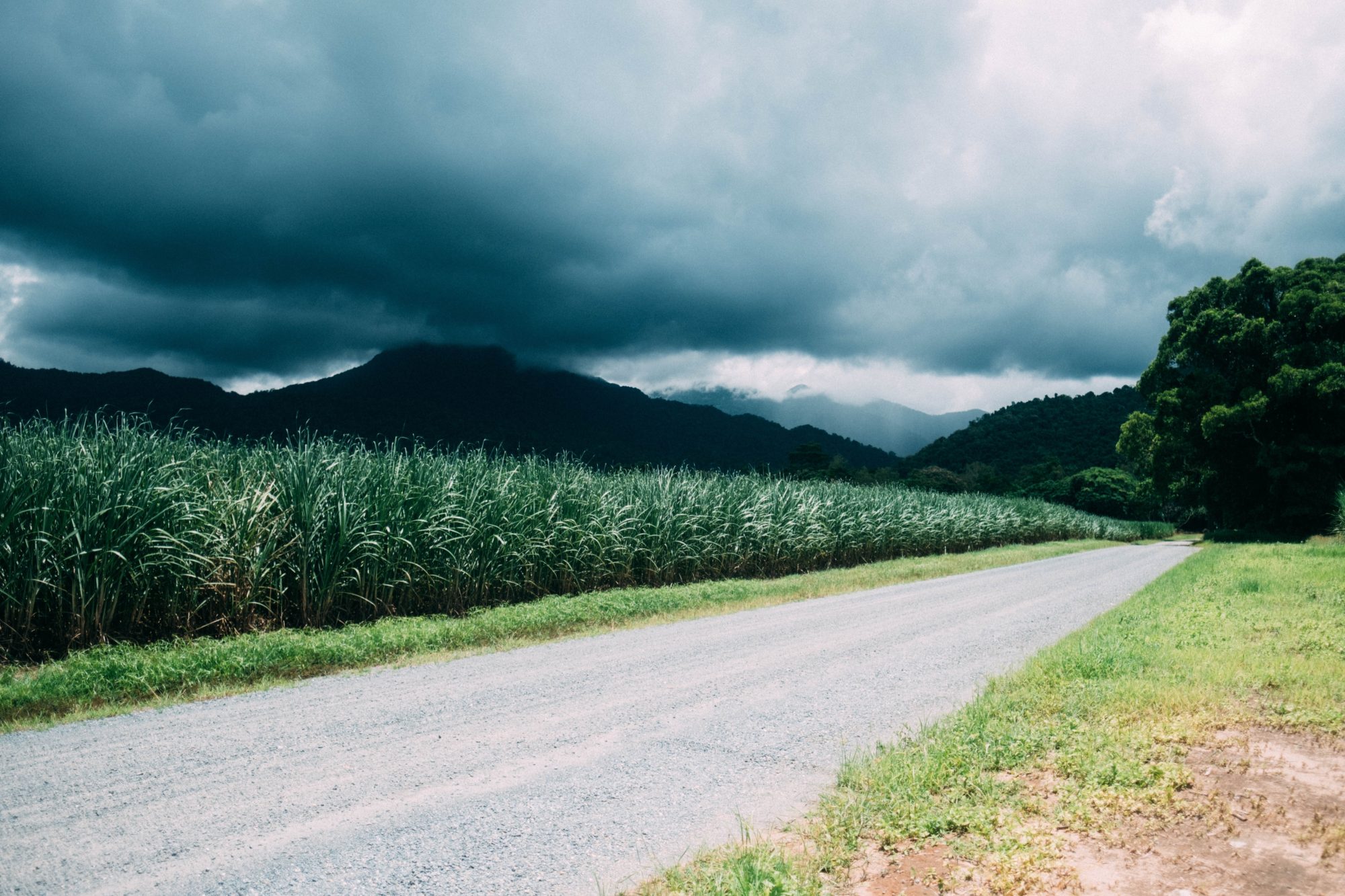 Local tip #1: North of Port Douglas is a town called Mossman. Just south of Mossman there's a small track called Shannonvale Road. If you follow this road a short way you'll eventually come to a cool, secluded and safe swimming hole in the rainforest that only the locals know about!
Local tip #2: Palm Cove is a gorgeous beach north of Cairns, but if you're looking for something more private then head a little farther to Ellis or Oak Beach, as they're a lot bigger and less visited, so you'll likely have the whole place to yourself.
Kuranda and Mareeba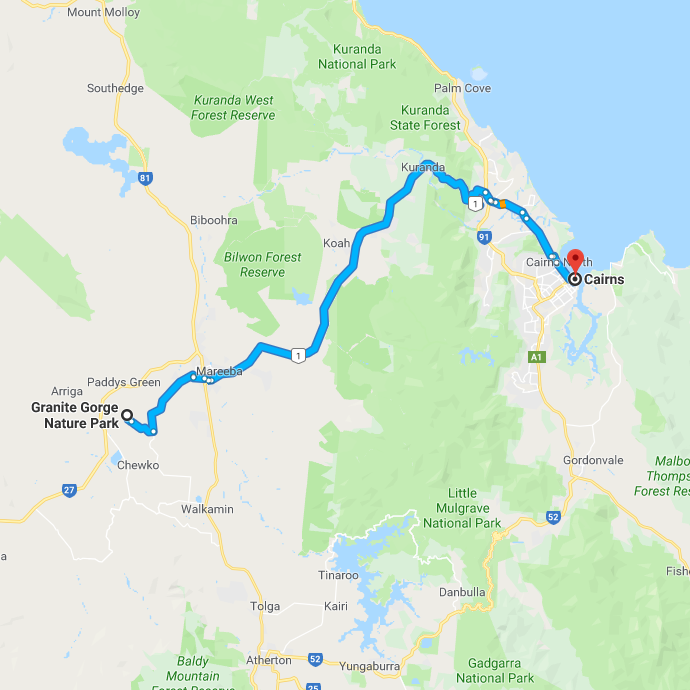 Head South back to Cairns to pick up the winding mountain road towards Kuranda. This small village in the rainforest was originally an Aboriginal settlement, but the later influx of a small hippy community led to artisan craft markets popping up in the area.
As well as the markets and the mighty Barron Falls, the village offers the chance to cuddle a koala, visit a butterfly sanctuary or take a riverboat cruise.
Kuranda is also home to a world-famous scenic railway line that skirts the edges of a gorge and so close to enormous waterfalls that you can feel their spray. Book tickets here.
Head West towards the pleasant town of Mareeba and you'll pass by two wild swimming spots that will literally take your breath away (the water can get pretty cold).
The first is Davies Creek National Park. A long dirt track eventually takes you to the base of Davies Creek Falls, a beautiful spot that's a perfect place to stop for a picnic. However, carry on up the dirt track and you'll eventually come to the top of the falls. Here you'll find a natural infinity pool protected by rocks, which allows you to swim right up to the edge of the 75-meter drop below!
Carry on a little farther West—programme your GPS for "Cobra Road"—and eventually you'll come to Emerald Creek Falls.
This is simply one of the most beautiful landscapes I've ever seen. The pool at the base of the falls is so accessible, calm and safe, it's hard to believe it wasn't man-made for the purpose. We spent two hours swimming beneath the falls and sunbathing on the rocks and didn't see another soul the whole time we were there. Bliss.
Local tip #3: Instead of staying in Mareeba, head a little way west to a place called Granite Gorge. There is a small, privately-owned campsite there, and while the amenities aren't the best, the views over the other-worldly gorge are stupendous. Trust me, this volcanic landscape is so surreal you have to see it to believe it. Oh, and there's also natural swimming pools, dinosaur footprints and hundreds of wild wallabies all over the place!
Yungaburra and Millaa Millaa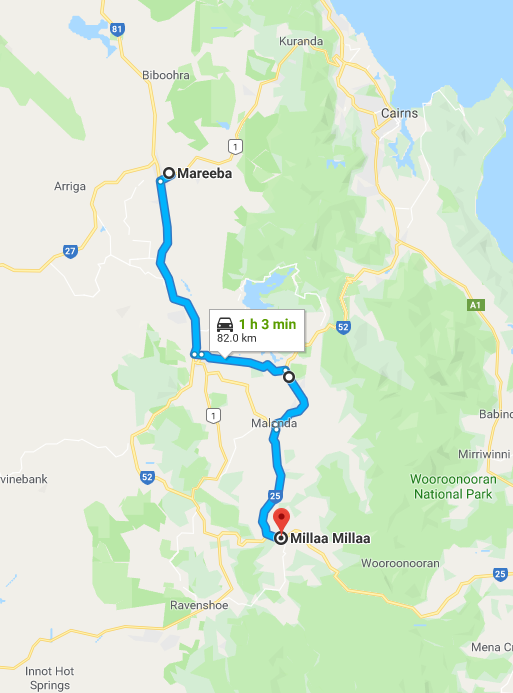 Leave Mareeba and head south towards Atherton and the charming heritage town of Yungaburra. Take time to explore the volcanically-formed Lakes Tinaroo and Barrine, collectively known as the Crater Lakes National Park, before continuing on to Millaa Millaa. On your way you'll pass through gorgeous rolling hills and dairy farms that are more reminiscent of rural England than Australia.
Once at Millaa Millaa you will pick up signs for the "Waterfall Circuit". Essentially this is a small, looped tracked that takes you past three gorgeous natural falls.
The eponymous Millaa Milla waterfall is perhaps the most beautiful and has the best natural swimming pool of the three. It's also the most photographed in all Australia. Zillie Falls are the grandest and give easy access right to the edge of the precipice, and while Ellinjaa Falls are perhaps the most modest they're still well worth a visit.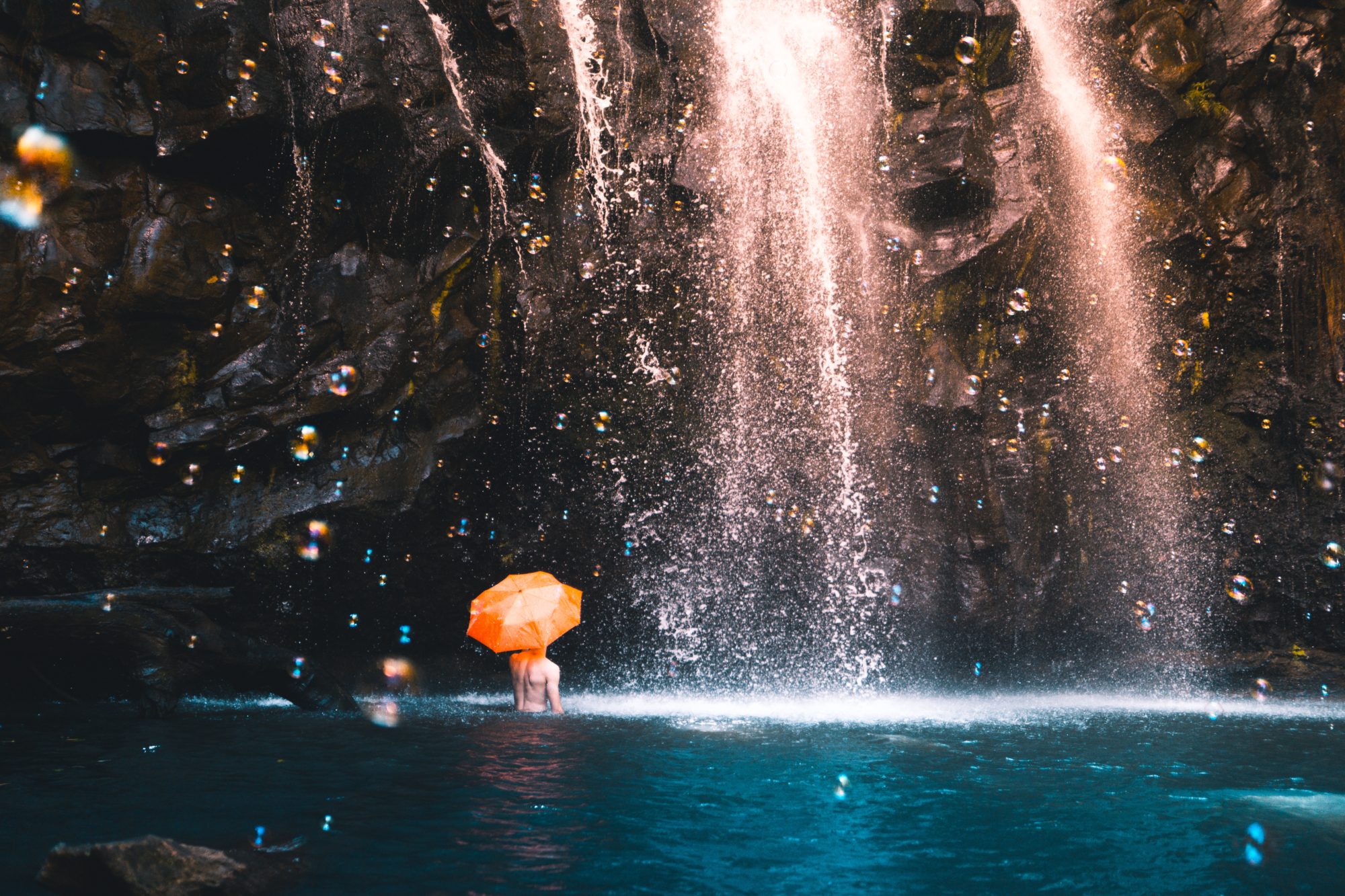 Local tip #4: Peterson Creek, just outside Yungaburra, is one of the best places in all Australia for viewing platypus in the wild. Visit at dawn or dusk and you'll have a pretty good chance of seeing one of the country's most elusive creatures.
Local tip #5: If you have time to spare, and are interested in understanding a bit more about life in the Outback, the head 140km west of Mareeba to explore the old mining town of Chillagoe. As well as local history—Chillagoe was essential in developing Queensland's economy in the late 19th and early 20th Century—it's also home to some natural wonders, such as water caves and towering limestone peaks.
Innisfail and South Queensland
Once you've exhausted everything Tropical North Queensland has to offer, head east to Innisfail and you'll be in the perfect spot to head home to Cairns or continue your journey into South Queensland.
What surprised me about North Queensland was how diverse it is, and how spectacular; you can pick almost any place on the map and you're almost certain to be rewarded.
What impressed me most, however, was how secluded everything feels. There are natural wonders here to rival anything the rest of the world has to offer, but in many places there are no entrance fees, no tacky gift shops and no crowds—you can simply pull your van or car over and wander about in truly unique landscapes.
I really can think of no better place to experience the joy, the freedom and the excitement of a road trip.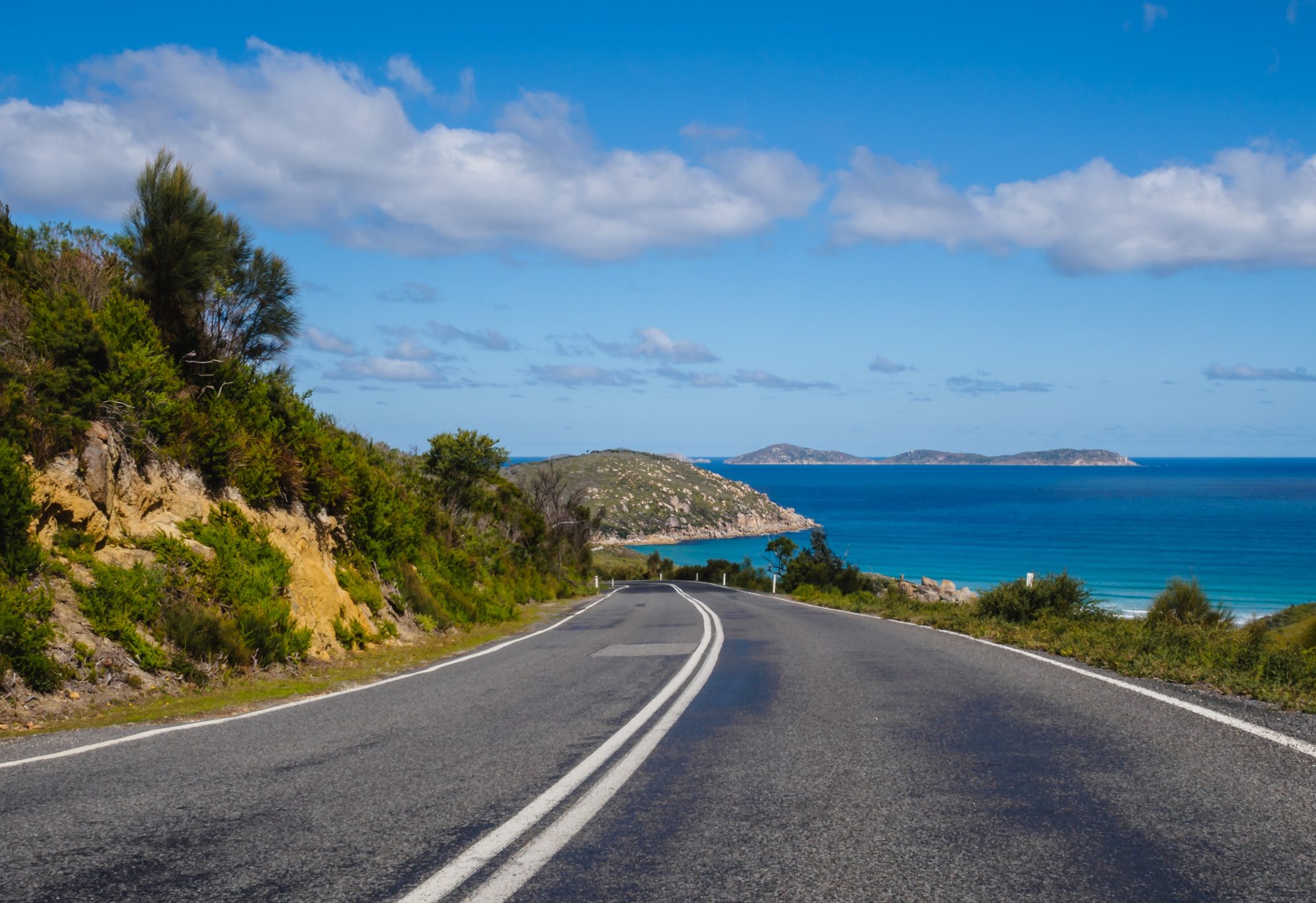 The questions I wanted to ask:
1. How much are campsite fees?
They vary from place-to-place. The most expensive was around $50 AUD and the cheapest was $25 AUD per night.
2. What kind of extras do I need in my campervan?
Very few. Most campsites come with barbecues, other cooking facilities, and have good to excellent showers and toilets. In my opinion, it's not worth getting a toilet and shower in your van as the campsites are much better, and cleaning the toilets and wastewater is a job you'd want to avoid anyway.
3. When is the best time to visit?
We visited, quite by chance, in early September. The weather at this time was perfect: sunny but not too humid. Many of the locals said it was their favorite time of the year. It's also the time of the year when most of the dangerous jellyfish are farther north, so you can swim in relative safety.
4. Is it safe to swim?
Yes and no. All of the natural swimming spots mentioned in the article above are perfectly safe from all nasties. However, crocs, jellyfish, stonefish and rip tides are all very real risks in some areas. Make sure you do proper research before going, ask locals for tips, and always swim between the flags. Never swim near river estuaries and never, ever cook or prepare meals near the edge of rivers, unless you want to be croc food.
---
If there's anything you'd like to know about this Australian road trip then please leave a comment below. Happy travels.
Suggested next reading: Australia's Must-See Art Installation In The Middle Of The Outback