Once almost entirely closed to international tourism, China is now the fourth most-visited country in the world. Most visitors travel from neighboring countries like Taiwan and South Korea, meaning the annual number of visitors from European and American countries remains relatively low.
This is perhaps unsurprising. Having spent 5 weeks backpacking around China I have witnessed first-hand some of the challenges it still presents. The complicated visa process, underdeveloped infrastructure (especially outside major cities) and restricted internet services certainly make independent travel a little taxing.
I also came to realize that every frustration is ultimately worth it. China is infinitely compelling and constantly changing. In fact, there's so much to discover in this vast country that it's difficult to know where to start.
If, like me, you want to get a taste of the most beautiful places of China and see some rural natural scenery, then these 9 places certainly won't disappoint. Chances are, though, that even if you manage all 9, you'll be drawn back time again and again.
1. Guilin and Yangshuo
In the heart of Guangxi Province, far from China's booming megacities, is a magical landscape that will transport you to a bygone era.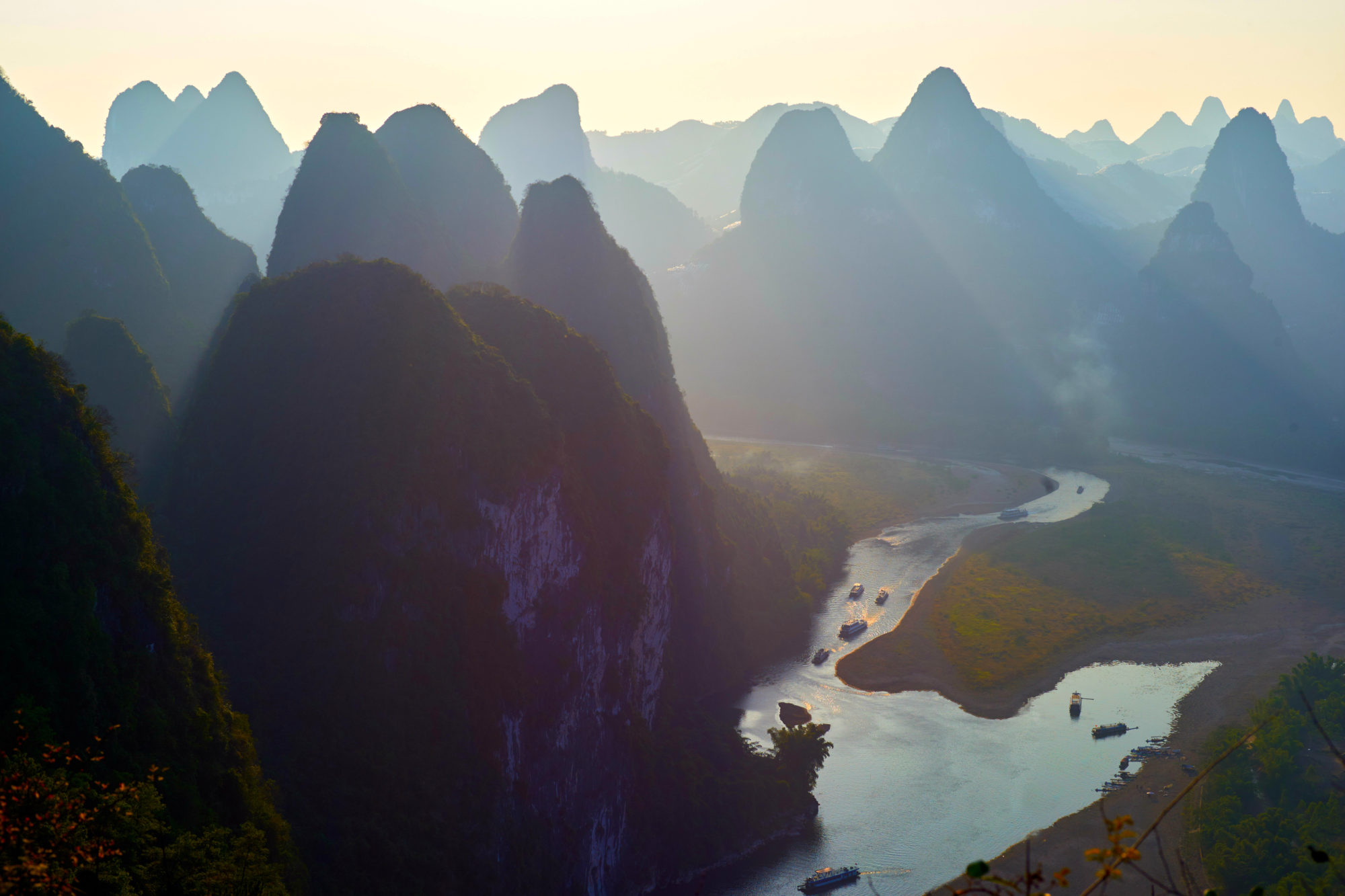 Guilin city is the ideal base for exploring the region. Take time to sample the beer-cooked catfish, a local delicacy, as you wander through the lively, low-rise streets towards the unusual "Elephant Trunk Hill" and the beautiful Sun and Moon Pagoda, both a short walk from the city center. The dazzling underground caverns at Seven Star Park and Reed Flute Cave (below) are essentials, as is a trip to the Longji Rice Paddies.
Once you've exhausted everything Guilin has to offer, take a boat ride down the lazy Li River to Yangshuo. Locals here use cormorants to help fish these waters, and as you wind your way through this ageless landscape you're sure to feel a connection with the romantic imagery of China's past.
Once in Yangshuo, head away from the town center and get a hotel room in the scenic area. Here you will be able to unwind in striking surroundings, learn to cook local food, explore on bicycle or hike up the unusual Moon Hill for some panoramic views of the area.
2. Jiuzhaigou
This national park in Sichuan Province is a photographers' paradise. Emerald lakes, cascading waterfalls, thick primeval forests and jagged peaks combine to create some of the most unforgettable scenery this vast country has to offer. Situated at the edge of the Tibetan plateau, this remote area remained undiscovered by the Chinese government until 1972 and was proclaimed a national park a decade later. A number of villages within the park preserve unique Tibetan heritage and customs that feel like a world apart in modern China, offering you the chance to interact with 1,000 local people who still call this wild landscape home.
Arguably the focal point of the park is the gorgeous "Five Flower Lake". Water streams down from the mountains to create a lake that is both vivid turquoise and crystal-clear, providing views to the very bottom, where ancient trees lie in rest. A perfect spot for meditation and relaxation, or to take a photograph that will be the envy of all your friends.
Because Jiuzhaigou is so remote, access can be a little tricky. The most common method is to fly from Xi'an or Chengdu, but long-distance bus routes are available, too. More information on how to plan your trip can be found here
3. Zhangye Danxia National Park
If you're the kind of person who finds Jiuzhaigou a bit too touristy and wants to get even further off the beaten path, why not head to Zhangye in the far North of China? Often colloquially known as the Rainbow Mountains, the psychedelic ripples of color in this otherwise rusty landscape make it look a bit like Mars, if it got really into prog-rock.
The landforms, created by the folding and layering of sandstone over millions of years, really come alive during dawn and dusk, when shifting shadows really bring out the drama of the landscape.
Your best bet for accessing the park is to fly—usually from Xi'an—to the city of Zhangye, a remote desert town roughly 19 miles away from the park. Despite its isolation, Zhangye was an important stop on the former Silk Road, so is rich in history. Whilst here, take time to explore the Giant Buddha Temple or take a 90-minute excursion to the fabulous Mati Temple Grotto, a place of worship carved half-way up a sheer rock face.
Visit Travel China for more information on planning your trip to Zhangye National Park.
4. Zhangjiajie
The 3,000 stone pillars at Zhangjiajie, China's first national park, have long been favorite spot for Chinese nature-lovers. However, after serving as the inspiration for the Hallelujah Mountains in the film Avatar, this awesome landscape has been imprinted more firmly into the global consciousness. To help cater for the growing tourist demand the Chinese government opened a glass bridge—the world's highest and longest—across the canyon in 2016.
Whilst it's perhaps a shame to have man-made structures like this and the Baoling Elevator—the world's tallest outdoor lift—in such a pristine natural environment, it has made accessing some of the most scenic spots easier for people who may not otherwise have the chance. Luckily the park is big enough and spectacular enough from all angles that you shouldn't have any problems finding quiet corners in which to frame your perfect photo…or to play a fiddle?
Access is usually by flight from most major cities. The towns surrounding the park are still quite small and peaceful, so hotel space can be at a premium. Make sure to book your hotel early, especially if traveling during Chinese national holidays.