1. Waffles
We start this article with a truth bomb—while you can eat a waffle in Belgium, you can't eat a Belgian waffle as no such thing exists!
I'll give you a second to recover from that revelation. Recovered ok? Then you're ready to hear that instead of one single Belgian waffle there are instead a lot of different types of waffle. All of which are delicious and all of which are available in Belgium. Two of the most recognizable are:
The "Brussels" Belgian Waffle
First, we have the Brussels which is a golden rectangle of goodness and usually topped with fruit and whipped cream. You'll be glad of these additions as this particular Belgian waffle tends to be less sweet than its counterparts. Perhaps we'll call this the healthy option and then feel less bad when we eat five of them.
The "Liege" Belgian Waffle
The second most common type of waffle found in Belgium is the Liege which you'll recognize from its round shape and crystallized sugar interior and exterior. This can be found in many a Belgian hole in the walls, usually with the option of thick Belgian chocolate decadently poured all over it.
The real question is, which one is better. We can't decide so why don't you try both and let us know?
2. Lard Balls
I know, they really sell it with the name, don't they? But think of Lard Balls, less like balls of lard and more like Doughnuts. Also popular in the Netherlands they have the nickname Dutch Doughnuts, or Dutchies whilst the Belgians know them as Smoutebollen. These little sweet balls of dough are sprinkled with sugar and served at fairgrounds and Christmas markets.
3. Mussels

What is there to be said about mussels that hasn't already been said? Delicious with a glass of white wine and a good view, the Belgians cook theirs in a myriad of different ways. With garlic cream, with mustard sauce or as the famous Moules Marinière where they are served with gently simmered wine, shallots parsley and butter. Mussels farmed from the North Sea are larger than their French counterparts, which means you get more deliciousness for your buck.
4. Eel in the green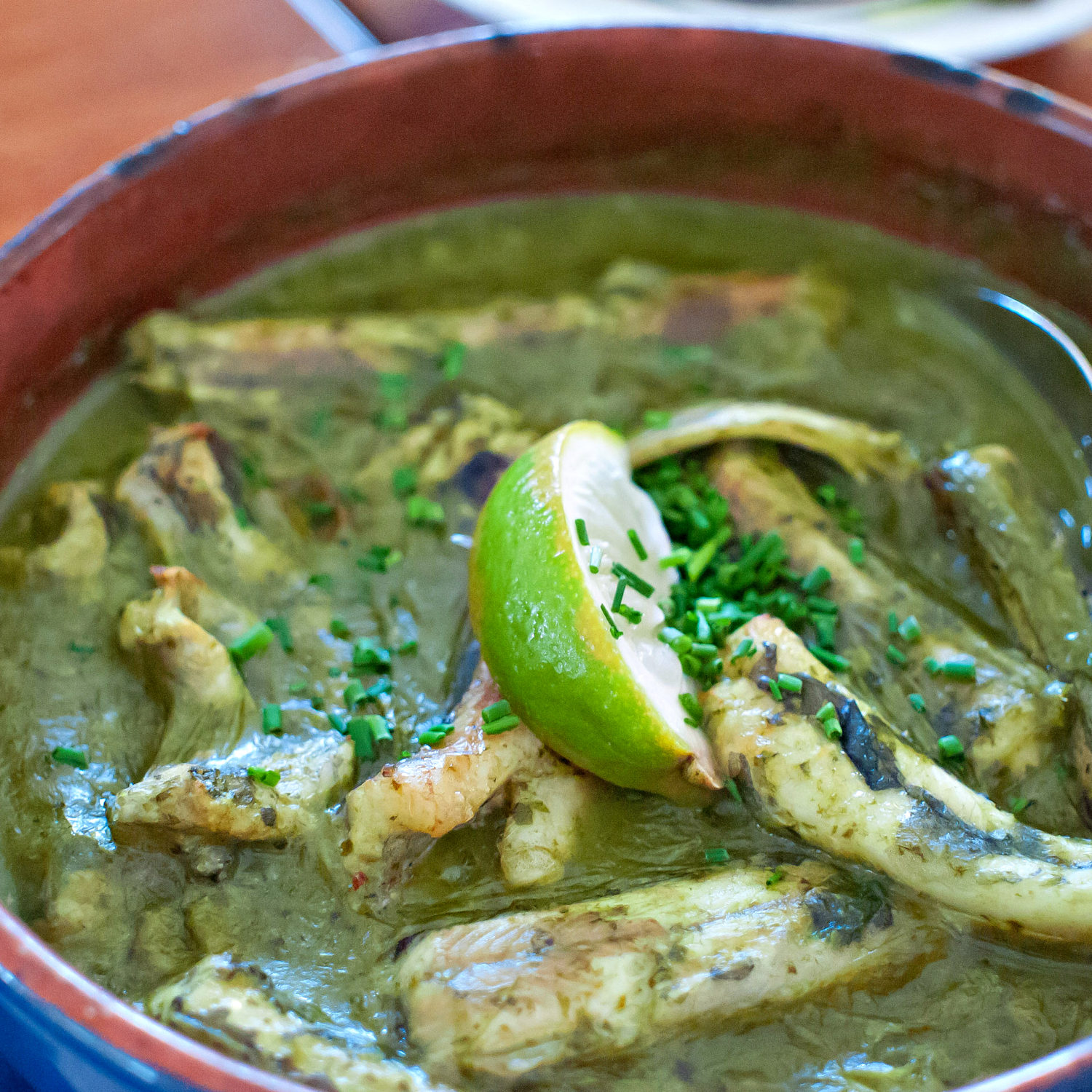 Although sounding like a weird occurrence at a Cricket match, Eel in the green is actually a deliciously fresh dish made from eels and herbs. Its origins are found in the river Schedule near Antwerp where fisherman used to catch eels and cook them with herbs they found along the riverside. Now it's mainly served with parsley, watercress, and basil and found in all the best restaurants.
Although you may at first be a little squeamish about eel, this is miles away from the cold jellied variety you may be thinking of. Instead think soft, white delicate fish in a verdant green sauce with a side of feeling proud of yourself for trying the unusual sounding item on the menu. Very grown up, go you!
5. Chips
You know the Belgians are a nation of food lovers due to the reverence and proper respect they show one of the greatest dishes in the world—chips. Who doesn't love chips? With their golden crispy outside and fluffy soft innards, show me one person who turns their nose up at a good chip and I'll show you someone you probably shouldn't hang around with anymore.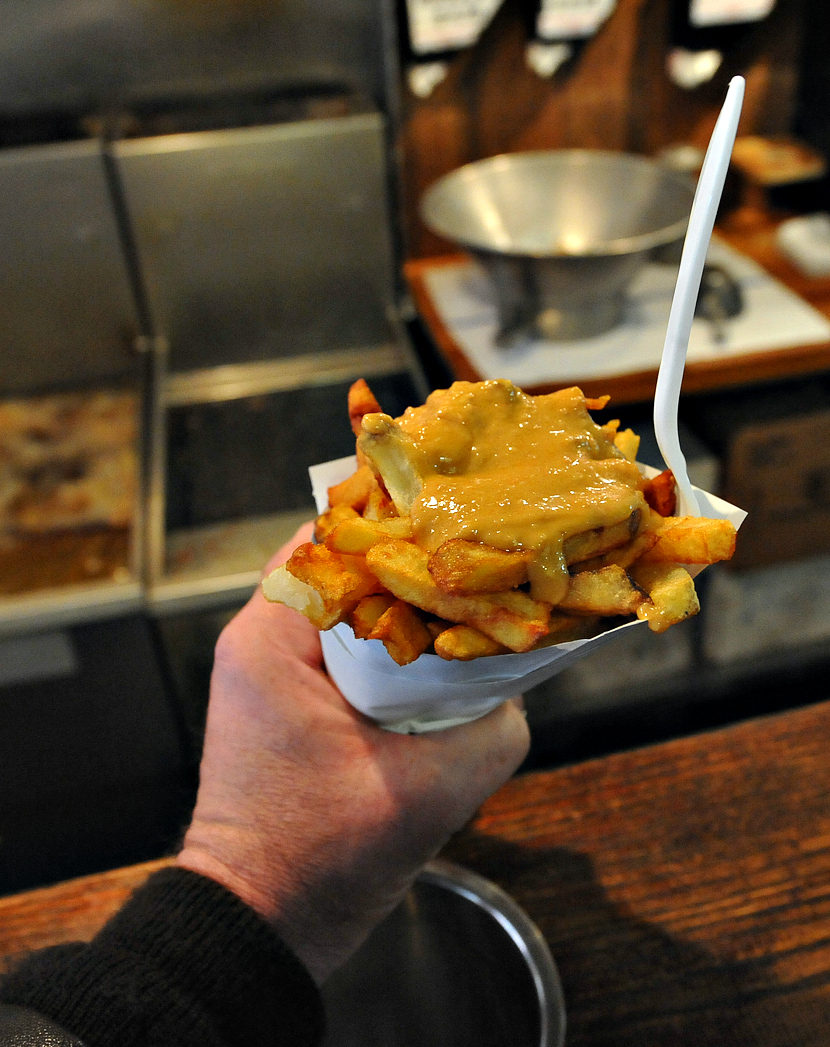 In Belgium they actually call them frites and are allowed to since they invented them. Choose any of the savory dishes on this list and you can guarantee they'll come with a side of frites. However, they are too delicious to not get their own entry or even be a meal on their own, so grab a salt shaker and your condiment of choice and tuck in.
6. Rabbit with Prunes
Like many good dishes, Rabbit with Prunes started out as a peasant dish. Born of necessity when times were hard, it has since been picked up by chefs and given its proper place in the culinary world. The mixture of savory and sweet is a winning combination the Belgians love and is sure to win you over.
7. Chocolate
You can't really go wrong with finding chocolate in Belgium. They are literally famous for creating the best of one of the world's favorite treats. Therefore no matter where you are in Belgium, you will find good chocolate and you will be happy. However, if you want the best of the best then seek out the Sablon area in Brussels. This part of the world is home to some of the best chocolatiers and presumably happiest people, their customers. Why not join them in their gooey, sugary glee?
8. Liege Syrup
Made from seriously reducing fruit juice (usually apple and pear), this sticky fruity syrup can be used for both sweet and savory dishes. It's commonly used as a spread either on a slice of bread or in a tartine. However, it can also be used in the meatball recipe Boulets à la Liégeoise, which hails from the same region. In this dish, it is added to the sauce which accompanies the meatballs which in turn accompanies the fork into the mouth of a very happy foodie.
9. Stoofvlees or Beef stew
For a more familiar Belgian delight, we must mention the classic Beef Stew. A traditional Flemish stew consists of beef simmered in Belgian beer, thickened with bread and flavored with mustard, onion and seasoning. Humble parts make fantastic results and there is no better meal to enjoy on a chilly, windy day. Maybe with an extra glass of beer to wash it all down.
10. Stoemp
If for some crazy reason you don't want frites with your meal, the Belgian people have got you covered. Made from mashing potatoes and vegetables (usually carrots, kale, onions and brussels sprouts), Stoemp is a delicious way to mop up any thick rich gravy lining your plate. For a delicious treat, try pairing it with a sausage and prepare to be happy.
So, from the Belgian waffle to stoemp, that's our list of foodie must-haves in Belgium. If you know of any more, drop us a line in the comments!
Suggested next reading: Belgium's Best Kept Secret Is Jaw-Droppingly Pretty