For those wanting to know what kind of food is Balkan, all you need to know is that it is hearty, filling and delicious. The best Balkan food includes a diverse mix of cheeses, meats, vegetables, beans and a variety of pies.
In here, I've gone for Tavče Gravče, Srpska Salata, Kebapci, Mămăligă, Byrek, Pleskavica, Štruklji, and Mekici. I'll be explaining more about each one just below! But first…
What Counts As "Balkan"?
The Balkan region itself covers mainly the countries of former Yugoslavia (Serbia, Macedonia, Kosovo, Montenegro, Bosnia and Herzegovina, Croatia, and Slovenia) as well as the post-communist countries of Romania, Bulgaria, and Albania. While from a geographic point of view, only parts of Romania, Croatia, or Slovenia are part of the region, many records nonetheless consider these countries as Balkan.
Some records also include Greece and the European part of Turkey (including half of Istanbul) in the Balkan region. From a gastronomic point of view though, Greece's gastronomy is mostly related to Mediterranean food while Turkey has influences from the Middle East.
This debate of whether somewhere is Balkan or not can be infinitely discussed. For the sake of some common features though, I'll focus on the traditional Balkan dishes that historically and genuinely represent the essence of the Balkans. This is mainly because, until two hundred years ago, most of the countries in this region were part of the Ottoman Empire. Therefore many traditional dishes in the Balkans have Ottoman influences, use similar types of ingredients, and similar recipes.
The Best Balkan Food
Here are 8 of the most popular and best Balkan foods that you will find throughout the region. Some of them can be found in a variety of forms in multiple countries, whereas some are popular only in a certain region. Make sure you've eaten before reading this article!
1. Tavče Gravče

Tavče gravče is oven-cooked white fresh beans, in a sauce flavored with dry red pepper and bay leaves. The dish has a special taste if cooked and served in special earthenware. It's a classic comfort-food and simply one of the best foods in the Balkans.
Tavče gravče is a national and staple dish in Macedonian cuisine (and popular in the Northern part of Greece too), but it is also a staple of Serbian food and Bosnian cuisine as well.
2. Srpska Salata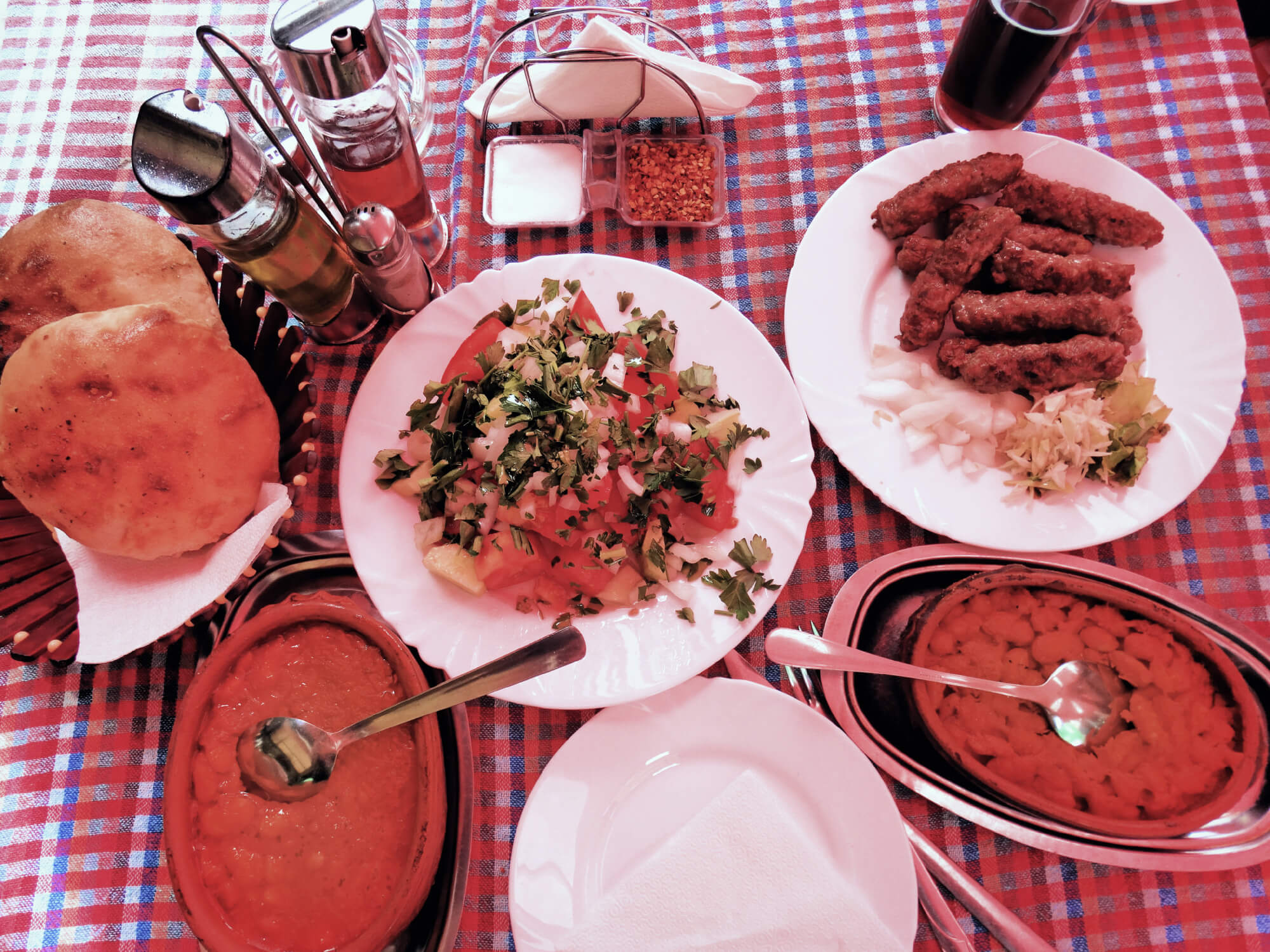 Srpska salata is very popular in Serbia and it is made of raw peppers, onions, and tomatoes, dressed with oil, vinegar and sometimes even hot chili.
A similar, more widespread variant is the Šopska salata, which is made of tomatoes, cucumber, and onion, topped with grated or diced white brine cheese (sir or sirinje). This is the traditional Bulgarian salad and also the national Macedonian salad, so you will find it extensively in these two neighboring countries.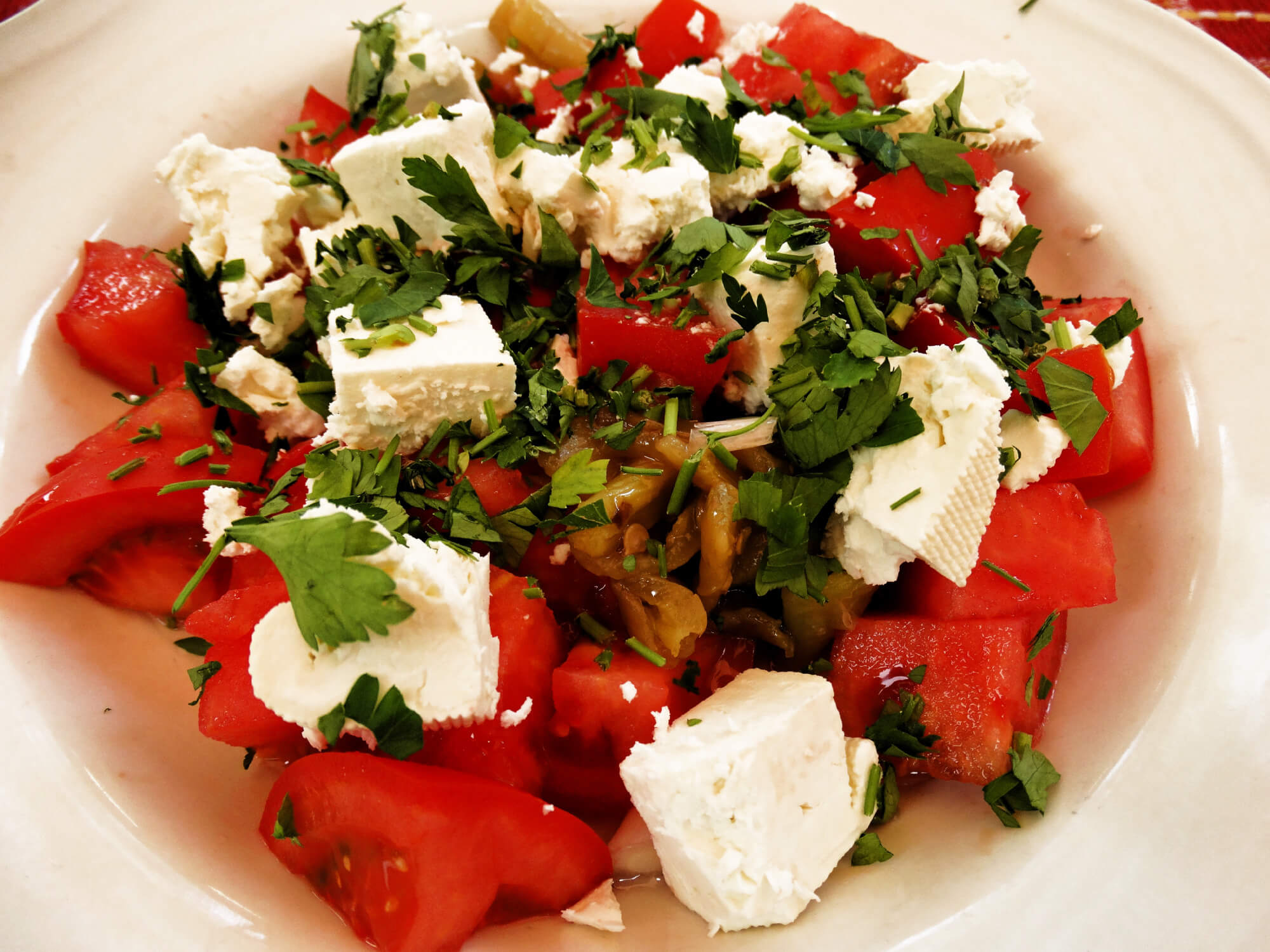 Šopska salata is very similar to the traditional Greek salad, but this last one is served with diced feta cheese which gives a slightly different taste.
3. Kebapci, Ćevapčići / Ćevapi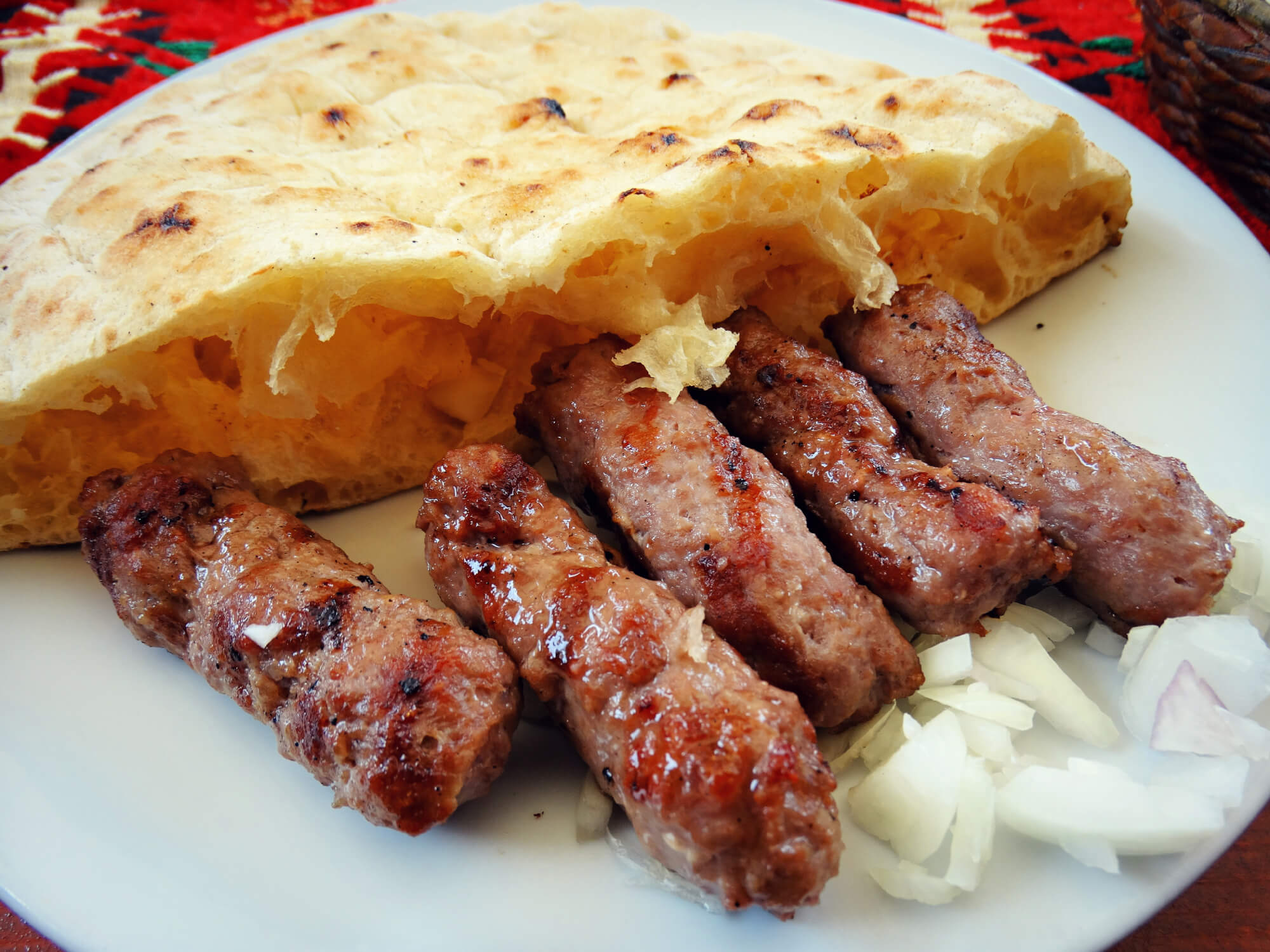 Kebapci, Ćevapčići / Ćevapi are some of the favorite foods in the Balkans. They are spicy minced meatballs of lamb, beef or pork, well grilled. Usually served in groups of five to ten pieces, they can be paired with fried potatoes or simply with bread (in some regions flatbread) and often chopped onions, kajmak (a special type of sour cream), or ajvar (a pepper-based condiment made from red bell peppers and oil).
Kebapci have their origins during the Ottoman period and this is why they are so popular in southeastern Europe (which was under the Turkish rule for quite a long time).
They are easy to find especially in Bosnia and Herzegovina, Serbia, and Macedonia, but can also be ordered on menus in Slovenia, Montenegro and Albania…not to mention this is also a Croatian food too. You can't miss this food in the Balkans!
In Romania, mici are similar to kebapci, but they are bigger in size and the recipe and taste are slightly different, so you should try both of them to accurately experience the difference. Which one is the best Balkan food? We'll let you decide!
4. Mămăligă Cu Brânză Şi Smântână

Mămăligă cu brânză și smântână is one of the national Romanian dishes. It is basically polenta or boiled cornmeal mush served with white sheep cheese and fresh sour cream. Polenta is usually hearty and fills your stomach, but just be on the safe side, you can also order it topped with fried eggs and paired with scallions or chopped red onion.
You can find polenta with cheese as a main dish in many restaurants throughout Romania, but simple polenta is also popular as a side dish for other courses. It is also cooked a lot in family homes and, if you hike in the mountains, stop at a sheepfold and ask for their polenta—it has a special flavor when cooked on a wood fire.
Be curious and read more about different variants of serving polenta and other Romanian foods here.
5. Burek / Byrek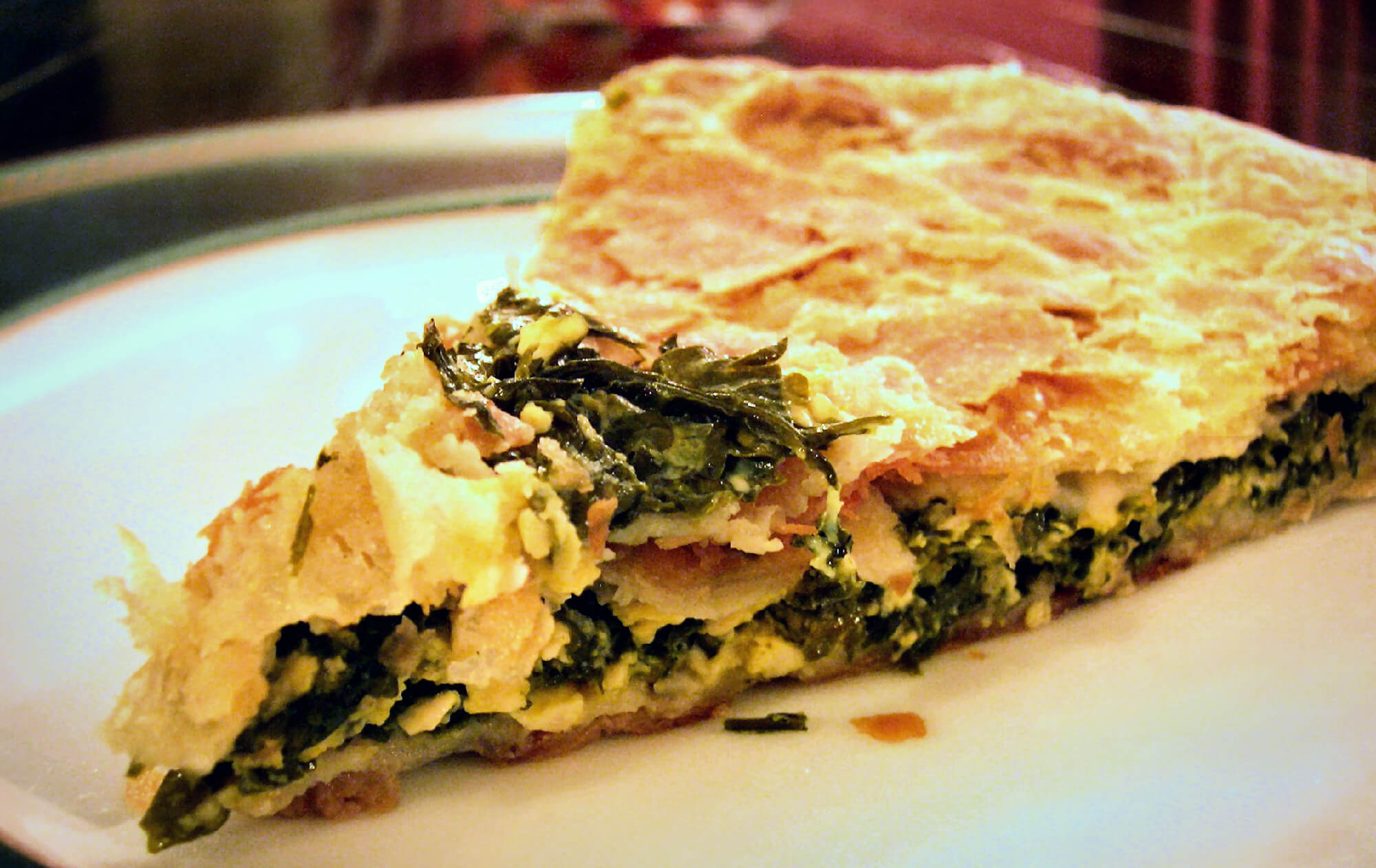 Burek or byrek is a delicious filo-pastry pie stuffed with cheese, spinach, potato, minced meat or even mushrooms. Byrek is traditionally prepared in a large pan, then cut into smaller pieces after baking and served as individual pastries (usually they have the form of a triangle).
This ubiquitous snack is mostly served cold or hot with yogurt for breakfast. It's so hearty that you can eat it for lunch too if you're in a hurry.
Byrek is originally from Anatolia (a province in current Turkey) and it is widely found in the cuisines of the Balkan countries. In the former Yugoslavian countries, stop at the shops with pekara (this means "bakery" in Slavic languages) written on the street-front and snack cheaply on a burek or two. If you try a burek of each type, you'd have to be very hungry as they are quite filling and nourishing.
Burek can be also found in Albanian cuisine in different variants. It is usually stuffed with cheese, ground meat, spinach and eggs, as well as with tomato and onions, peppers and beans, potato or pumpkin.
6. Pleskavica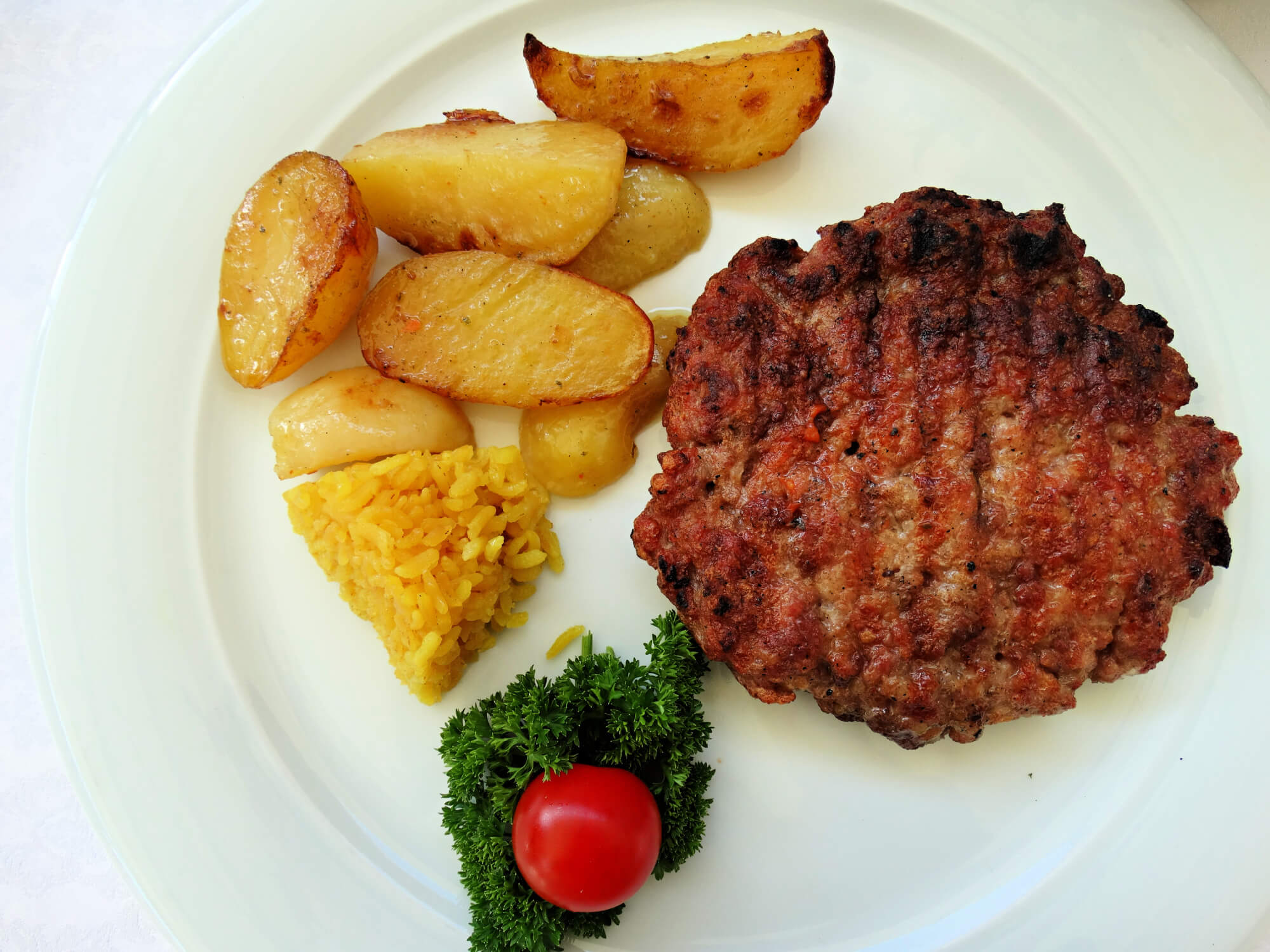 Pleskavica is spiced meat patty made of pork, beef or lamb, which is well grilled on both sides. It is a hearty main course, usually served with chopped onions, a big spoon of kajmak (a type of very tasty, clotted milk cream), French fries or simply with bread (in some regions it is popularly paired with a big flatbread, like a hamburger). When stuffed with cheese it's called pleskavica sharri, and the melted cheese has a special taste that can't be compared with anything else.
The origin of this Balkan food is Serbia, but this spicy hamburger is easy to find in one form or another throughout the Balkans. You can find it in all of the former Yugoslavian countries, but it's popular mostly in Serbia, Bosnia and Herzegovina, Macedonia, and Kosovo.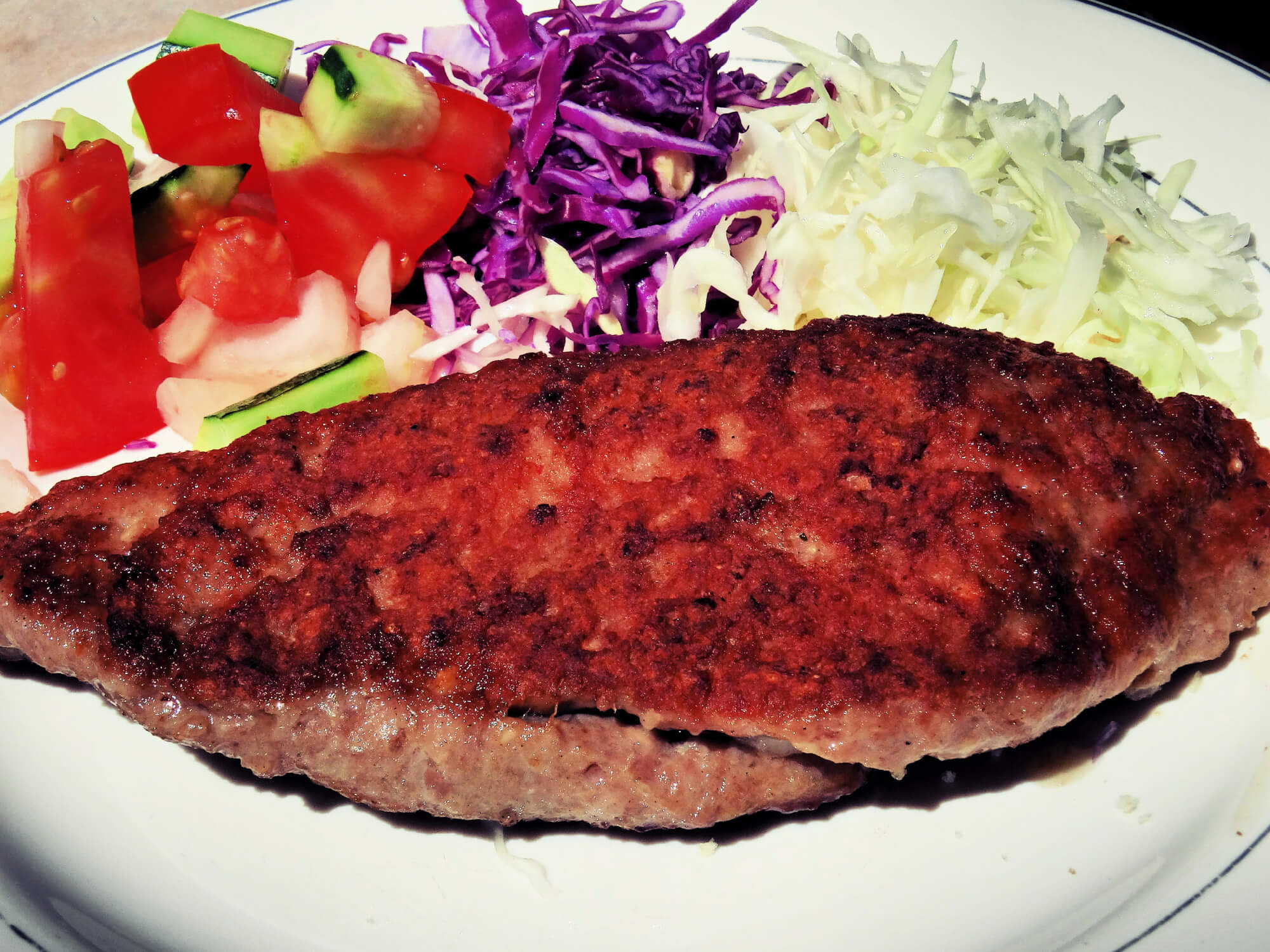 It is big enough to fill your stomach for half a day, and sometimes even for a whole day. So keep that in mind when you order it and don't choose anything for the dessert until you have eaten the big pleskavica in your plate!
7. Štruklji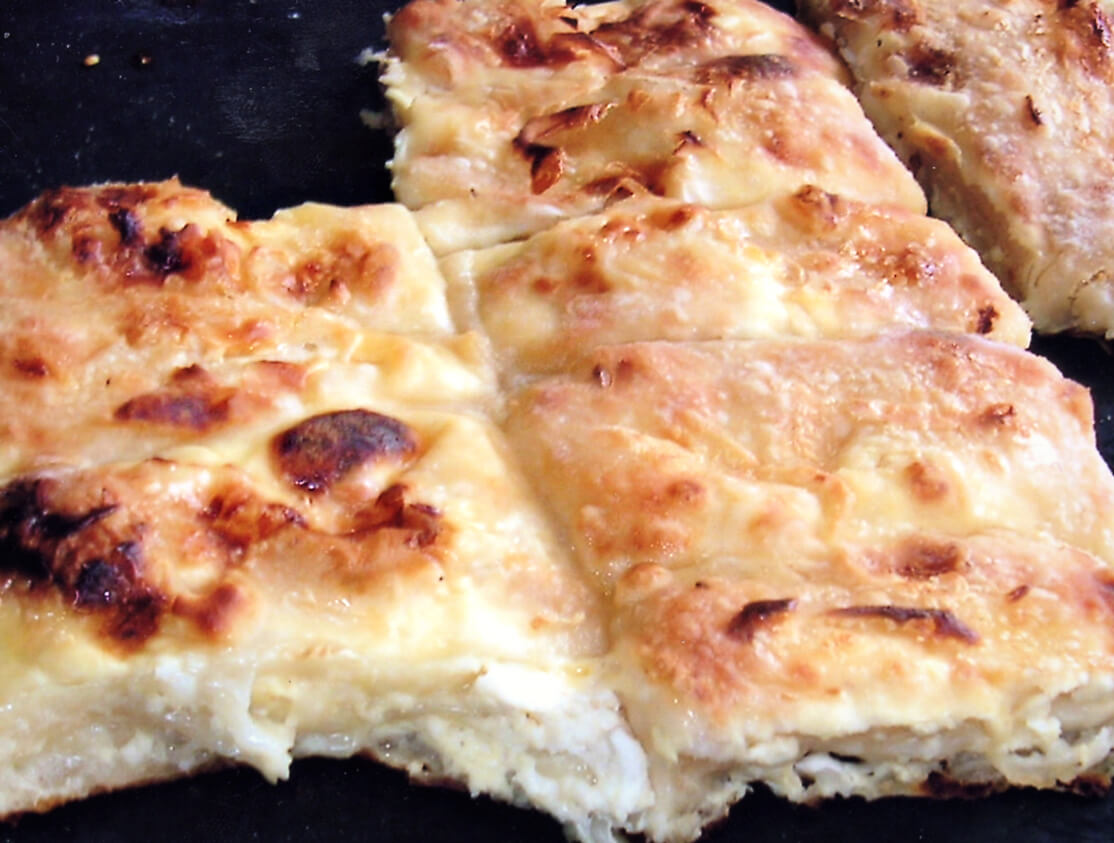 Štruklji are rolled pastries that are either baked or cooked and, depending on the filling, can be sweet or savory. Particularly popular in Slovenian cuisine, it was once a Balkan food reserved for special occasions but now is one of the most featured foods in Slovenian homes.
Zagorski Štrukli is its traditional Croatian relative since Štruklji itself goes all the way back to the 16th Century and probably beyond. However, it is in Austria that it first makes its definitive appearance in history in a recipe left behind by a chef in Graz, Austria's second largest city, in the year 1589.
Fillings that are typical for Štruklji include tarragon (this was actually used in the aforementioned chef's original recipe), poppy seeds, walnuts, cottage cheese, and apple.
8. Mekici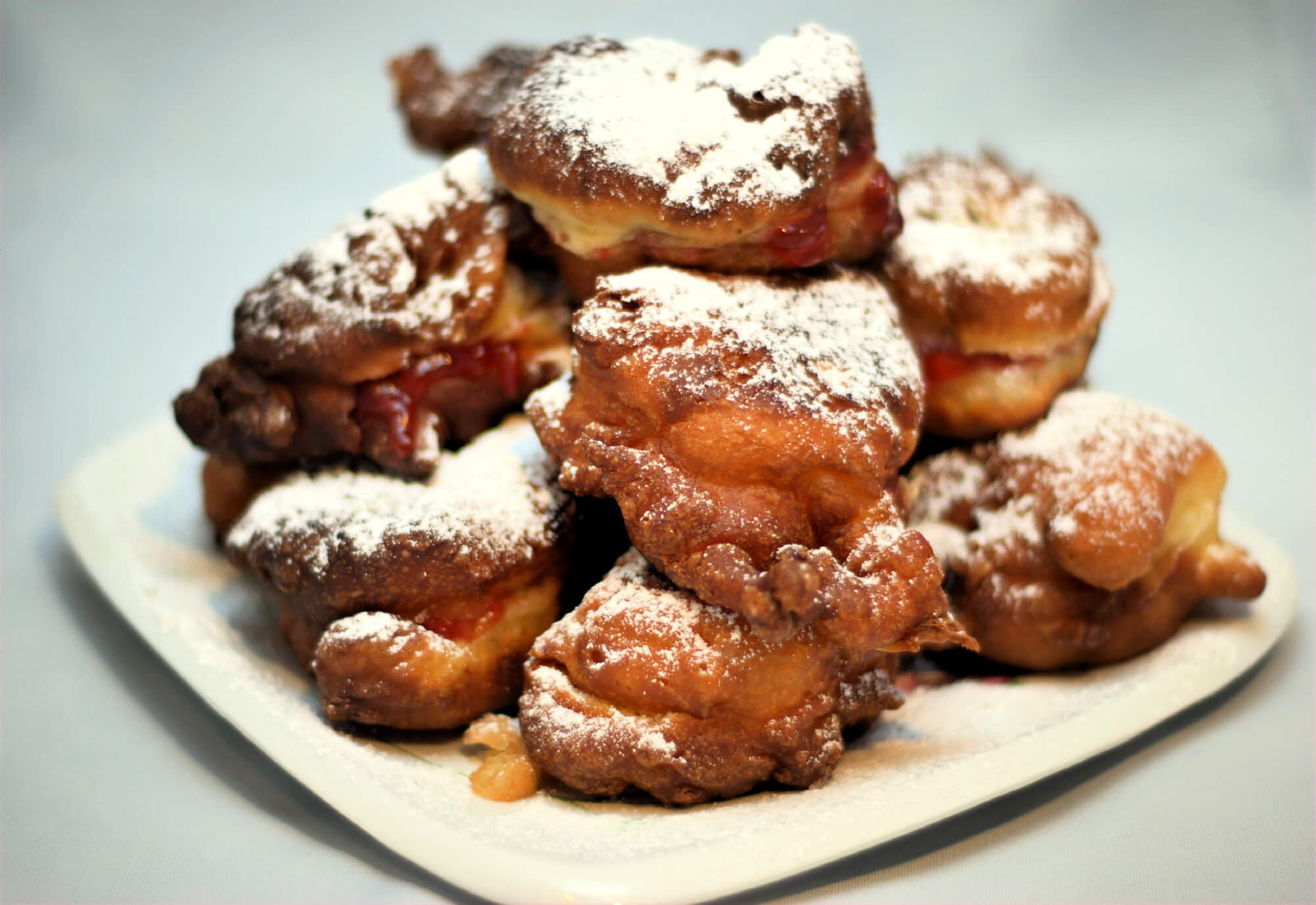 Mekici are soft, traditional Bulgarian donuts, with the kneaded dough made with deep fried yogurt. In Serbian cuisine they are called mekike. The best way to describe them is perhaps to compare them to a British Yorkshire pudding, although Mekici are usually eaten in the morning, whereas Yorkshire puddings are eaten for lunch or dinner.
The risen dough is torn into pieces, then fried in oil and, once fully fried, powdered with icing sugar. Jam is usually garnished on the top. If you're looking for the best Balkan food for dessert or a snack, this is a great contender.
They are quite similar to lángos, which is a deep-fried dough popular in Hungarian cuisine. However, lángos are usually served with ketchup or mayonnaise, whereas mekici are not since they tend to be sweet. Despite this, sometimes mekici are garnished with sirene (brined white cheese).
---
best Balkan food comes in all shapes and sizes and can be found throughout the whole region…did we miss any on our list? Comment below if you know of other authentic Balkan foods, or want to share your impression of eating these foods with us!
Suggested next reading: 6 Amazing Locations In The Balkans You Might Not Know About