Traditional Romanian dishes have a homemade character and they are delicious especially when prepared in large quantities for the whole family. Most of them are cooked by smiling women who have learned delicious recipes from their grand-grandmother.
A normal meal in Romania comprises two courses: a warm soup as the first dish (especially during the cold season), and then a cooked meal or a barbecue as the main course. Of course, there is also the dessert if you can eat more.
Beware that Romanian cuisine has warm and hearty dishes, meant to satisfy and fill your stomach. So don't overate your capacity to eat three dishes for a meal.
Some of these traditional Romanian dishes have borrowed certain recipes and ingredients from neighboring or occupying cultures (such as Saxon, Slav, Hungarian, and Turkish) but most of them use pork meat in some form, paired with potatoes, polenta, or cooked vegetables.
Now that you are already hungry, let's see what to order and what to expect from the Romanian dishes.
1. Mămăligă cu brânză și smântână
Mămăligă cu brânză și smântână is basically polenta or boiled cornmeal mush with salty sheep cheese and fresh sour cream.
This is maybe the most unusual Romanian recipe but very quick to cook. I cook it a lot because it's hearty, easy to prepare, and also tasty if you add the right proportion of ingredients.
ÊIt can be also topped with fried eggs and paired with onion (spring onion or chopped red onion). Polenta is cooked in family homes and households as well as in inns and restaurants.
Another version of polenta with cheese is the bulz ciobănesc. Bulz is traditionally made in a sheepfold and is the everyday food of the shepherds. A medium-sized ball made of hot boiled polenta is filled with bellows cheese (one of the oldest Romanian foods), which melts inside and becomes very tasty.
2. Sarmale or sărmăluțe (it means smaller sarmale)
Sarmale or sărmăluțe are rolled cabbage or vine leaves stuffed with spiced meat, rice, and herbs. They are usually cooked with pork meat but in different parts of Romania, you may find them filled with sheep meat, chicken, or even fish (in the region close to the Black Sea).
In order to be tasty, sarmale have to be well boiled for several hours. They are served three to four pieces per portion and traditionally paired with simple polenta (just the maize mush), sour cream on top, and maybe a red hot pepper.
This is the national Romanian dish, although the recipe was imported from the Ottomans who ruled the south and eastern part of the country for centuries. For similar reasons, you can find sarma in different sizes throughout the Balkan region, in the Slav neighboring countries.
https://www.instagram.com/p/Ba9pv5fll3L/
3. Mici or mititei cu muștar
Mici or mititei cu muștar are grilled rolls of spiced minced meat. The mixture can have pork or beef but you will also find mici made with sheep meat. They are always served with mustard or a hot horseradish cream.
You can find mici as a street-food option and in this case, they simply come with a few slices of bread and two toothpicks to grab them. Restaurants serving Romanian food always have mici on their menus and you can serve them paired with French fries or simple polenta.
This is one of the Romanian delicacies and during summer, many people go out for a picnic and make a barbecue with mici. Of course, they go very well with beer!
4. Ciorbă de burtă
Ciorbă de burtă means tripe soup and it is a common dish throughout the Balkans.
In Romania, parts from the stomach of a cow are sliced and boiled with vegetables for almost three hours. The result is a creamy yellowish soup, which is served with a welcome dollop of sour cream and a hot pepper.
Some restaurants bring a small cup of hot garlic sauce too but this is not a rule. All Romanian restaurants have tripe soup on their menu, especially for lunch. In the evening, it is possible you won't find it because we usually eat soup only as the first dish for a lunch meal.
5. Salata de boeuf
Salata de boeuf is a salad made of boiled root vegetables, eggs, and finely chopped beef meat, all of them mixed with a lot of mayonnaise. The salad turns out very colorful and it is garnished with thin slices of pickled vegetables or eggs.
Even if the name seems French (boeuf is the French name for beef meat), this is actually among the traditional Romanian dishes that are perfect to eat during winter. It is usually cooked for the winter celebrations and festive meals (i.e. for Christmas and the New Year's Eve).
You will never find it in restaurants. It is prepared only in family homes so if someone invites you to a Christmas dinner, say "yes" in order to taste this delicious salad.
6. Papanași
Papanași are fried or boiled pastries, doughnut-shaped, topped with sour cream and different kinds of fruit jams.
The dough is prepared with flour, eggs, and sweet soft cheese (usually cow cheese or urdă—cheese made of cow, sheep, or goat milk). As additional ingredients, some women add cinnamon or vanilla powder to give a special flavor to the papanași.
Besides crepes and a wide assortment of pies, this is the most popular dessert in Romania. They are made in family homes and many households in the rural area but also in the restaurants throughout the country.
In a Romanian restaurant, a normal portion comprises two big papanași so keep this in mind when you order them at the end of your meal.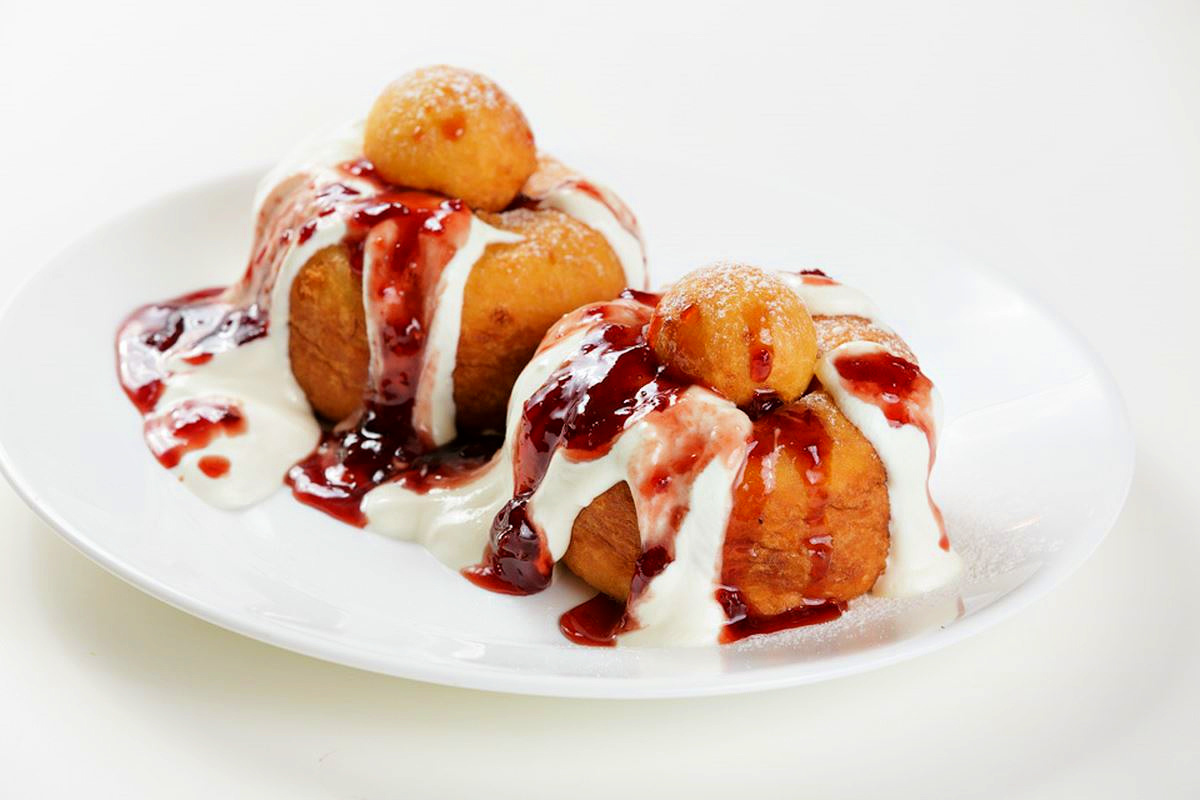 This is just a limited number of our traditional Romanian dishes but I assure you that if you step into a Romanian restaurant, you will be overwhelmed and won't know what to choose from because of the wide range of courses.
Many restaurants have "the special dish of the house" and this is usually a combination of many traditional Romanian dishes and will be the chef's best invention. So it's always good to ask what they recommend and you might have a great surprise.
Don't forget the beer or the vine, and maybe also try small shots of țuică or palincă (flavored fruit alcoholic drink…very strong though, so be careful how much you drink!)
In 2019, the Sibiu county is going to be a European Gastronomic Region and culinary events will take place in towns and villages in Sibiu throughout the year—so it will be an ideal time to visit!
Many old recipes will be reinvented and this is a good chance for foodies to try a wide range of various traditional Romanian dishes.
Suggested next reading: 6 Amazing Locations In The Balkans You Might Not Know About