Austria is a paradise for winter adventures and ski lovers, and the western region of Tirol has all that it needs to satisfy even the pickiest of skiers. Interspersed with infinite valleys and ridges of the Alps, Tirol has the best ski resorts in Austria to choose from for your winter sports holiday.
Each area covers large ski domains, which sometimes span over several valleys, glaciers, and mountains. If you are a beginner, it's not so important where you choose to go since each resort has easy ski pistes where you can learn the first steps. The big challenge, though, comes when skiing is one of your biggest passions—you're a ski aficionado, and you want to go to a ski region that offers you as many possibilities as possible.
I've heard many of my Romanian friends say that after you ski in Austria, you don't want to ski in Romania. It is so true. Austria has such a countless diversity of ski slopes, spanning to the infinite, that you'll truly fulfill all your winter holiday's desires in one week of skiing all day long.
There are many ski regions in Austria, each of them with their own unique scenery and charm. Here are some of the best ones to consider that also contain the best ski resorts in Austria:
1. Zillertal Valley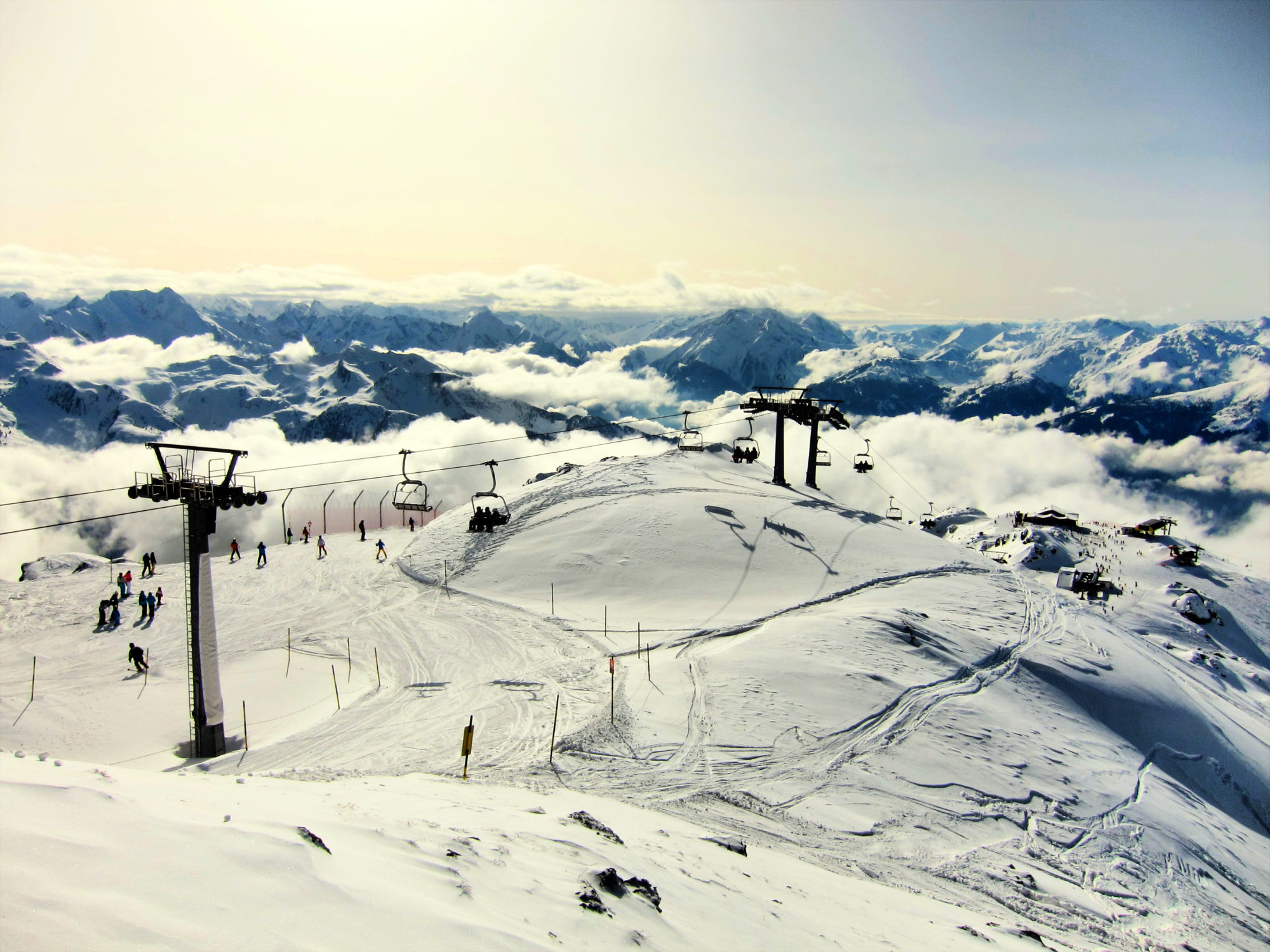 The Zillertal Valley is a vast region of no less than six separate ski resorts linked together within the same ski pass. It consists of approximately 550 kilometers of ski slopes and, if you stay in the valley, you can ski in a different place each day.
When you enter the Zillertal Valley from Jenbach town, the ski resorts succeed in this order: Fügen-Kaltenbach, Zell-Gerlos and Zillertal Arena, Mayrhofen-Hippach, and tucked away at the end of the valley is the Tux-Finkenberg with its Hintertux Glacier.
If you want to have easy access to all of the ski resorts, it is better to stay in the center of the Zillertal Valley—in Zell am Ziller village. One of the highlights of Zillertal is than you can go by ski bus to Gerlos Pass in the morning, ski half day in the area, traverse by ski lifts to Zillertal Arena, and ski the rest of the day in a different area. The idea is that you start in a place in the morning and, come afternoon, you'll be down on the other side of the mountain after a full ski day.
To pique your curiosity, when I discovered the Zillertal Valley, I went skiing there for three consecutive years. As a ski lover, I very much appreciate being able to ski with the same ski pass in a different resort each day. If the ski areas are interconnected at higher elevations, that's even better!
2. Sölden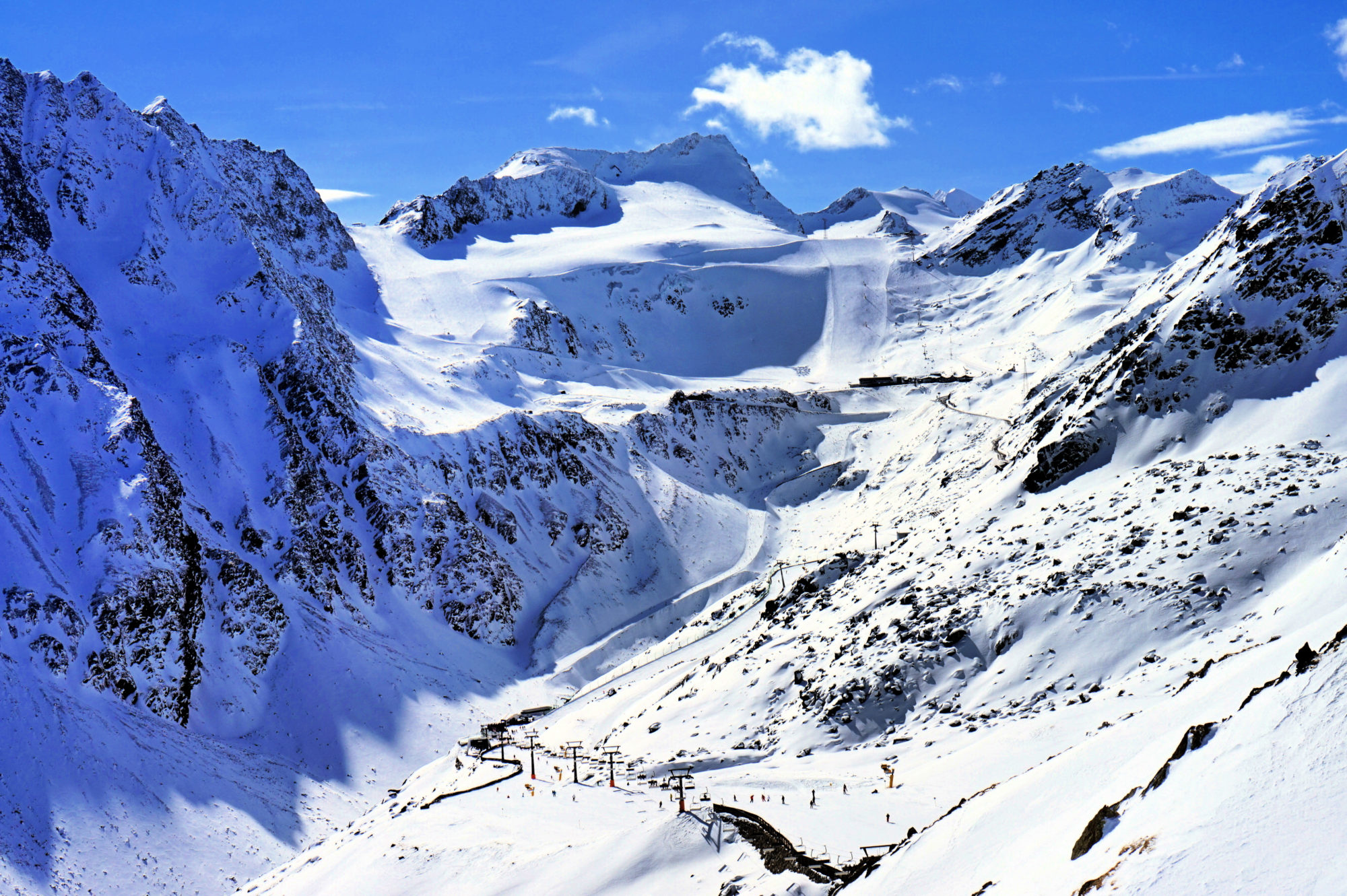 In the Ötztal Valley (near the border with Italy), Sölden features a vast ski resort with a total of 144 slope kilometers. Ski lifts and gondolas whisk skiers up to 3000 meters of altitude from where you can choose a different route and continuously ski down for almost one hour.
Sölden features two breathtaking glaciers—Rettenbach and Tiefenbach, where ski aficionados can have fun from October to May. While skiing on the glaciers, the wild alpine scenery is jaw-dropping, with hundreds of snow-capped mountains and tiny restaurants refurbished in cozy wooden huts.
However, the disadvantage of Sölden is that if the weather is not good. The mountain lifts that go up to the glaciers sometimes don't work and you have to limit to half of the ski slopes—and this may happen for several days in a row.
3. Zell am See–Kaprun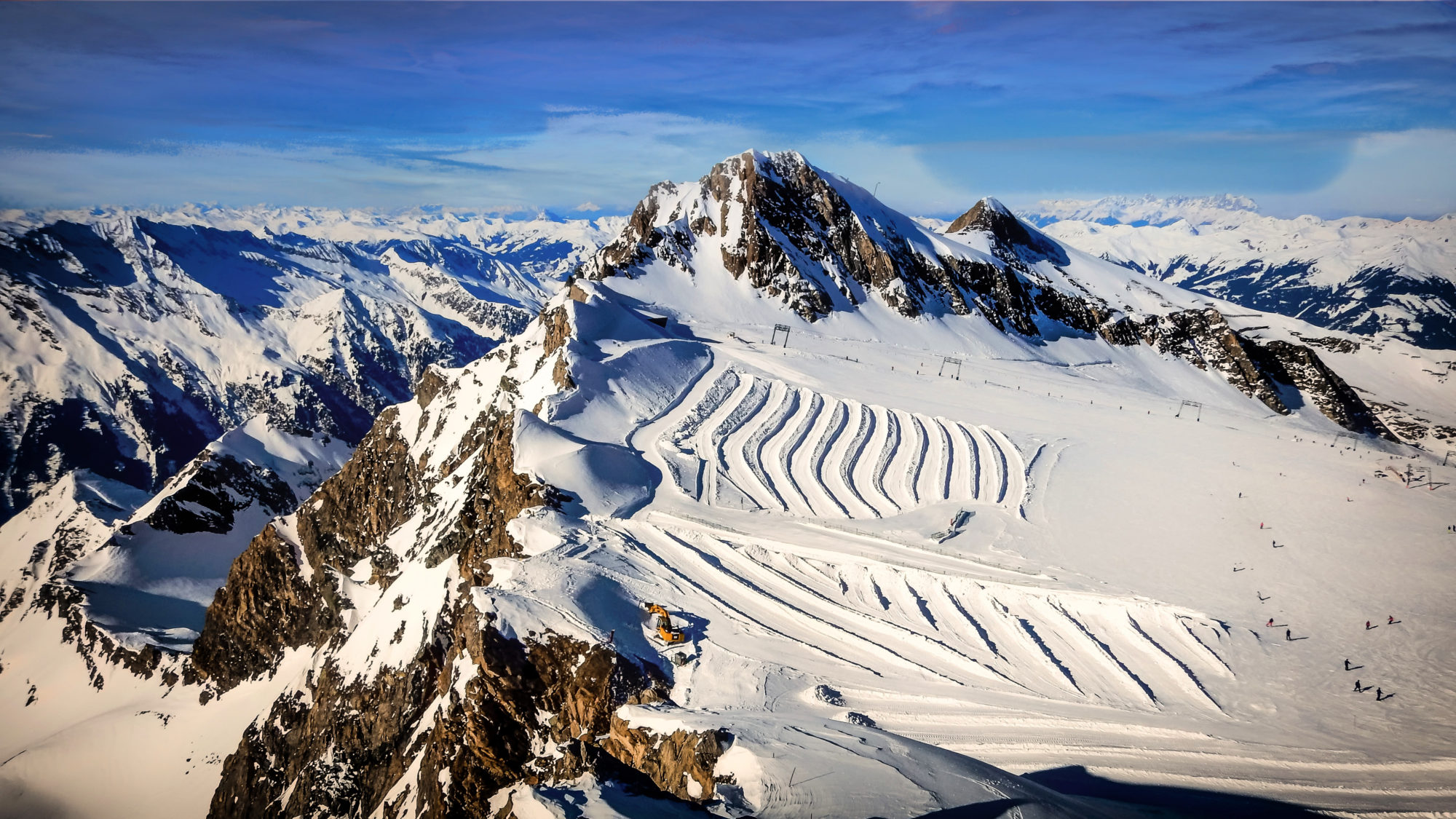 Zell am See is idyllically situated on the shores the Zeller See Lake. The ski domain totals approximately 140 kilometers of pistes, which spread over three mountains. The Schmittenhöhe lies high above the Zell Lake, while Maiskogel Family Mountain in Kaprun village is a good opportunity for beginners. The icing on the cake is the Kitzsteinhorn Glacier, which offers skiing opportunities from October to May.
Free ski buses run between the ski resorts and the advantage is that you can choose to ski in different scenery every day during your holiday. Staying in Zell am See offers not only a good location close to the ski pistes but also a charming and historical mountain town that is so typical of Tirol. This really has to be one of the best ski resorts in Austria.
4. St. Anton am Arlberg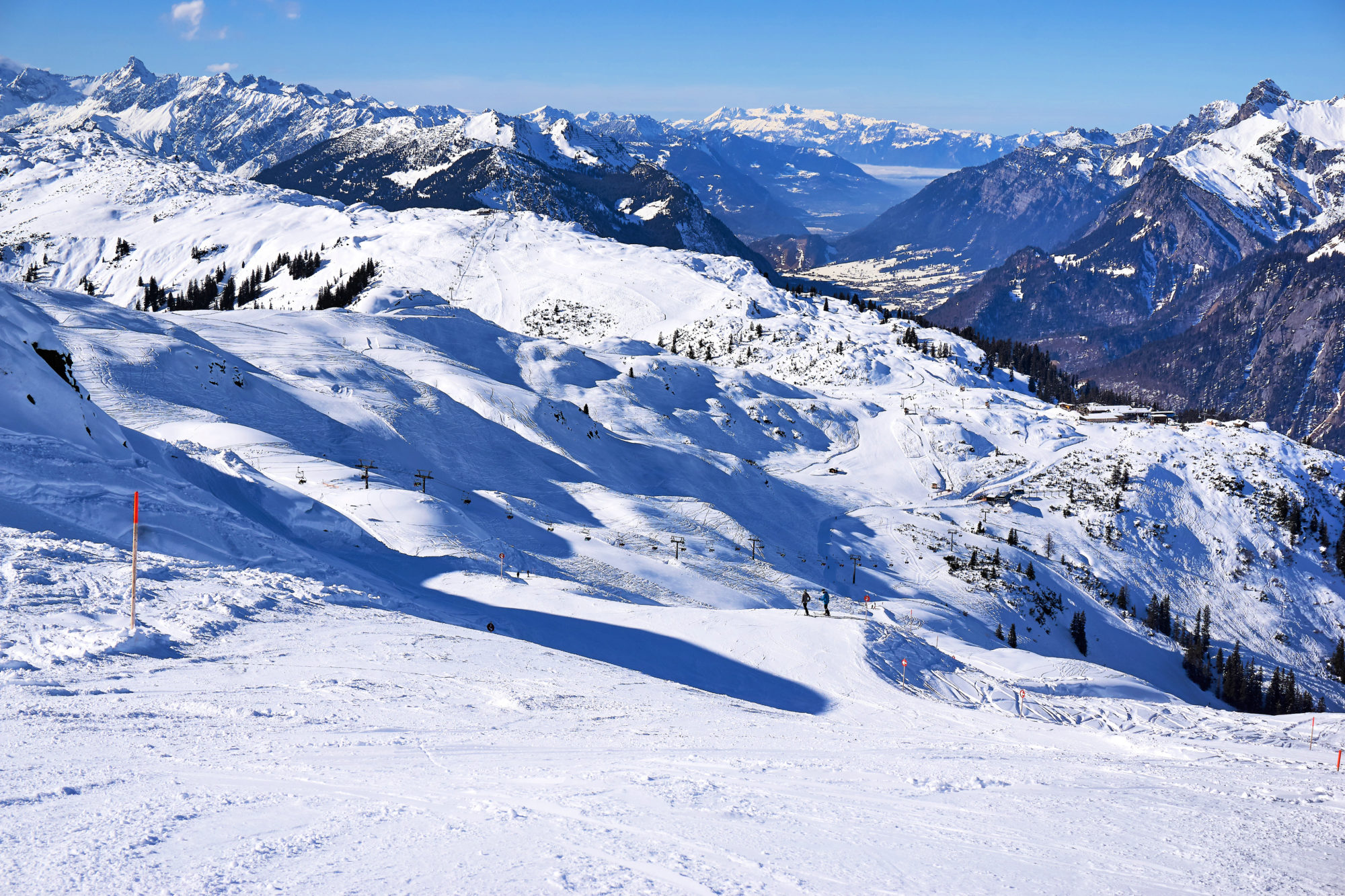 St. Anton am Arlberg is a vast holiday region that spans over five ski resorts where you can enjoy your winter holiday with the same ski pass—the Alberg Card. Ski Arlberg has been officially nominated as the largest connected ski area in Austria. The region summarizes approximately 305 kilometers of marked ski runs, meaning a wide range of choices for ski lovers who want something different each day.
The ski resorts that are part of this region are St. Anton am Arlberg, Pettneu-Schnann am Arlberg, St. Christoph, Flirsch am Arlberg, and Strengen am Arlberg. St. Anton is the gateway to the Alberg ski region, which spans over the mountains to Warth-Schröcken, near the border with Germany.
St. Anton and the nearby St. Christoph are definitely the most popular places to stay. However, if you want to be at an equal distance to all of the ski resorts, it may be a wise decision to choose the less popular but more picturesque villages of Lech Zürs or Stubenbach. As an additional little help, Lech Zürs am Arlberg is among the twelve Alpine villages which have been voted as the "Best of the Alps".
5. Skiwelt Wilder Kaiser–Brixental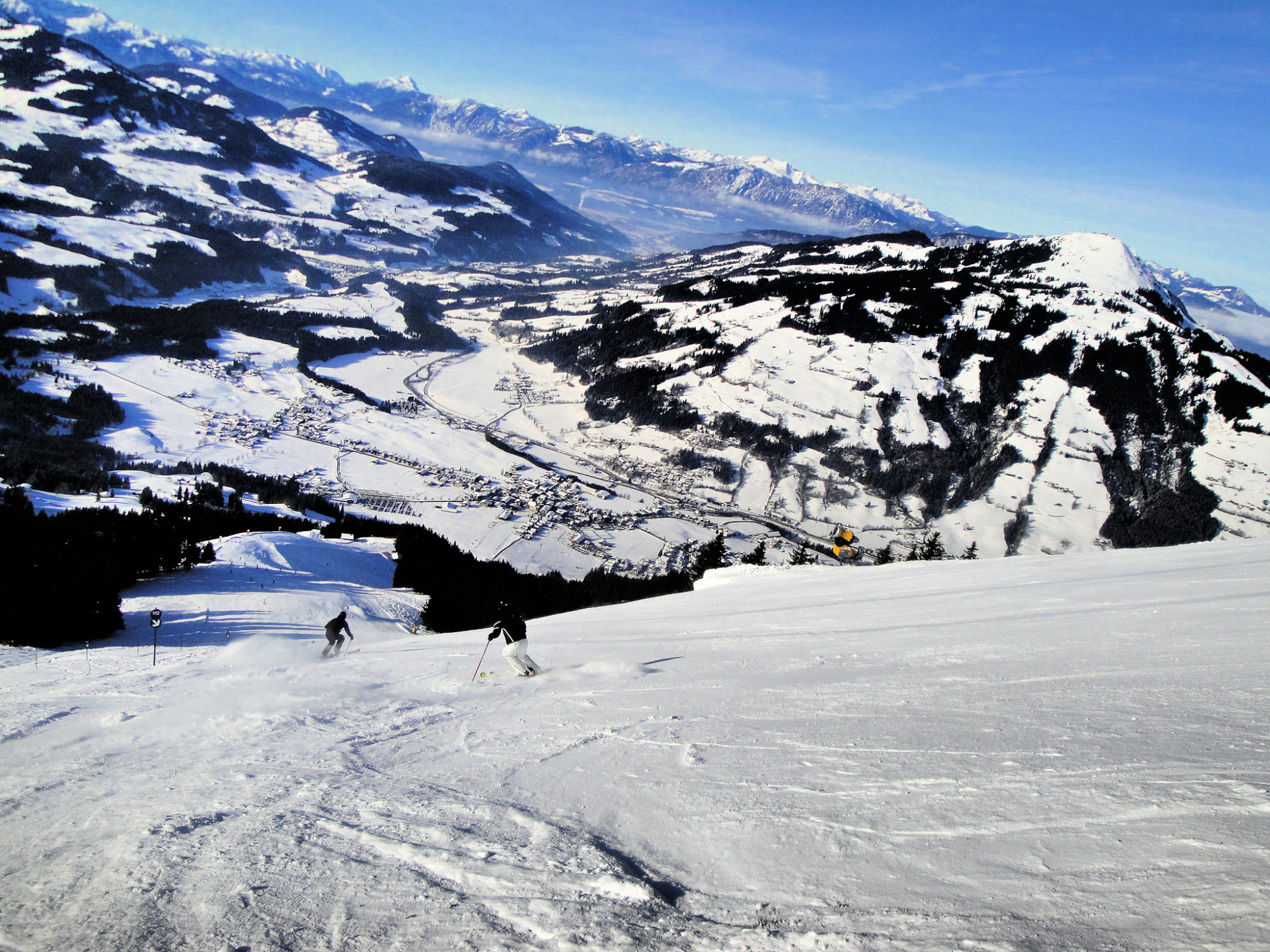 Skiwel Wilder Kaiser is one of Austria's largest interconnected ski areas in Tirol. No less than nine villages provide direct access to a wide range of ski pistes, consisting of more than 284 kilometers. The villages that make up the Wilder Kaiser ski area are Itter, Söll, Scheffau, Ellmau and Going (on the left side valley) and Kleschau, Hopfgarten, Westendorf, and Brixen im Thale (on the right side valley).
The most popular and convenient choice for passionate skiers is to stay somewhere in the heart of the region—in Söll village, thus having easy access to both sides of the ski region.
One of the highlights of Skiwelt is than you can go by ski bus to Going in the morning and then ski all the way back to Söll, Iter or Hopfgarten while also taking ski lifts. If you do this grand traverse, it's practically impossible to ski twice on the same routes. You can ski wherever you like and have more fun exploring the countless ski runs high in the mountains and, as the ski pistes begin to close, get down to the nearest village. This flexibility is a great feature which passionate skiers appreciate very much.
Moreover, Skiwelt Wilder Kaiser has the largest night skiing area in Austria, so if you haven't skied enough during the day, you have the chance to consume all your energy during the night run.
---
Suggested next reading: 6 Of The Absolute Best Places For Sandboarding Around The World