Everyone has heard of or has gone snowboarding. That's no surprise, but what if I told you that you can also go sandboarding? Yes, you can skip all of the cold snow, ski suit, gloves, hat, everything!
All you need for sandboarding is shorts, a T-shirt, and an open mind. With that, you will be well on your way to mastering sandboarding.
While it looks pretty easy, it is actually much like snowboarding…except you won't hurt your butt as much when you fall. The interesting part about sandboarding is that you have to wax your board before each run or else you won't be able to slide on the sand. (Don't worry, I forgot to wax my board a few times too when I first tried sandboarding last year.)
It takes the same ability to maneuver and guide the board to excel at the sport. Once, you have it down, you'll want to sandboard all over the world and it will take you to some pretty spectacular spots.
From Chile to Japan, here are the 6 best sandboarding locations around the world:
1. Atacama Desert, Chile

The Atacama Desert is a pretty special place. It's strangely fascinating. It is considered the driest place on planet Earth and has incredible natural landscape. It's also quite high at 2,400 meters (7,840 feet) above sea level. It is a vast difference from the Chilean Patagonia region at the southern tip of the country.
For a massive desert, it surprisingly has a lot of nature and wildlife roaming around. Regardless, in between sightseeing, sandboarding is a major draw in the Atacama Desert. It's truly a unique experience. Imagine holding your board and looking out on a landscape that looks more like Mars than Earth.
There are endless sand dunes for you to board, but it's best to go with a tour company as they provide all of the equipment. There are plenty of companies that provide the service in the nearby town of San Pedro and they all offer the same service.
Be sure to bring plenty of water since the combination of dry air, altitude, and heat can quickly make you dehydrated. Luckily, the tour companies provide refreshments.
2. Cerro Negro, Nicaragua
https://www.instagram.com/p/BoLS5HenG02/
Nicaragua is one of those countries that has quickly become a go-to destination on many travelers bucket list. In my opinion, it's for good reason too.
The Central American country has built a reputation among adrenaline seekers. They often come to the 728 meter (2,388 foot) Cerro Negro (Black Mountain) Volcano to get their thrill-seeking kick. The volcano is actually one of 19 active volcanoes in the region that make up a chain running from northwest to southeast.
Located an hour drive from Leon, you can actually do a whole range of activities on the mountain. One of those activities is sandboarding down the mountain.
You first have to put on a ridiculous space suit and goggles. You actually sandboard from the top of the volcano by hiking up the rocky part and sandboarding down the sandy side.
Be prepared to wipe out on your run down the mountain and catch a mouth full of lava. You'll definitely get it in your hair so it may take a few days to wash out. Sandboarding down Cerro Negro is a great daytime activity if you find yourself in Leon, but plan to be gone the whole day.
3. Huacachina, Peru

It's hard to talk about sandboarding and not mention this small desert town. Huacachina has become famous for its sandboarding. Some would argue it is the best of all the sandboarding locations in the world, but that is always up for debate.
The tour has been available for over 12 years and involves a thrilling dune buggy ride out into the desert. If you only visit one of these six sandboarding locations, this should be it.
4. Port Stephens, Australia
Our next sandboarding location takes us across the world to Australia. Located north of Sydney, Port Stephens is unique in that you can sandboard and go watch dolphins or whales on the same day.
Australia is a great country for sandboarding since it has a lot of massive dunes throughout the country. It's one of the more scenic sandboarding locations since it is right on the water and if it gets too hot you can jump right in the water. Port Stephens cannot be missed!
5. Negev Desert, Israel

Covering half of Israel's total land, the Negev Desert is massive and is filled with more sand than anyone knows what to do with.
The landscape is similar to that of the Atacama Desert except that the Negev is actually a rock desert so there are less flat and sandy areas to choose from.
As a result, the tour groups must drive into more remote and less accessible parts of the desert. The area where you can sandboard is actually the only place in the entire Negev where you can safely do the activity.
There are tour groups that do sandboarding but be aware that it is quite expensive. However, they do provide tea in a Bedouin-style hut after sandboarding so that makes the experience worth it.
6. Tottori, Japan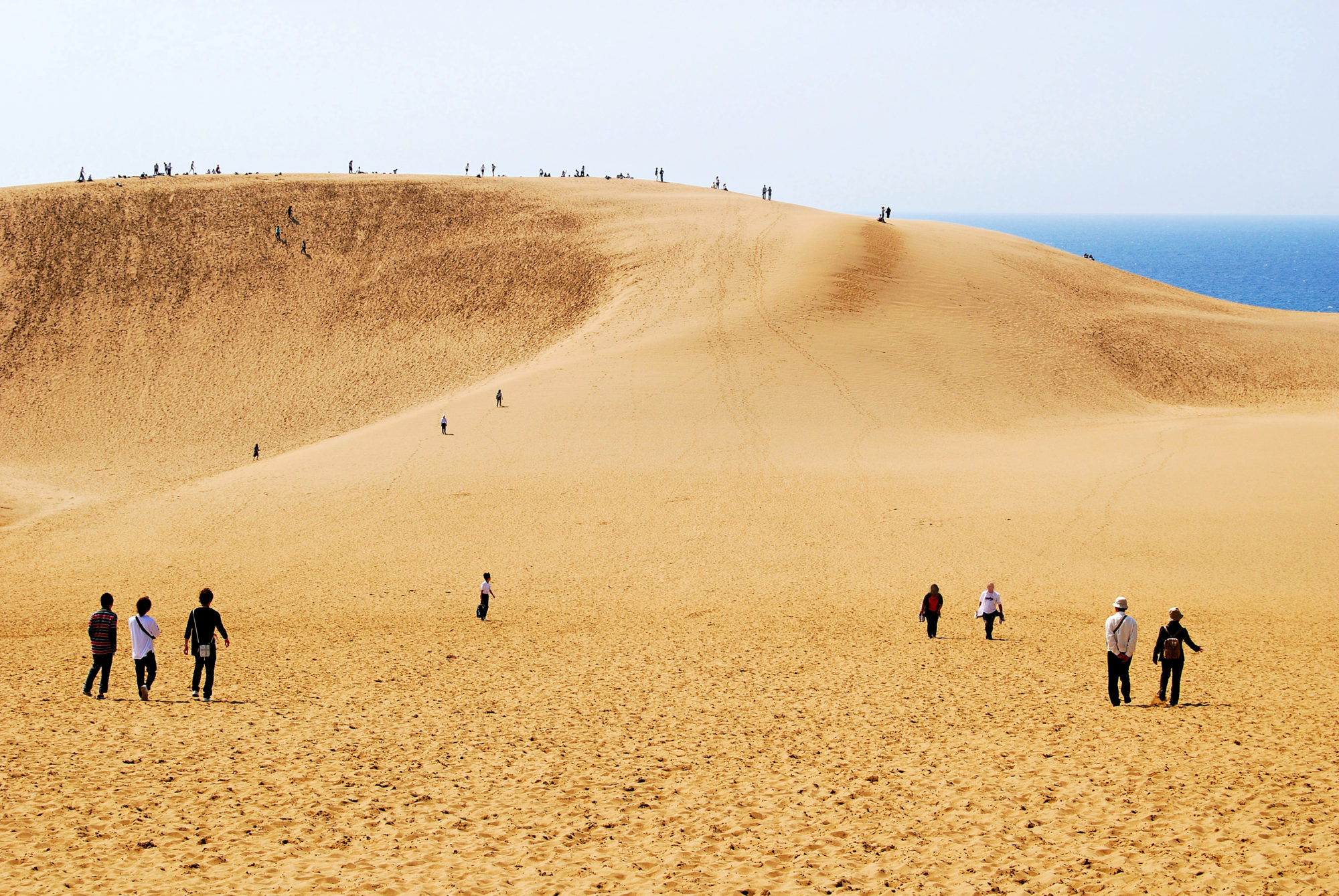 What comes to mind when you think of Japan? I bet adventure sports, especially sandboarding, is not what pops up, but you'd be surprised that Japan actually holds one of the best lesser-known sandboarding locations in the world.
The sandboarding culture is certainly not as big in Japan so you'll find fewer people doing it, which is great news for you.
Tottori, located on the beautiful northern coast of the Sea of Japan, holds the largest sand dune in the region. The spot is idyllic and sandboarding here is almost a "Zen-like" experience.
The runs are open from March to December due to bad weather during the other months, but reservations should be made ahead of time to guarantee your spot. Also, there is no transportation except bus to the sand dune. Sandboarding and sushi… Sign me up!
---
Know of any more awesome sandboarding locations? Leave a comment below!
Suggested next reading: 10 Awe-Inspiring Hikes You Need To Do In Your Lifetime