Is Morocco safe for female tourists? This was one of the first questions I Googled while researching female solo travel to Morroco.
I had always wanted to travel to the Islamic countries, but—to be completely honest—my mental association between Muslims and terrorist attacks didn't encourage me at all. However, after a short visit to the Arab Emirates, I decided to set aside my assumptions about other Islamic countries too.
Morocco had a good reputation as a tourist country and seemed a safe choice for a woman traveling by herself. I was still afraid and felt uncertain when I started my journey, but I was prepared mentally and had backup plans, which made me feel more comfortable.
Here are my top 11 tips for female solo travel to Morocco. I hope you will find them useful and that my own experience here will show you how to travel as a woman in Morocco.
1. Plan The First Days In Advance

Venturing without plans into the unknown of a foreign country might be a great challenge and a good way to boost your self-confidence—if this is what you're hoping to get out of travel—but you will have plenty of time to do that and be more flexible after you first get used to the local customs and atmosphere.
Travelers especially enjoy Morocco for the cultural shock they have to face and for the different traditions they're not used to. During the first days in Morocco, you won't understand what's happening around you, so it's better to plan the first few days of your itinerary beforehand.
When I landed in the city of Fes, a taxi driver waited for me at the airport and drove me directly to the accommodation that I had booked beforehand. This way, I avoided unpleasant incidents at the beginning of my trip and allowed enough time to adapt to the new Moroccan lifestyle.
2. Ask For Advice From The Local Women

The local women will admire your courage to venture by yourself to a new country. Many of them have never traveled, so their traveling experiences are a bit different than ours (in fact, many of them will have gone on a pilgrimage to Mecca at some point in their lives).
Despite this difference, they will be sincerely willing to help and assist you in any problem you might have.
Ask the local woman how to stay safe in their country. Before I left Fes, the town where I had landed several days before, I asked the landlady of my guesthouse if there were places I should avoid because of the fact I was doing female solo travel to Morocco and, obviously, wanted to remain safe.
She said that I was safe in Morocco and that I could go anywhere—I felt such a sense of relief at that moment.
3. Go With An Official Guide In The Desert

Obviously, you cannot go by yourself everywhere (for example, a camel desert trek!) Search for local trips, always negotiate the price or book a trip on the internet.
For more information, you can read the article I have written about everything you should know about desert tours in Morocco.
When I went to the desert, I used a local guide, and out of the huge range of travel companies, I preferred the one recommended to me by a friend. I had the pleasant surprise to discover a humorous, good-hearted Berber, who knew each sand dune of the desert like the back of his hand.
4. Book A Riad (But Read The Reviews Beforehand)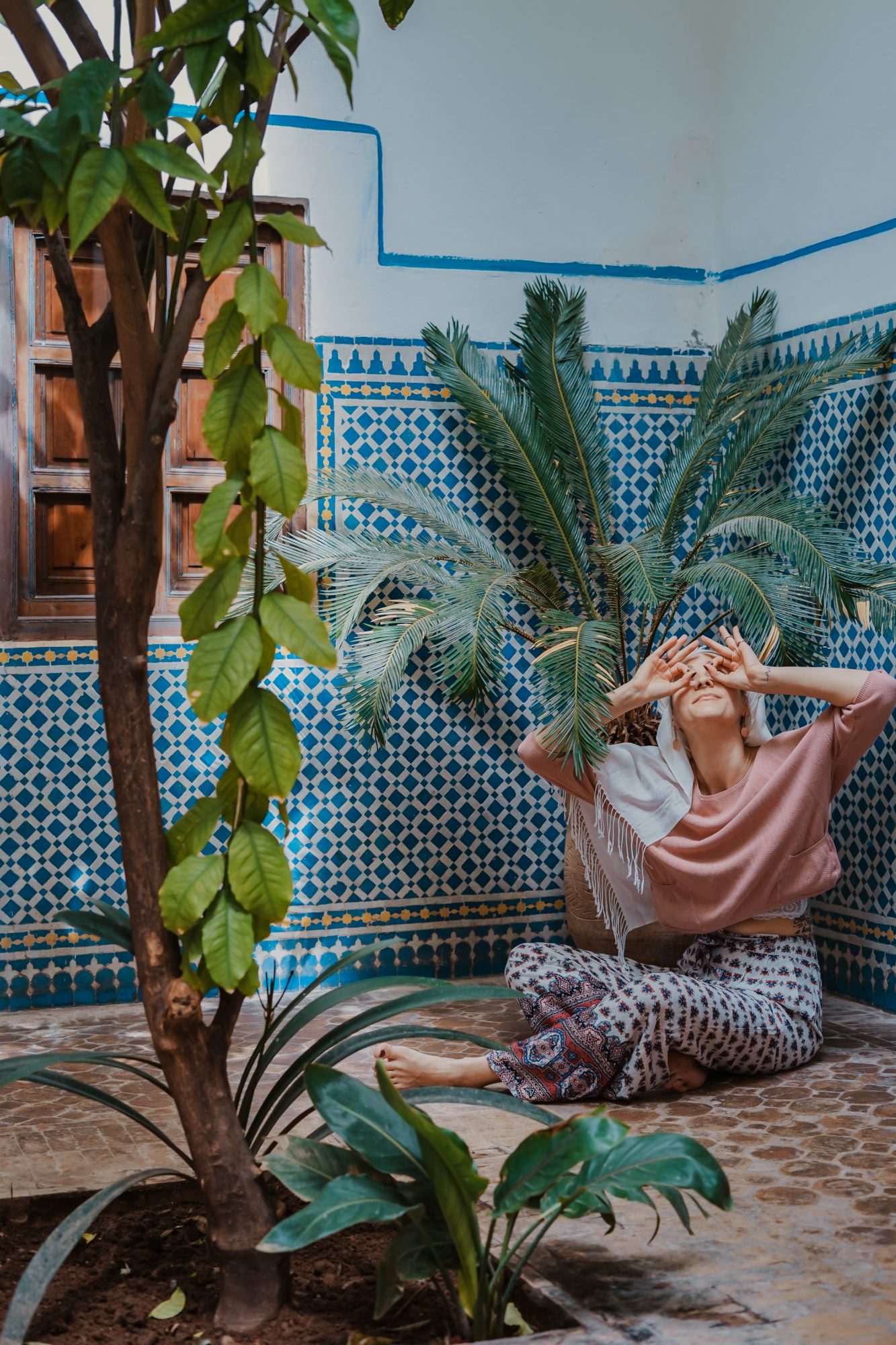 When you book accommodation on the internet, carefully read the reviews from other travelers (e.g. on Booking.com, TripAdvisor or Google Maps) before completing a reservation.
Remember to not miss the local accommodation called riad or dar. The term designates a traditional palace or a house, elaborately decorated with zelij (local colorful mosaics), with a spacious patio, and in most cases, with a rooftop terrace from where you can have terrific views of the surroundings.
5. Stay Only With Local Women Hosts

If you plan to find local hosts on internet platforms (i.e. Couchsurfing, BeWelcome, or even Airbnb, etc.), you should only send requests to women hosts who have positive references from other guests.
VERY IMPORTANT: male hosts have been known in the past to have had sex with women visitors, so it is very important to remember that you are in a country where this subject is viewed differently. So stay only with local women hosts!
Finding the right hosts on internet platforms was a long process for me. I sent all my requests before arriving in Morocco, got several answers back, and had more time to enjoy myself when I arrived instead of searching for 'safe' hosts.
6. Wear A Wedding Ring

This one is already a cliché but I will still mention it because it is very useful for female solo travel to Morocco.
When men ask you if you are alone, be quick to mention 'your husband' and show them your 'wedding ring.' Even if they don't really believe you, they will still most likely be too concerned about where your husband is and so won't focus on you. If a man seemed too interested in me or just stared at me, it was enough to make my wedding ring visible.
In the worst-case scenario, a man insistently approached me when I stopped the car at the traffic lights. I had to be a bit aggressive and mention the police. After that, he disappeared right away. Everybody understands the word "police."
7. Dress Modestly

In the bigger towns like Marrakesh, Casablanca, and Rabat, you will see women wearing jeans and no scarves covering their heads. However, I didn't see women wearing shorts or mini skirts, so if you do that, realize that everybody will have a good reason to look at you.
In the more religious towns and in the countryside, women wear long overcoats and cotton headscarves even when outside in over 40℃ / 104°F heat. They hide every aspect of their female figure and they will also hide their face if you take pictures of them. Make sure to respect their culture and religion.
8. Avoid Walking Alone At Night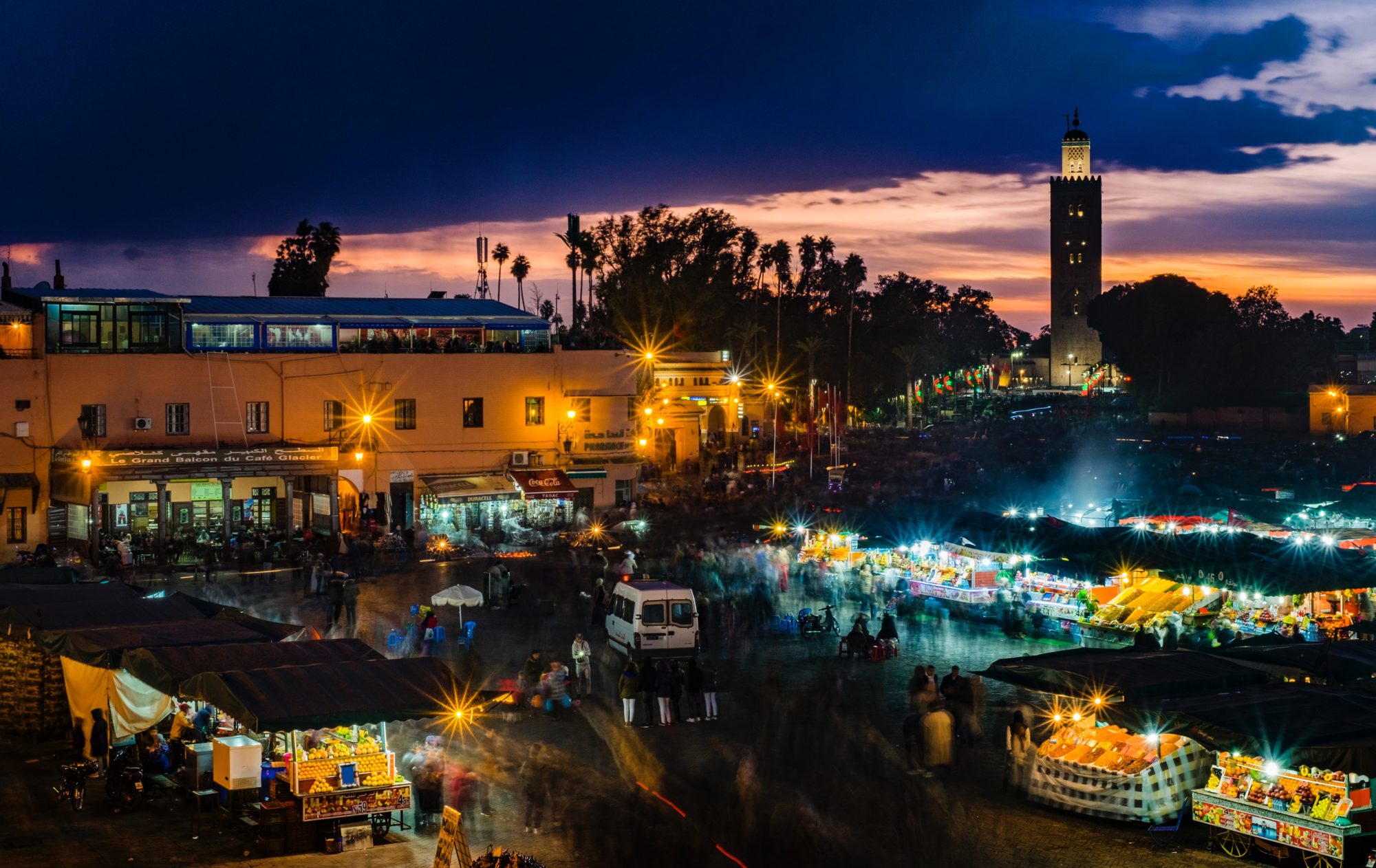 Don't go out by yourself at night, especially if your accommodation is situated in a medina (the old part of town) where the winding narrow streets create a real labyrinth.
I always planned to come back 'home' before dusk and simply enjoyed my evenings talking with other guests, planning my next days or just thinking about what a beautiful day I'd had.
Like solo travel elsewhere, female solo travel to Morocco comes with a few compromises.
9. Do Not Drink Alcohol In Public

Avoid drinking alcohol in public places unless you are at the restaurant of your hotel where they serve alcoholic drinks for tourists.
For all the Muslims, alcohol is prohibited, and most of them respect this rule very strictly. You won't find alcohol in the local shops and eateries, so you'll experience what life is like without this 'magic liquid.'
During my six-week trip through Morocco, I didn't drink alcohol at all. I discovered I can have even more fun without drinking beer or wine.
10. Be Aware Of Fake Guides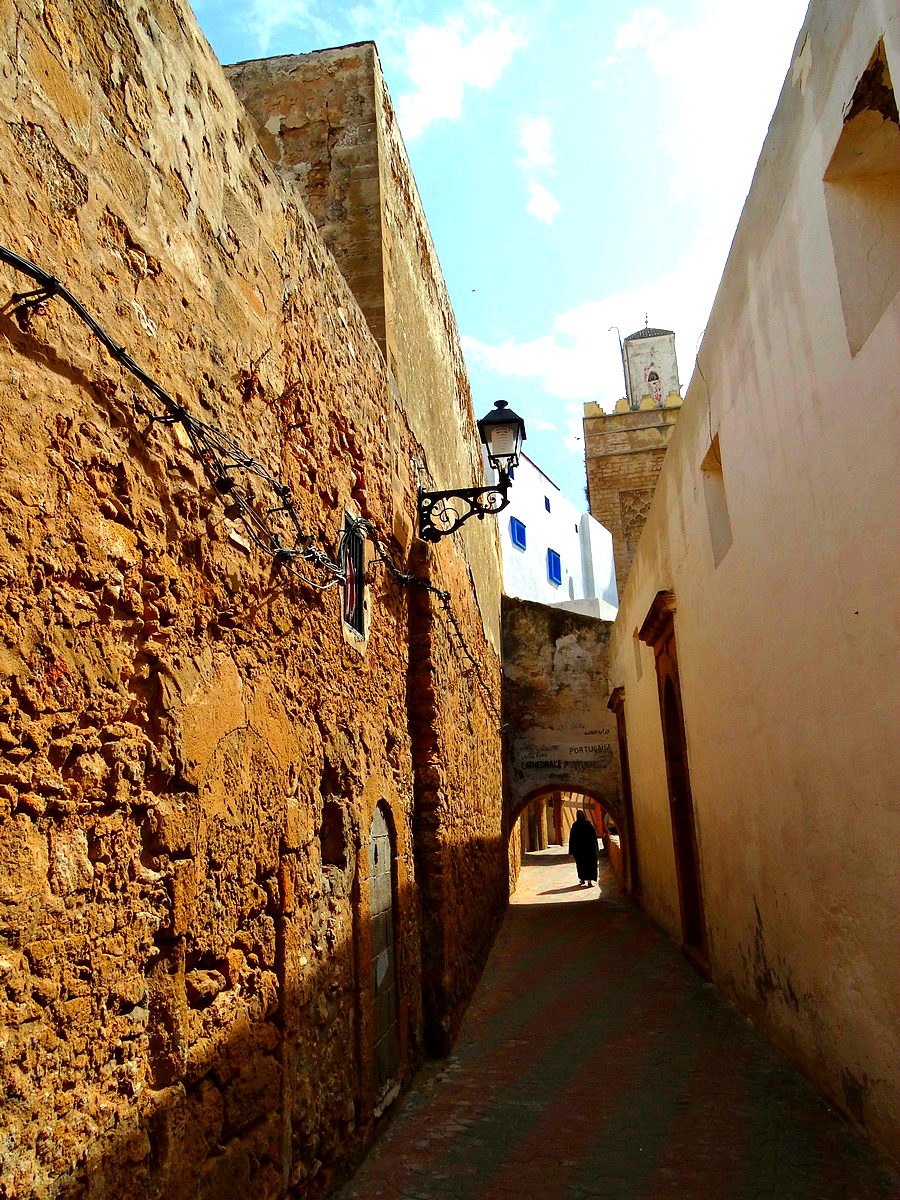 In the medinas (the old part of the towns), you will often hear young boys pointing to you in the direction that you're heading while saying, "It's closed. Don't go there." In actual fact, nobody has closed the medina, but the local people know that the Moroccan medinas have a maze of winding, narrow streets where a visitor can easily get lost (even with a GPS).
This is their chance to be your local guide in exchange for a little money.
During my first days in Morocco, I was fooled by some fake guides and had to follow them to 'save' me out of the medina. In the evening, my landlord confirmed to me they were just taking advantage of confused visitors and taught me how to turn them down, saying "La, la, shokran" (No, no, thank you).
11. Negotiate Everything You Buy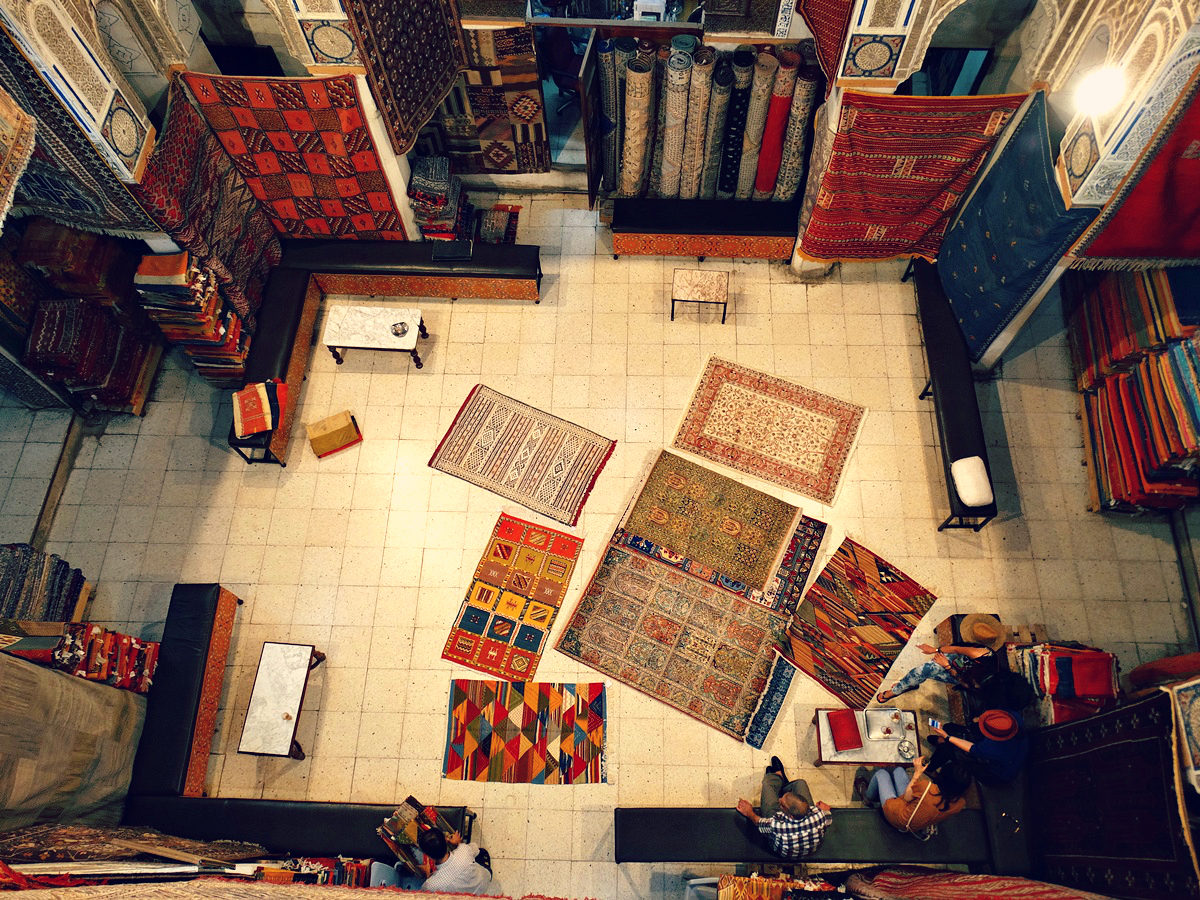 Negotiate everything, especially all the prices in the medinas (old towns) and souqs (covered markets). Moroccans have a long history and experience in trading goods.
Usually, the prices are not displayed so it is better to ask in several places and figure out what the average price might be. Nobody will push you to buy something but keep in mind that bidding while sipping a glass of mint tea is part of the selling process in Morocco.
---
If you haven't traveled there yet, female solo travel to Morocco is a safe and realistic option. In fact, it's possible you could even start here to gain experience traveling solo. After visiting Morocco on my own for six weeks, I became more confident in myself and many other solo trips soon followed. Nothing is as bad as it seems.
Suggested next reading: 8 Top Sights In Morocco That'll Make You Want To Visit ASAP