Why go to Japan when you can go to Jiufen, Taiwan? Known for being the supposed inspiration for the film, Spirited Away (though the writer denied this), Jiufen (九份) is a shimmering, old gold town in Taiwan that steals the heart of any lover of Japan.
Being a lot cheaper than Japan, however, this makes Jiufen a no-brainer for anyone wanting to experience Japan on a budget while near Southeast Asia.
About Jiufen, Taiwan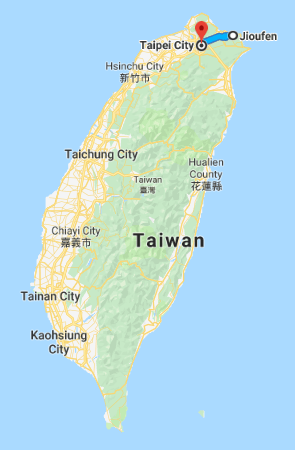 Jiufen is a mountain town in north Taiwan only 2 hours away from Taipei City, which makes it an ideal day trip if you're in the area.
It was a mining town during the gold rush of the Japanese era up until the 1950s but, far from becoming a ghost town, its stunning view of the Pacific Ocean, tea houses, picturesque winding streets and vintage Japanese feel, made it a popular destination for Taiwanese and travelers.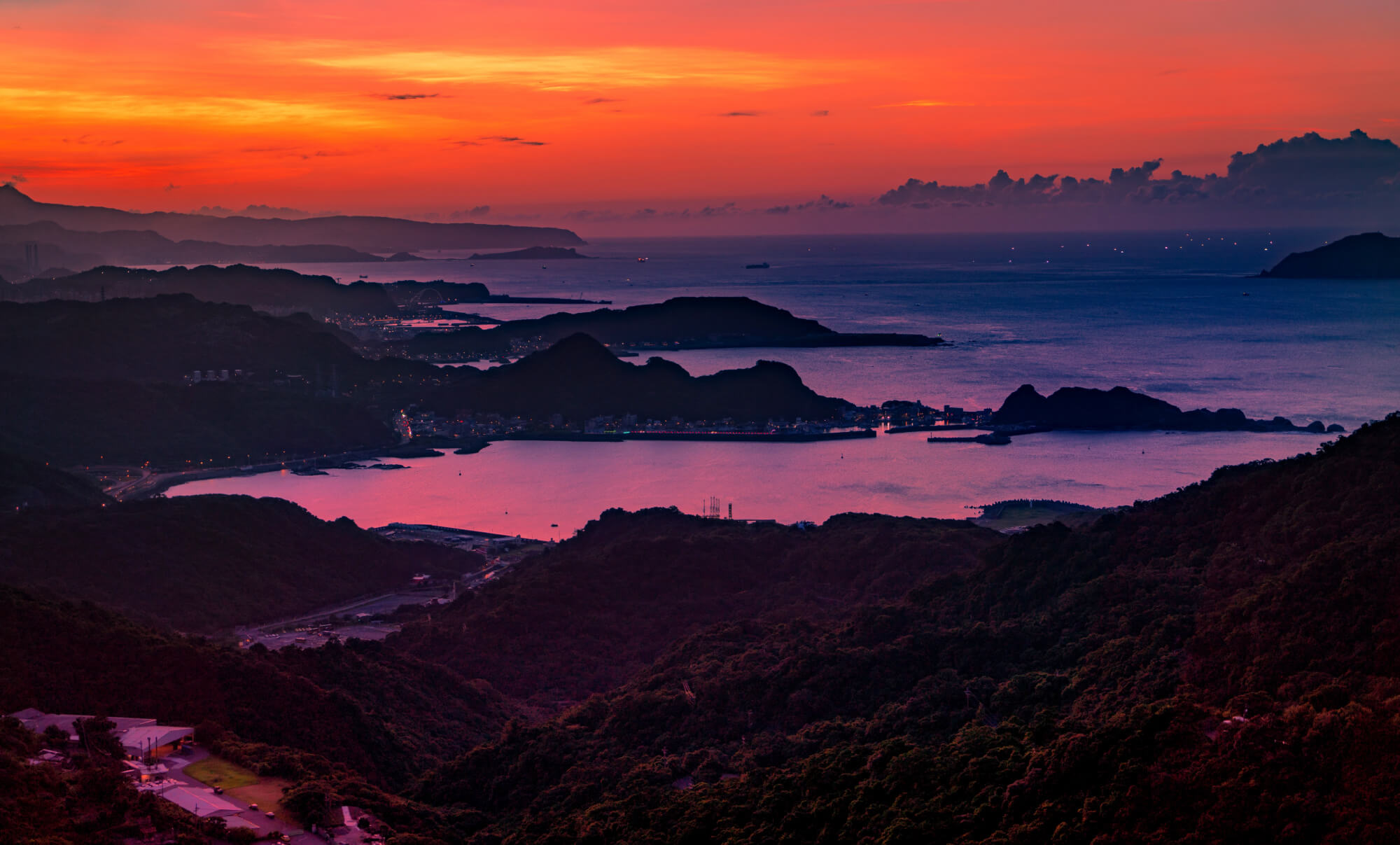 In fact, the Japanese feel is so strong that its connection with the Japenese film, Spirited Away, cannot be ignored.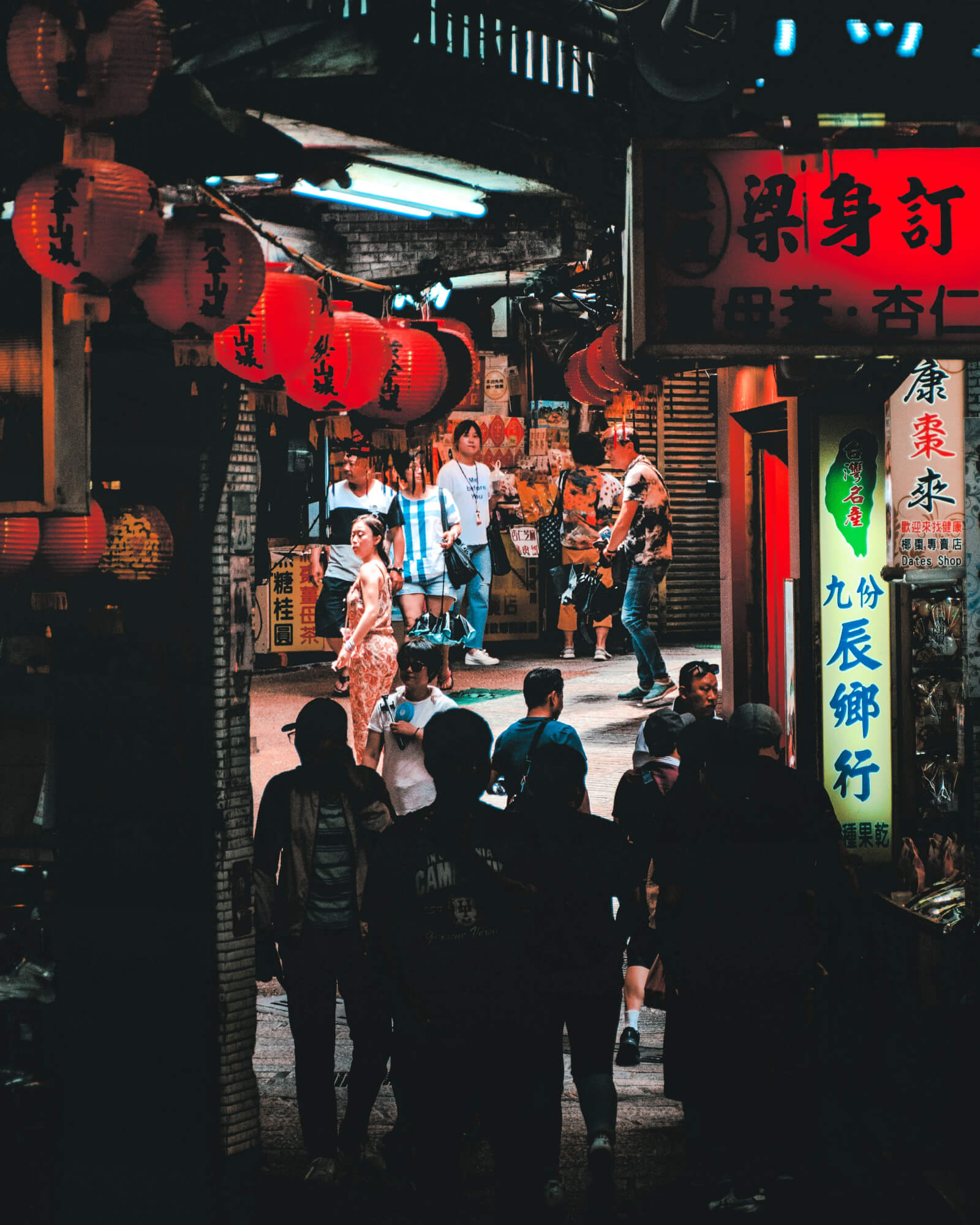 But Jiufen Taiwan has more than just one film going for it. The winner of the 1989's Golden Lion film award, A City of Sadness, was filmed here too.
Jiufen is quite small, with only about 3,000+ inhabitants. Being a mountain town, its roads are narrow, curvy and steep. Some things you might expect to find, such as a bank, you will not find here. So bring essentials with you and don't rely on finding it within Jiufen.
Why Is Jiufen Cheaper Than Japan?
Japan, as a whole, is quite a bit more expensive than Taiwan.
Transportation Cost
Transportation in Japan is expensive, with a single train journey alone (e.g. from Tokyo to Osaka) setting you back around $140, whereas in Taiwan the equivalent would only set you back by around $25.
Many of the local trains from Taipei (the capital city) to surrounding areas won't be much more than $12. Whereas the metro system in Taipei itself is also cheap, with 10 days metro use costing this blogger just $3.60.
To save money traveling around Taiwan use local trains and the metro when in cities like Taipei.
Food Cost
Moreover, food in Japan is generally more expensive than in Taiwan. Not because Japan's food is particularly expensive, but because Taiwanese street food is so cheap due to the many night markets. We recommend eating Taiwan's street food over restaurants because, first of all, we find them to be safer (less likely to get food poisoning!), and secondly, because it is SO much cheaper.
Most street food dishes are around $1 or $2, so you can't go wrong with that price. Best of all, it's more authentic and what the locals do themselves.
Accommodation Cost
Accommodation usually costs a fair amount in Japan and, even if you are lucky enough to find a budget hotel, in comparison to Taiwan, you'll be forking out more to spend the night.
You can find some great Airbnbs within Taipei for as low as $25 per night.
How Do I Get To Jiufen From Taipei?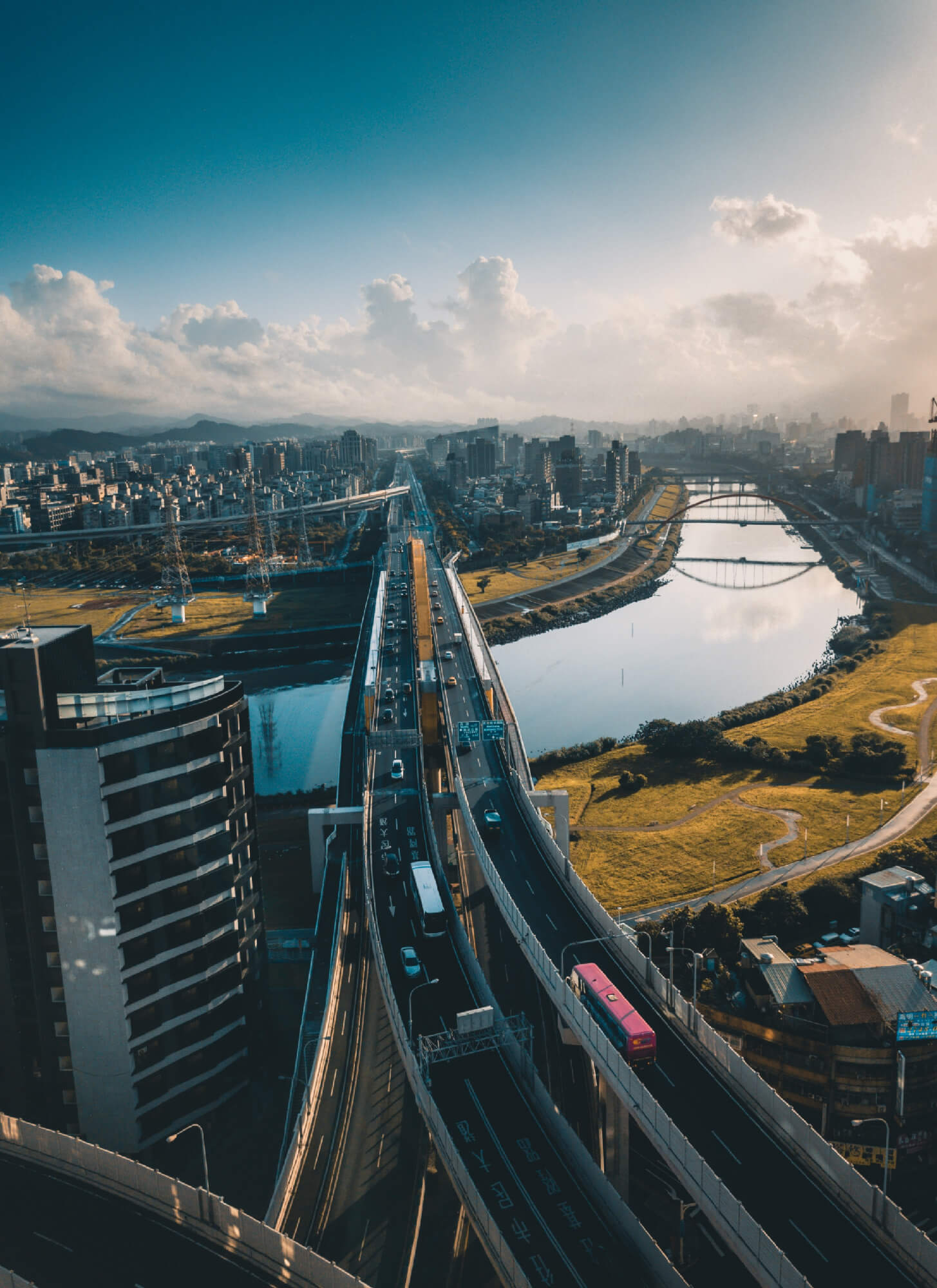 1. Train
Go to Taipei Main Station (台北車站) and take the train north to Ruifang Station (瑞芳) for around NT$60 / $2. Then, exit Riufang Station, facing the "wellcome" supermarket, go straight and turn left onto Mingdeng Road.
Walk about 5 minutes/200 meters looking out for a police station, next to it is a bus stop called Local Residents Plaza (區民廣場) with the Keelung Bus 788 and 827 heading toward Jiufen. It'll cost you about NT$20 / 50¢ to board. Stay on the bus until the last stop since it'll drop you off near(ish) to Jiufen's Old Street.
Once out of Riufang Station go straight and turn left onto the street in front of you. Cross the street and walk down for about 5 minutes or so until you reach a bus station. We were slightly unsure of which bus to take, so we asked the bus driver before we hopped on (I believe it was Keelung Bus 788, but double check the schedule). Stay on the bus until the last stop, which will drop you off a few minutes away from Jiufen Old Street. The train ticket is around NT$60 and the bus ticket is around NT$20.
2. Bus
A direct bus (the 965) leaves Banqiao Bus Station in the Banqiao district of New Taipei City and takes about 80 minutes to get there. One way, this ticket will cost you about NT$90 / $2.90 and leaves 6AM – 9PM on weekdays and 7AM – 9PM on weekends and holidays.
Alternatively, make your way to Zhongxiao Fuxing Station ((忠孝復興) at the intersection of the Brown and Blue line, and leave Exit 2. From outside the Sogo department store, you'll be able to take the Keelung Bus 1062 to Jinguashin. (It says Junguashin, but it'll take you to Jiufen, so no need to worry!)
This bus ticket will cost you NT$100 / $3.30 and the bus journey will take about 60 minutes, so get a good seat to spot the views!
3. Car
Of course, if money is less of a concern, you could just rent a car for the day from either IWS Car Rental or Chailease Auto Rental. The drive will take about 45 to 60 minutes.
What Is There To Do In Jiufen?
1. Jiu Fen Old Street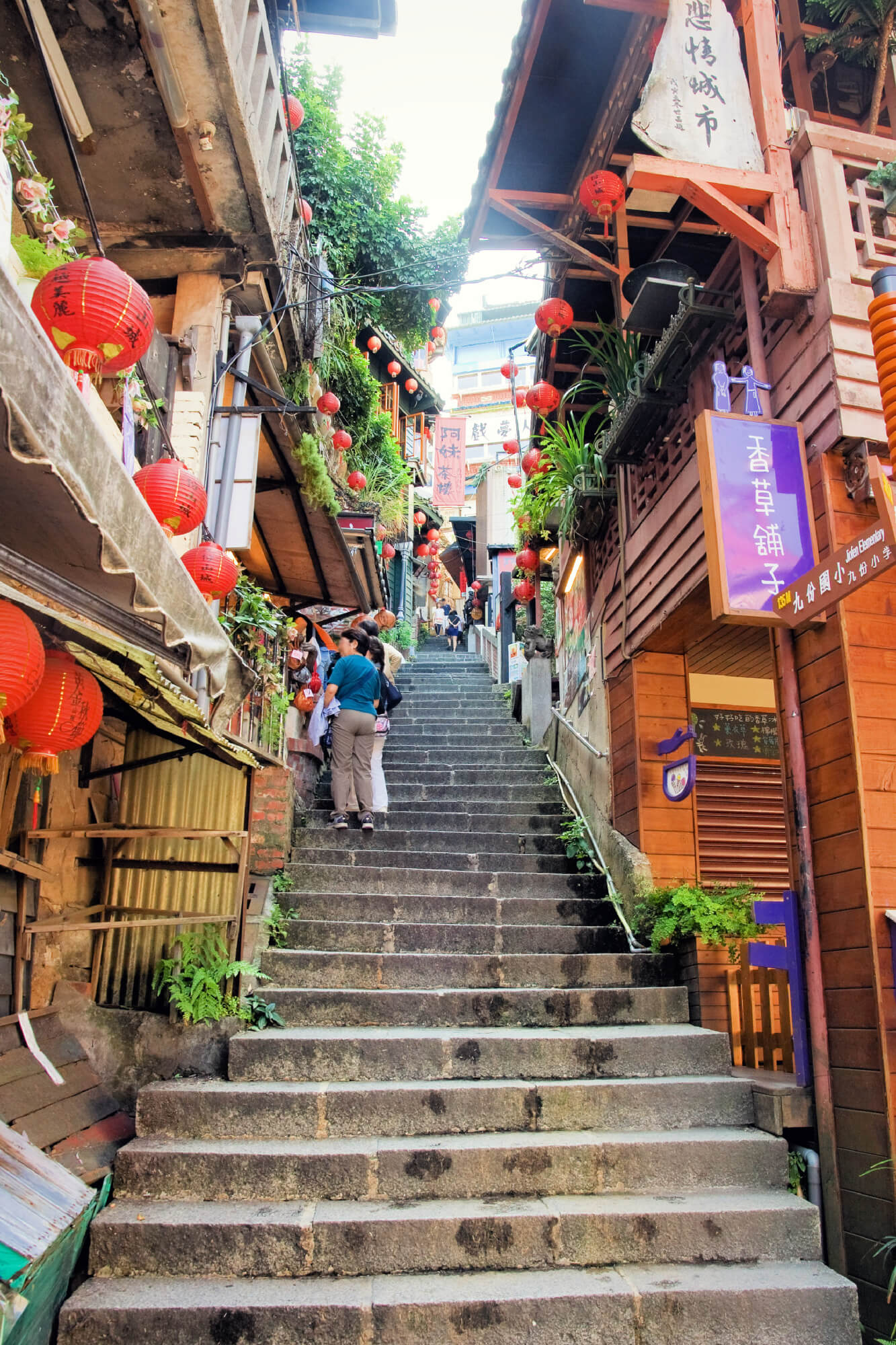 Be transported back into a different world by visiting the bustling old streets of Jiufen. It'll feel like old Taiwan and old Japan all at once, and is located near Keelung's coast with gorgeous sea views.
There are 4 streets of notable significance for you to check out: Jishan Street (particularly packed on weekends or holidays), Jianci Road, Cingbian Road, and Ciche Road.
Slow down, people watch, take it all in, and try and snap that perfect photo of hanging lanterns and Japanese-style decorations. It'll feel like a different world!
There is also great food here too.
On the packed old streets of Jiufen there are vendors offer all kinds of Taiwanese foods such as hot or cold Taro Balls, Green tea balls, Hongzao meatballs, rice cakes, and much more. Definitely try the Taro Balls, which is popular all over Taiwan but was first created here in Jiufen in the 1940s.
Good places to grab a bite include A-Zhu Peanut Ice Cream Roll, Grandma Lai's Yu Yuan and Ah Gan Yi Yu Yuan.
2. Do A Night Tour
If you're the sort of person who dislikes crowds then a night tour of Jiufen may be perfect for you. You'll get to see Jiufen in all its glory during the night and the atmosphere will be different.
Quite a few people think you can complete Jiufen in just one afternoon, but that is a mistake. Sometimes people regret not staying overnight in Jiufen and end up coming back again.
So starting your Jiufen trip with a night tour and then staying at one of the amazing guesthouses (e.g. Shanhaiguan Guesthouse / 九份山海观民宿) overnight so you can wake up bright and early to experience Jiufen in the morning is a fantastic idea!
A night tour with Klook around the night markets of Jiufen, Shifen and Keelung Miaokow would also be a great choice.
3. Visit A Tea House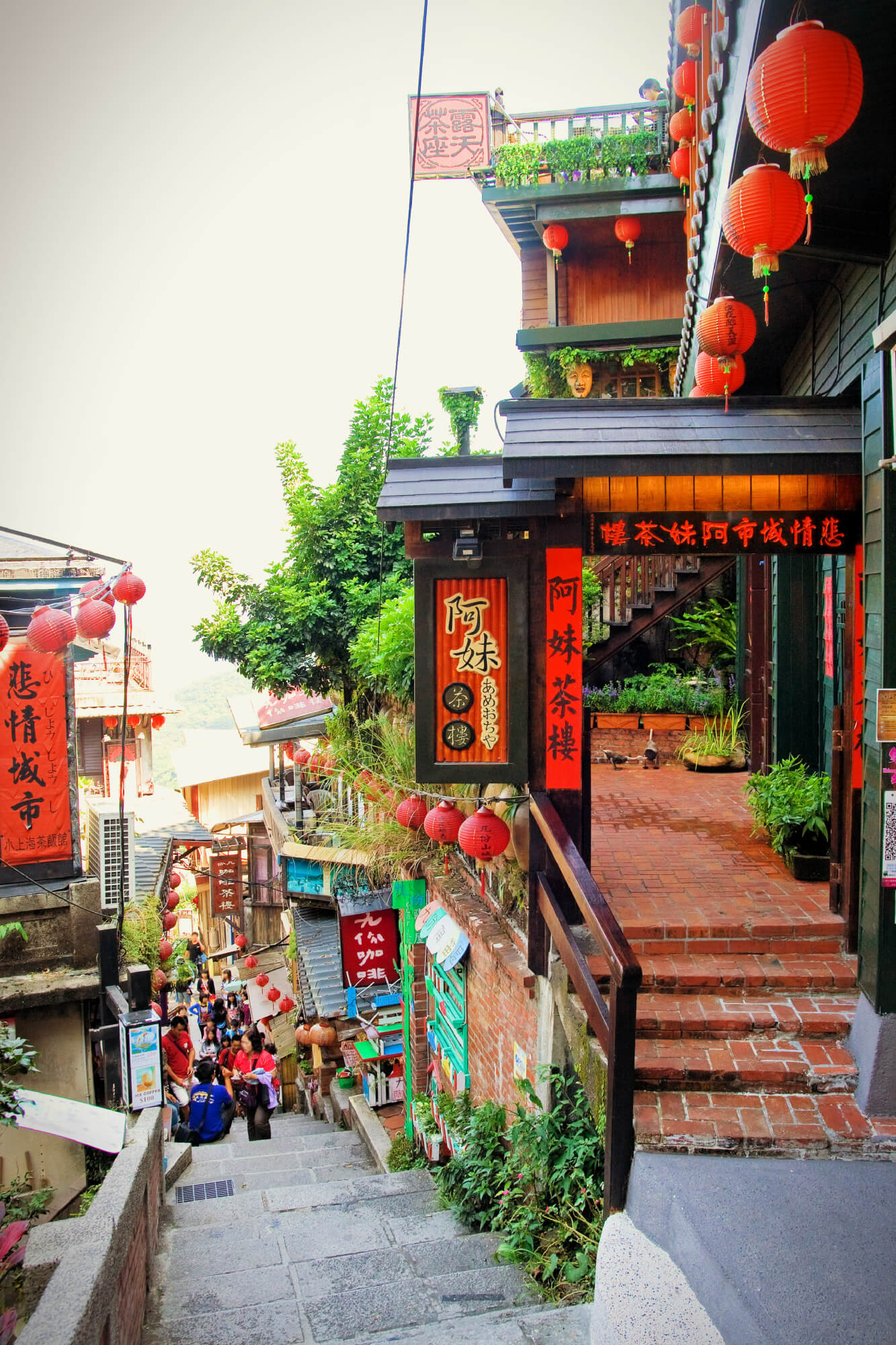 Throughout the Old Street of Jiufen (though, in turn, its more like an alley) are a scattering of teahouses—squashed, hidden, and delicately placed in the middle of shops and buildings that are well worth the visit.
There is A Mei teahouse decorated with masks reminiscent of Spirited Away. Expect to hear Japenese. The author (Hayao Miyazaki) can deny Jiufen's inspiration in the Japanese fantasy film all he wants, but this won't stop the tourists due to the Studio Ghibli memorabilia found throughout the town.
The menu of A Mei teahouse offers a wide selection of beverages, teas and desserts. Pricey but tasty, and worth the experience.
Another teahouse of note is the Skyline teahouse. Offering pristine views of the coast and nearby mountains, this oolong-selling traditional teahouse also sells traditional Taiwanese snacks.
4. Hike Keelung Mountain (基隆山)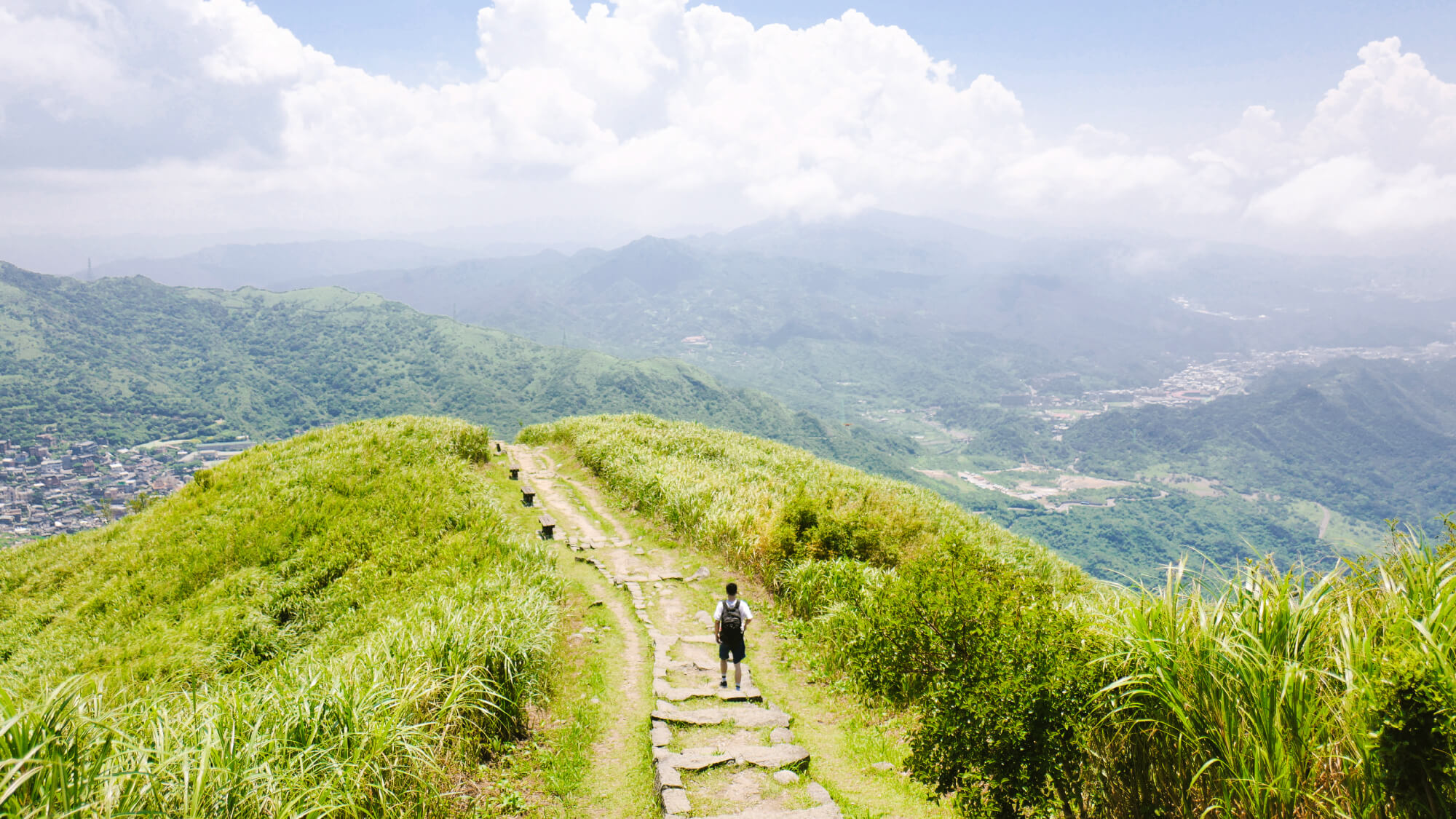 If just walking down the twisting, steep roads of Jiufen doesn't satisfy your hiking needs, then a hike up Keelung Mountain is a must-do. At 588 meters high, it's quite a challenge for newbies and will take about 2 hours in total for travel times from Jiufen and to complete it.
If you're looking for how to get to Jiufen from Keelung to do this hike, simply either take a taxi or, alternatively, make your way to Jiu Dao station by taking the 基隆客運 KL bus from Keelung train station, or the 825 bus from Ruifang train station.
5. Check Out Shengping Theater
If movies and Baroque architecture is your thing, you ought to check out Shengping Theater.
Built in the early 1900s the theater is the oldest existing theater in Taiwan. Renovated and reopened in 2011, this theater now gives locals a chance to re-live childhood memories watching classic Taiwanese films and operas.
So go and check out an old Taiwanese movie and connect with the movie-history of Taiwan.
Jiufen Taiwan Map
Here is our interactive map of Jiufen so you can see where some of the most notable places are.

The Best Time To Visit Jiufen
If you're going just to shop then the best time to visit Jiufen Taiwan is late morning.
If you're going for the ambiance, experience and mood then this is best in the early morning and evening. (And, like mentioned above, spending the night is highly recommended).
What Should I Buy In Jiufen?
If you're looking to try Taiwanese delicacies then you definitely should taste the Ah Gan Yee' Yam Ball (阿甘姨芋圆). A warm soup (which will be nice at this colder mountain altitude anyway). We also recommend asking for the mixed version which is red peppers, yam balls in a green bean soup.
If you're looking to bring something home with you then good souvenirs include cups, bags, fans, plushy teddies, and lots of silk products—the embroidery on these silks are excellent and will make a great gift.
A recommended tea to order in teahouses would be Jin Xuan Oolong Tea (金宣茶).
A Day Trip To Shifen
Nearby to Jiufen, another day trip worth doing from Taipei is Shifen. You can either spend a few days in Jiufen and go to Shifen as well or do it separately from Jiufen altogether.
Possessing its own Old Street, Shifen also features the broadest waterfall in Taiwan, Shifen Waterfalls.
A Day Trip To Jinguashi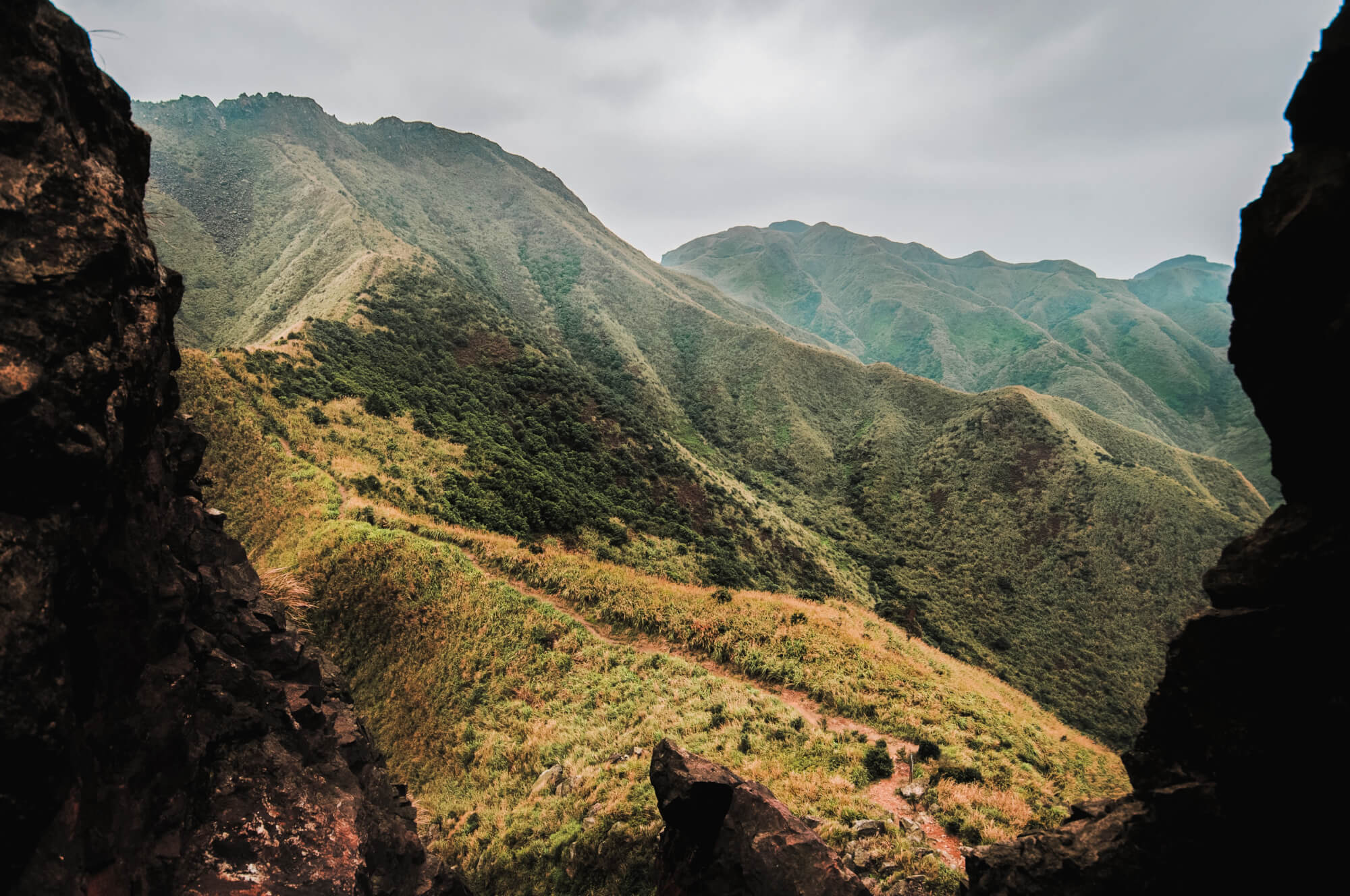 Another worthy day trip is the mining town of Jinguashi, again not far from Jiufen.
Featuring one of the hardest hikes in Northern Taiwan called Teapot Mountain (茶壺山), Jinguashi also contains the Gold Museum which looks at Taiwan's fascinating gold mining history, and also the Golden Waterfall which, although not flowing in gold, is an extraordinary scene of nature and definitely worth visiting.
---
Are you going on a trip to Jiufen soon? Tell us how it goes and share your experience and tips in the comment section below!
Suggested next reading: 7 Nerdy Things To Do In Tokyo That Are SO Much Fun