The boat creaks under its weight as it rocks gently from side to side, cows and children wandering at the river's edge under a perfectly blue sky. This would lull you to sleep easily if the heat wasn't so oppressive and the engine wasn't quite so deafening—and you weren't sitting on a decades-old minivan seat transplanted onto a rickety wooden slow boat to Laos that glides painstakingly down the river.
Flies buzz and birds call lazily as the boatful of tourists makes its way down the Mekong River, a popular way to travel through Laos. Backpackers through Southeast Asia quickly learn the most established routes—which direction to travel, which stops to make, how long to spend in each locale. And when you're traveling from northern Thailand into Laos, there's one method of transport that has gained quite a reputation for itself.
It's the boat trip along the Mekong River from Chiang Rai to Luang Prabang, affectionately called "The Slow Boat to Laos."
And slow it is.
A Different Way To Travel
As a backpacker myself in northern Thailand two years ago, I chose the slow boat route as a means to go from Thailand to Laos, my next Southeast Asian destination. So many people I'd met in my hostel recommended it, and it seemed like an adventure I was eager to experience. After a bit of research, I purchased a ticket from my hostel with two newfound-friends and hopped on a bus from Chiang Mai to Chiang Rai.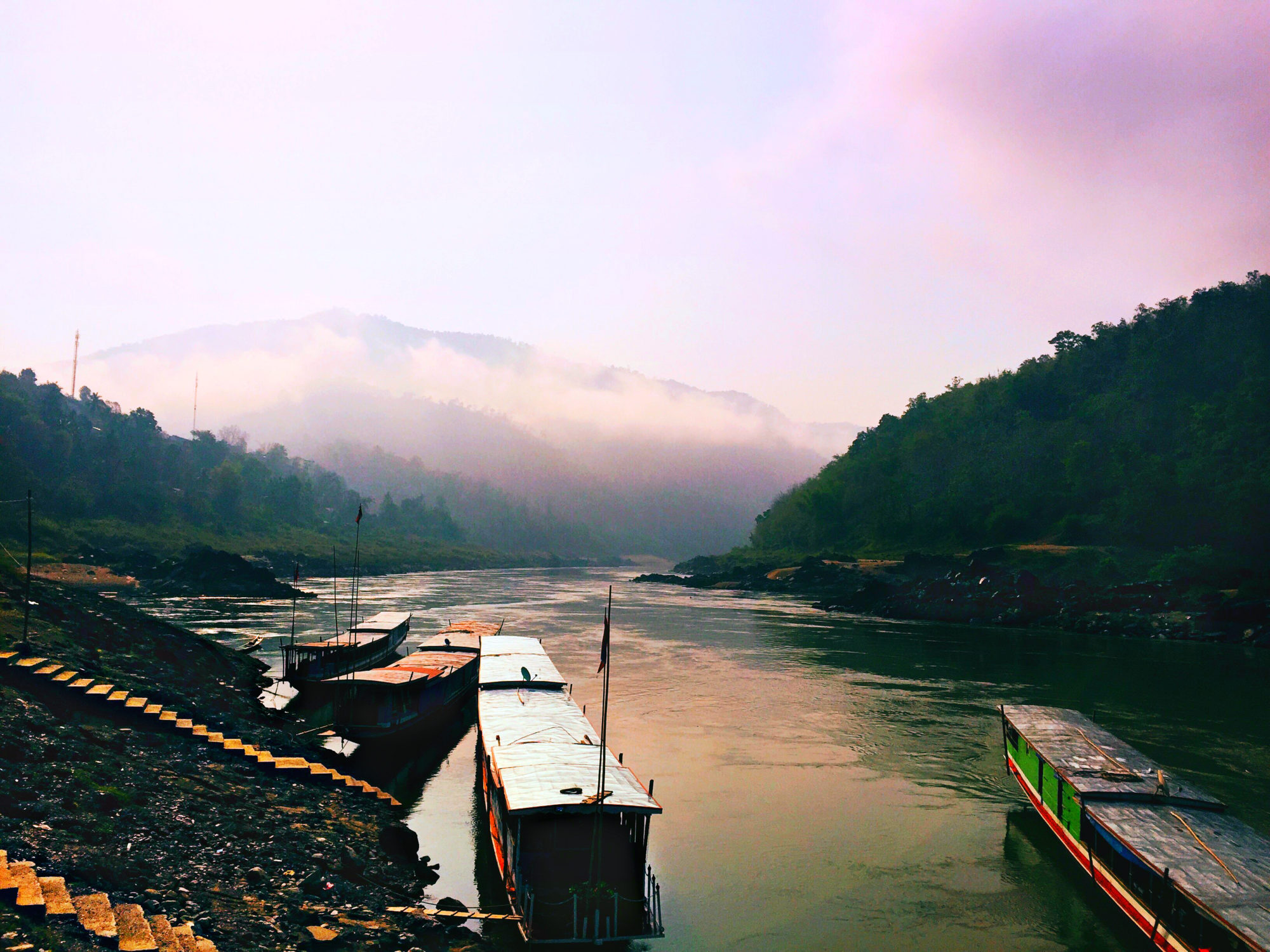 The two-day trip begins in Chiang Rai, in far northern Thailand. A minibus takes you to the border of Laos, where we spent a night in a questionable guesthouse with lizards invading our rooms and a very apparent lack of shops nearby. (Stock up on snacks and supplies before reaching the border!) To cross into Laos, we needed multiple passport photos that met their specific criteria and which our Thai guide helped us procure. After a slightly strange and very expensive photo shoot in the lobby of the hotel, he made sure we had everything we needed and left us.
That morning we were up early to get to the boat, and from the guest house rooftop in the early light of day, I first set eyes on the Mekong River—and fell in love with Laos.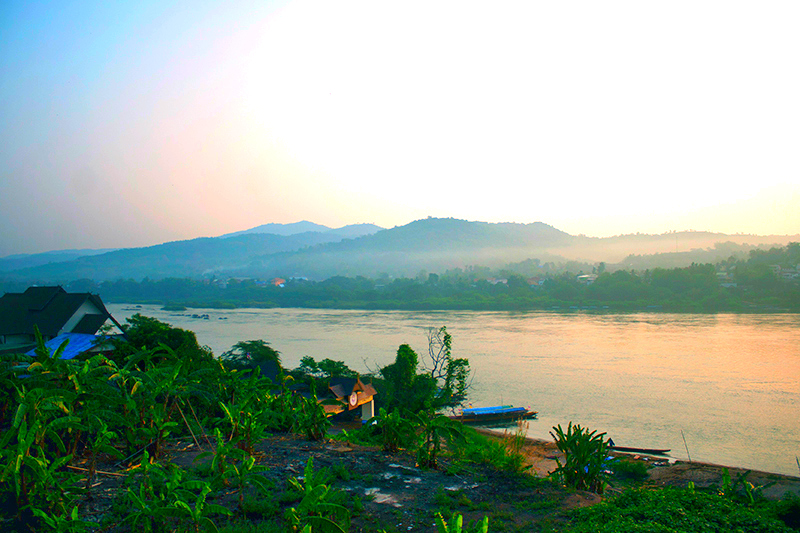 Mist shrouded the surface of the river and empty boats swayed in the little waves lapping at the shore. The few nearby houses were eerily silent and the mountains beyond were cast in shades of purple and blue and gray. Before the chaos of the day began, I breathed in deeply and wanted to remember Laos this way—wild, peaceful, and free.
Another minivan picked us up at our hotel and brought us to our boat, docked not far away in a bustling little port. Shops selling chips and sodas and cups of instant noodles were busy with tourists hurrying to acquire snacks before the trip, and we joined the masses before climbing aboard.
I've been on many boats in my life, but none were quite like the slow boat to Laos.
This wooden boat was long and low, with open windows and musty old curtains tied to the sides. There were far too many seats crammed in, ripped and dirty, very clearly old bucket seats like the kind you'd find in a minivan. A few life jackets dotted the sides, and I wondered if there were enough for everyone on board.

So Far, So Good
At first the ride seemed fine, pleasant even, and I relished floating along the calm water, watching the children playing at the shore, spotting the cows wandering the beaches. But after a few hours, I couldn't avoid the bathroom anymore and tried my luck—I found a filthy squat toilet in a tiny room at the back of the boat, liquids sloshing around and the need to hold onto the walls to keep myself upright. I survived, but as the trip went on the heat set in, the flies swarmed, the engine roared on, and I wished to be anywhere but on that slow boat to Laos.
Our first day ended soon enough, and we made our way to the little town of Pak Beng for our overnight stop. Before we arrived though, workers on the boat rushed to every guest asking if they had accommodation for the night, quoting ridiculously expensive rates for guesthouses owned by friends of theirs. Despite not having a room booked yet (the agency we booked through said we could arrange it when we got there), we felt wary of these offers and repeated our answer of no over and over again.
Of course, this turned out to be a mistake.
It seemed that somehow everyone else had already booked accommodation, and we realized that maybe we should have taken those offers on the boat, sketchy as they seemed. Hotel after hotel was booked solid, with nothing to offer us. We trudged up hills with our big backpacks growing more and more hopeless until we finally found one tiny room at an even higher rate than had been quoted to us on the boat. Desperate, we took it.
That night locals welcomed us to town at the local bar, decorated with Bob Marley paraphernalia and glowing green lights. Rum buckets and smokers were plentiful, and the night culminated with the biggest thunderstorm I've ever seen. Rain poured down in sheets and lightning flashed overhead as we ran back to our guest house, soaked and happy.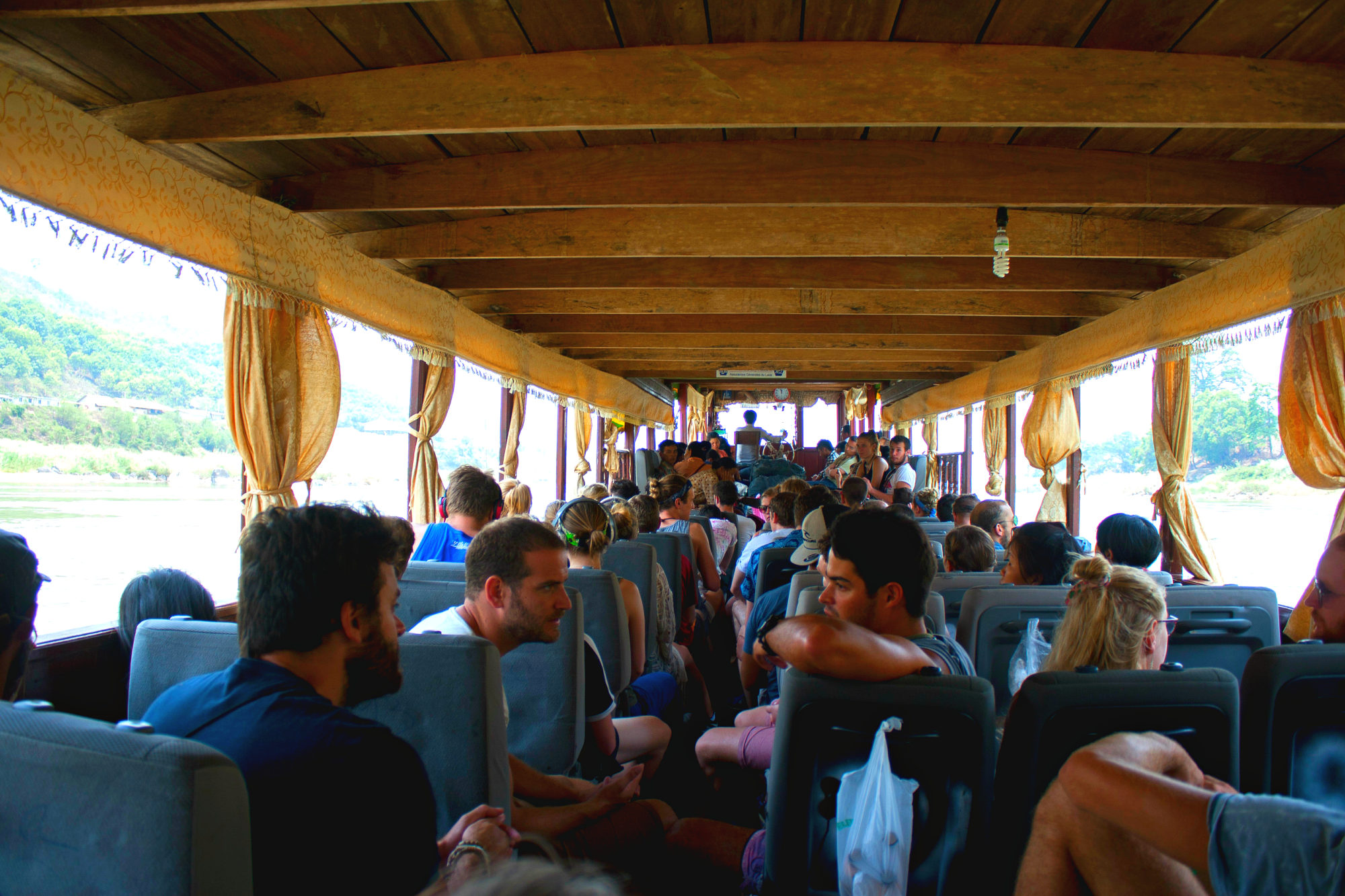 The Slow Boat To Laos: Round Two
The next morning we'd been told to arrive at the boat early to ensure a seat, which we didn't understand. But thankfully we did—because this boat was significantly smaller than the previous day's, and the same amount of people needed to fit aboard. We scrambled to find three of the last empty seats and watched as the unlucky latecomers had to sit on their bags in the engine room, stuck in the hot sun at the back of the boat with the engine roaring just next to them. I felt grateful for my seat in the shade, and also angry that the owners of the boat could subject guests with paid-for tickets to such a difficult 8-hour ride.
That day proved to be a challenging one. A few hours in, I woke from a fitful sleep to the boat lurching and a big commotion—passengers screaming and locals hurrying to put on life jackets. As it turned out, the boat was caught in a rapid, and we came close to capsizing. Drivers were turning the wheel furiously (à la Titanic!) and there was real panic in the air. Luckily we didn't capsize, but by then we were all ready to be done with this terrible boat ride.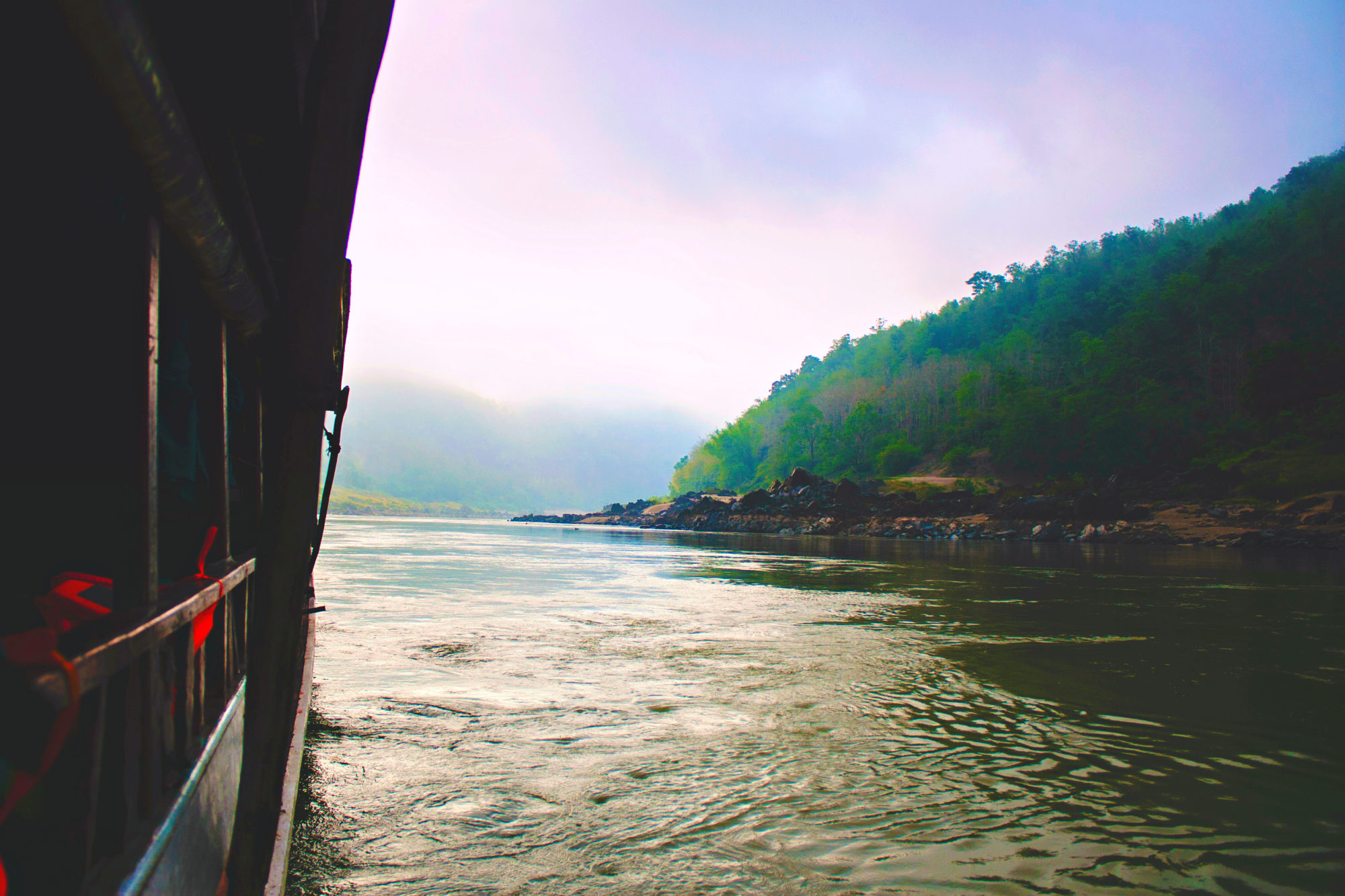 Later that day, we arrived in Luang Prabang and there was a rush to get off the boat—everyone couldn't get off fast enough. We walked into the steamy city without looking back, and were excited to explore Laos on solid ground.
Was it a beautiful, adventurous way to travel from Thailand to Laos? Yes. Would I ever take the slow boat to Laos again? No way.
It was a once-in-a-lifetime thing for me, but I'm glad I experienced it. Taking the slow boat to Laos is a gorgeous way to get off the beaten track, see the Mekong up close, and meet locals. If you want to try it too, here's what I'd recommend.
Do:
Be careful with your luggage. Drivers have been known to steal from the bags, so keep any valuables with you in your seat.

Always keep receipts as you go. This is a good suggestion for any Southeast Asia travel, but especially when you have a multi-leg trip it's important to have proof that you've paid at every turn.

Bring your own drinks and snacks aboard—they're available for purchase on the boat, but at a much higher price.

Dress for the hot weather. Consider bringing a paper fan or battery-operated one. It is HOT on that boat.
Don't:
Listen to just one person's advice about taking the slow boat to Laos. Do your research, ask around at your hostel or guest house, and make the most informed decision you can.

Exchange all your money to Laos Kip. You'll need U.S. dollars to buy a visa no matter which country you're from.

Take your time getting to the boat. Early is always better.

Be afraid of traveling solo! There are so many people traveling alone and it's easy to meet plenty of people who you'll probably continue to see as you travel through Laos.
Suggested next reading: Going To Vietnam? Don't Miss This Essential Travel Hack