A trip to Lisbon is a must for anyone who loves charming European destinations, enjoyable city breaks, or anyone who wants the perfect home base to explore the rest of Portugal.
As one of the oldest cities in Europe (centuries older than London, Rome, or Paris), the city's hills hold hundreds of years of uniquely Portuguese stories and culture, and it is diverse enough for everyone to find something they love.
City Center
First things first—at the start of your trip to Lisbon, the best way to get acquainted with the city is by taking a free walking tour to get acclimated with the city and learn a little bit about its history along the way. Most walking tours will start in the Praça Luís do Camões, a historic square and central meeting point for tourists and locals alike.
From there, you'll cover the highlights and walk through Barrio Alto, visit Praça do Comércio (one of the most easily recognizable spots in Lisbon), and wander through the winding alleyways of Alfama, one of the oldest sections of Lisbon.
View this post on Instagram
View this post on Instagram
If you opt to venture out on your own, definitely make a point to stroll through Alfama to forget that you're in the center of Portugal's biggest city for an hour or so, and get a peek into how the people of Lisbon have lived for centuries.
Due to its position atop a hill, many of Alfama's buildings survived the 1755 earthquake and tsunami that destroyed much of Lisbon's lower-lying structures, so it truly is a fascinating glimpse into the past.
View this post on Instagram
Alfama is a great place to listen to Fado, a unique music style that evolved in this section of the city. It is best characterized by the Portuguese word saudade, which roughly translates to "longing".
The best description of Fado music I heard was from a local, who described the feeling of Fado as music capturing the feeling of finding a t-shirt or something that belonged to an ex-boyfriend or girlfriend years after the relationship has ended, and the feelings of nostalgia and loss that come along with it.
It's a beautiful experience that you don't need to speak Portuguese to be able to understand, and one that you definitely should not miss during your trip to Lisbon. Just note—any café that has a drink minimum or charges you an entrance fee to listen to Fado music is not a traditional Fado café, so be wary when choosing a spot.
Lisbon is also an incredible place to search for street art. You can find great pieces just about everywhere you look, but some of the best spots can be found in Barrio Alto, Mouraria, Alfama, Alcântara, and near many of Lisbon's metro stops (Picoas is the most famous, but the others are great as well).
View this post on Instagram
View this post on Instagram
Sunset Spots
Because it is built on a series of several hills, there are many breathtaking spots throughout the city to watch the sunset. If you're looking for a great dinner with a great view, head to Chiado and ride the Ascensor da Bica funicular up the hill (or walk, if you're looking for a workout).
At the top, there are dozens of restaurants where you can get a delicious, reasonably priced dinner out on the terrace while you look out over the city.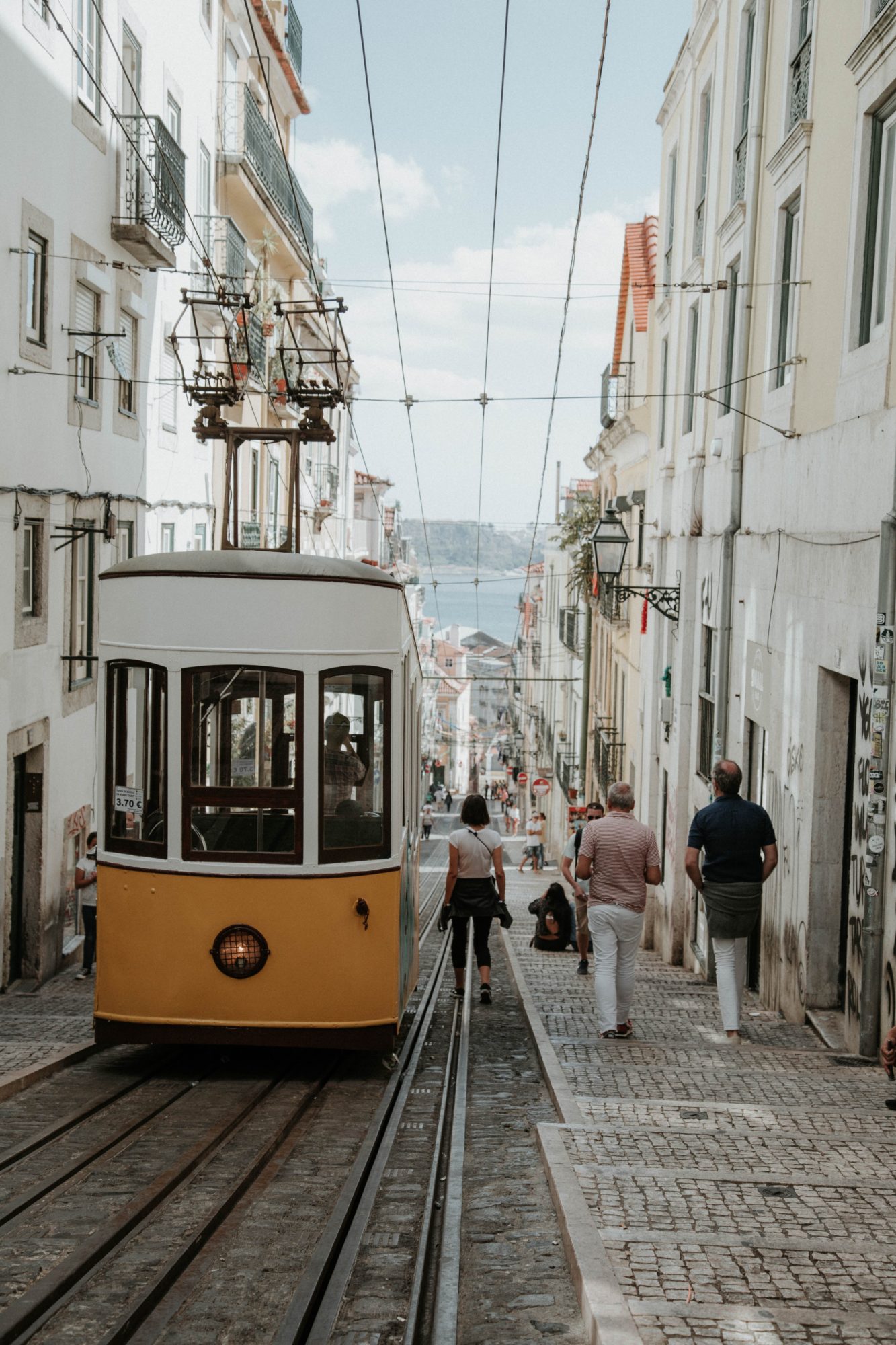 For a good sunset picnic spot, grab a bottle of wine and some sandwiches and head up to the Castelo de São Jorge.
The Moorish castle was the center of power in medieval Portugal for over 400 years, and although it was damaged and later abandoned by Lisbon's ruling class in favor of a larger, more accessible location, it remains a fascinating part of the city's history and now one of its main tourist attractions.
After you walk around inside, grab a spot on the castle grounds, look out over the sprawling city, and imagine how awesome it would have been to be royalty.
View this post on Instagram
If you're looking for another unique but definitely memorable sunset spot, head a little bit out of the city to the Panoramic Restaurant of Monsanto, an abandoned restaurant with an incredible view of Lisbon and the surrounding area.
Belém

One of Lisbon's most beautiful and fascinating districts lies just a few miles outside the city center and is definitely worth visiting if you have the time. Some of Lisbon's most recognizable landmarks such as the Belém Tower, the Monument to the Discoveries, and the Jerónimos Monastery are there.
Of course, no trip to Belém is complete without a trip to the Fábrica de Pasteis de Belém for some traditional Portuguese pastries (both the cream-filled pasteis de nata and pastel de Belém, an egg tart).
View this post on Instagram
Belém is just absolutely beautiful at golden hour (starting about an hour before the sun sets) when the monuments are lit up with a gorgeous golden glow. It's also the best time to visit the pastry shops because the line will be the shortest, so it's a good stop on the way back from the beaches in Cascais or Estoril, if you have time for a beach day trip.
Nightlife
Lisbon nightlife is unlike anything I've ever experienced but has definitely one of my favorite nightlife cultures.
Around 11:30pm, head back to Praça Luís do Camões and meet up with your friends to walk through Barrio Alto. At night, the neighborhood transforms completely and the streets fill with people.
Bars in Lisbon are unique in that they are very small—often just a bar with a few beers on tap (Sagres and Super Bock are the Portuguese beers of choice) and your choice of liquor. Make sure you get it in a plastic cup (since no glass is allowed on the streets) and head outside to mingle with the hundreds of people lining the streets for blocks.
Do note that streets will be fairly empty until around 11pm—the Portuguese go out late and stay out until the wee hours of the morning.
View this post on Instagram
Before embarking on my trip to Lisbon I wasn't expecting to fall in love with it the way I did, but it's become one of my favorite cities and definitely a must-see stop on your trip through Portugal.
PS. Be sure to also check out Hot Clube de Portugal in Lisbon, which is one of the best jazz bars in the world!