Located in the middle of Ecuador is a small town that is named after its hot springs that supposedly have healing powers. Those healing powers may turn out necessary after partaking in all the adventure you can find in Baños De Agua Santa, better known as simply, Baños! The stunning small town in the foothills of the Tungurahua Volcano, one of the most active volcanoes in the world, is one of the small rest bites before you reach the Ecuadorian Amazon. Baños has a population of 15,000, but it can swell to as many as 25,000 during peak tourist season. Many come for relaxation, good time, or nature, but the majority come for the heart pumping, adrenaline-inducing thrills. And so, here's why Baños is an adrenaline junkies paradise.

Swing At The End Of The World
Casa del Arbol, known as "The Swing At The End Of The World", is actually a monitoring station for the nearby Tungurahua Volcano. The man that runs the volcanic activity station decided to build a treehouse and swings for his kids, but tourists quickly got word of the site and it is now a major attraction in Baños. In addition to the swing, there is a tightrope and zip line. There are many tour groups that take people up to the swing, but the best way to get there is to rent ATVs and make the drive up the mountain. Not only is it good fun, but the whole trip is an adventure and offers incredible views of the town below. Be sure to head to the swing early in the day to beat the crowds and have the place practically to yourself.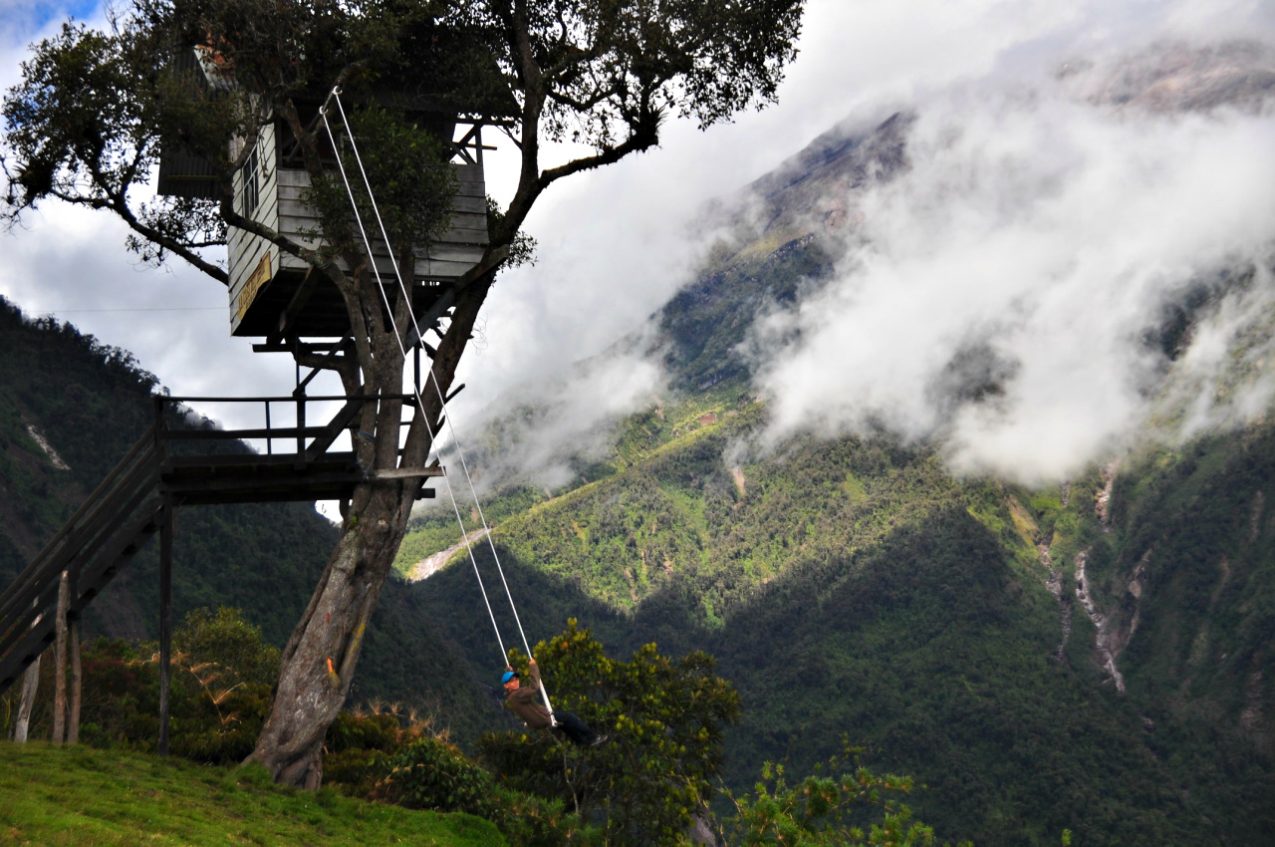 Bridge Jump
Directly next to Baños' main bus station is a bridge that you can jump off of. It may be the first thing you notice when you pull into town. When you first walk over to the bridge, you won't see any signs for bridge jumping, but just ask the locals hanging out on the bridge and they will get you started. Within five minutes you can be standing on a platform hanging over the edge of the bridge, being given a countdown to jump. The whole experience costs a whopping $20 USD (that price includes pictures of your jump.) But for those that have traveled the continent and have stopped in Baños, many say this bridge jump is their favorite thing that they have done in all of South America. Pretty high praise for an action-packed continent!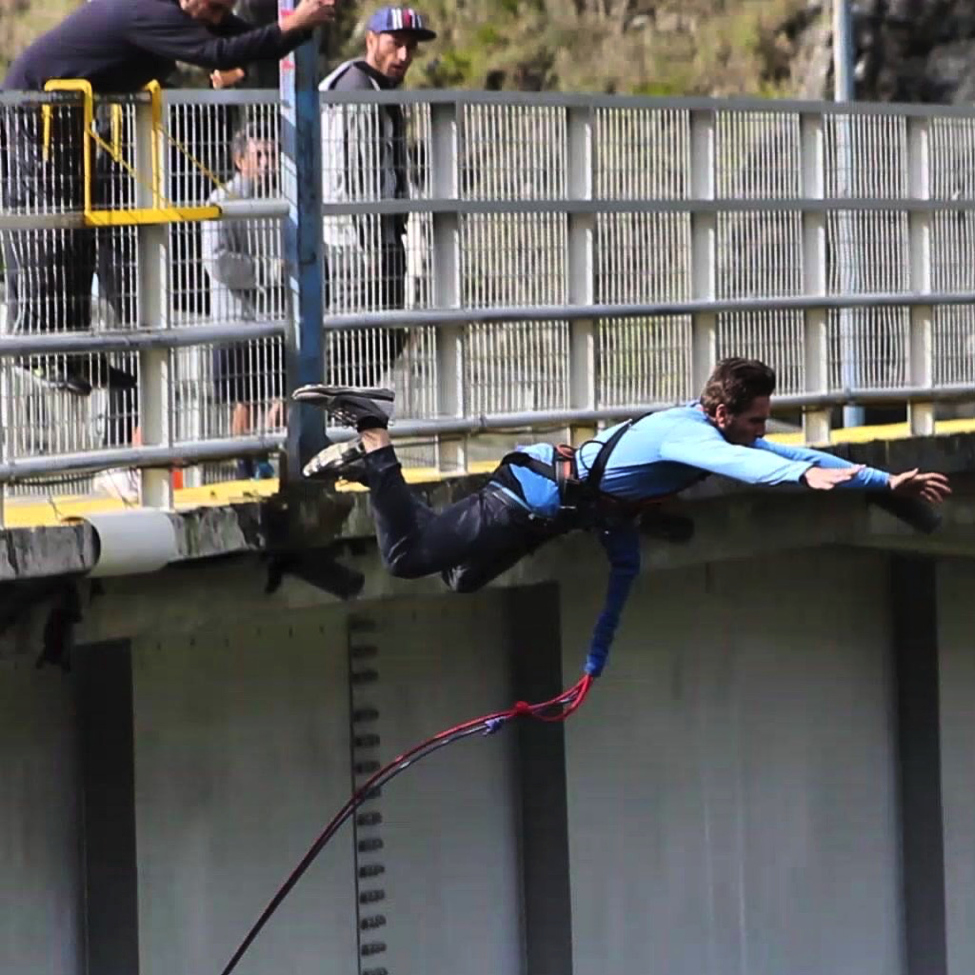 Rutas De Las Cascades
Rutas De Las Cascades (Waterfall Route) is an 18-kilometer bike ride along seven different waterfalls. You can rent a bike in town for $5 USD and be on your way! The ride is incredible as the scenery is lush and green. The waterfalls are stunning and there are giant zip lines across each one. You finish the route at El Pailon Del Diablo (Devil's Cauldron), an incredible 80 meters high waterfall that is simply breathtaking. To reach El Pailon is a bit of a hike and can be wet depending on the season so be prepared and bring waterproof shoes. If you prefer, you can bike another 42 kilometers to Puyo, the last town before reaching the Amazon. If not, a truck will take you and your bike back to Baños.

Canyoning
Canyoning is one of the most popular activities that Baños has to offer. The tour is offered by several different adventure companies, but each one is pretty much the same. You will be jumping and be rappelling off five waterfalls, occasionally ziplining from one spot to the next. The last waterfall is the most anticipated during the tour as you walk down a 35 meter (115 foot) waterfall. Canyoning will definitely get your blood pumping!
White Water Rafting
Whitewater rafting is one of the most extreme things you can do in Baños. For $30 USD for a half day of rafting, I'm not sure you can find a better deal anywhere in the world. The tour brings you down the Pastaza River. While rafting, you'll encounter class III and IV rapids depending on the season. Class III rapids can be done year round, but Class IV can only be done safely during the summer months. Every tour company has detailed safety briefings and two kayakers for each tour to ensure the safety of their guests (they also take pictures of your entire ride). The experience is challenging and you will definitely get wet in the process, but you will be happy you did it and meet some cool, adventurous people along the way.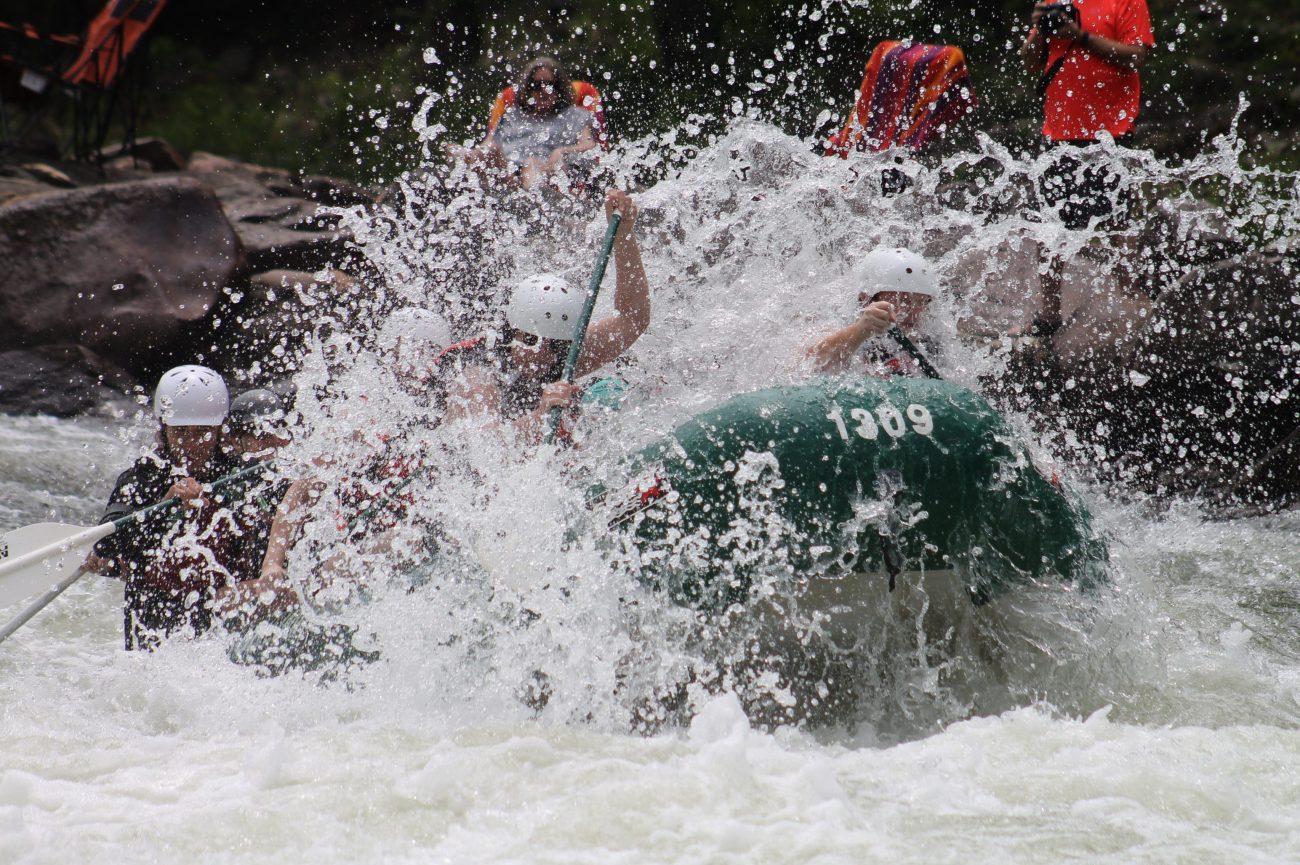 Hike To Bellavista
Baños offers plenty of hikes in the surrounding areas, but some are difficult to access and take hours to reach. The hike that is the easiest to get to is on the edge of town and is called Bellavista. This hour-long hike is pretty challenging in sections where you are walking straight uphill, but there are many lookouts and rest areas to stop along the way. The trail is well marked and it is difficult to get lost. Once you reach the peak, which stands at approximately 2,500 meters (8,400 feet), you will have great views of Baños, Tungurahua Volcano, and the surrounding lush, green forest and mountains. One thing to be careful of is that occasionally there are wild dogs that become aggressive so it is best to walk in groups.
Spa Treatment
After experiencing all the adventure that Baños has to offer, you will need to rest your sore muscles and relax a bit. Luckily, as mentioned earlier, Baños is famous for their hot springs. There is no better place to slow down and enjoy some downtime than at Luna Runtun. The adventure spa, as it is advertised, is at the top of a mountain and overlooks all of Baños. The view is absolutely stunning at night. With their 4 pools, both hot and cold, filled with volcanic water, you might never want to leave. Once you are done with the spa, enjoy dinner and drinks at their restaurant with panoramic views.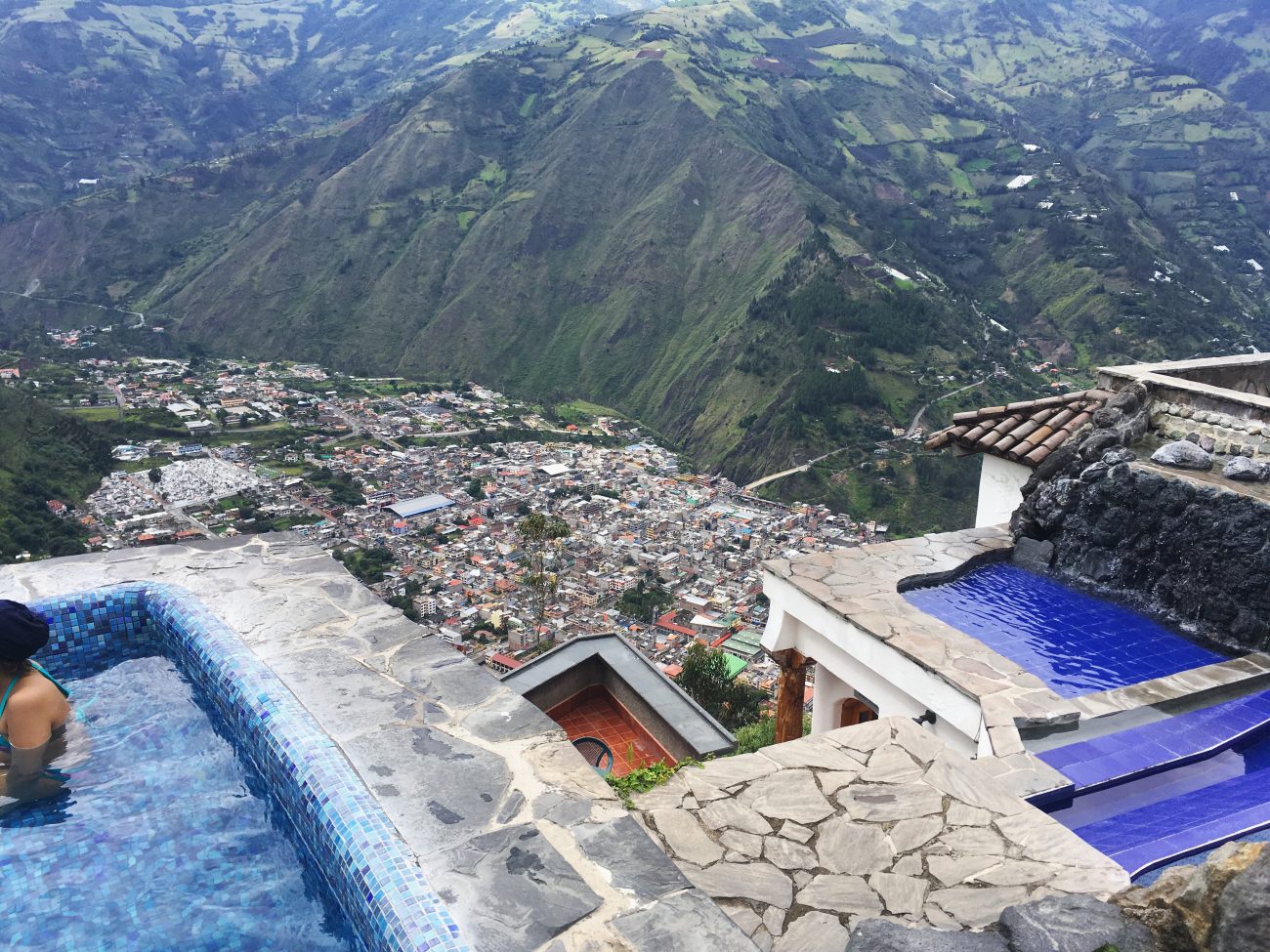 Suggested next reading: How To Go Rogue And See Southeast Asia By Motorbike