The United States is a big country with an amazing amount of diversity. Each region has its own culture and unique flair to it. Many visitors to the US, Americans included, only consider the west or east coasts for travel. This mindset, however, is rapidly changing as many are starting to discover the charm and natural beauty that America's Deep South holds. From colonial history to southern hospitality, locals are excited to help you discover what their region, state, or city has to offer. So when are you booking your trip to the Deep South? Here are 7 places you should consider:
1. Savannah, Georgia
Take a walk around Savannah's Historic District and you will quickly see why the city is considered one of the most romantic locations in the US. Founded in 1733, Savannah is also one of the oldest cities in the country and is loaded with history. Originally a British colonial capital, the city was a strategic port during the Civil War. Today, it is more known for its beauty, art, and friendly southern charm. The best way to see Savannah is by foot. The city is laid out in a grid so walking makes it easy to take your time and explore. Stop by Forsyth Park to get a picture of the iconic water fountain. Be sure to take a fascinating architectural tour led by a local expert as they will walk you through the history and style behind each home you see. End your day in the Moon River District for dinner and drinks. With so much happening in Savannah, it is a can't-miss if you find yourself traveling in the US!

2. St. Augustine, Florida
When people think of Florida, they immediately think of white sand beaches and fun in the sun. Many forget that Florida was once a Spanish colony and the state is full of history! St. Augustine is the best place to see traces of Florida's Spanish past. Founded in 1565 by Spanish colonizers, St. Augustine was one of the first cities created in North America and served as the capital of Florida for over 200 years. While no longer the capital, St. Augustine is now a quiet coastal town. You can see the Castillo de San Marcos, the oldest fort in North America. Afterward, walk around the Colonial Quarter to see beautiful, centuries-old Spanish architecture. End your exploring at one of the coolest museums you will ever visit, St. Augustine's Pirate and Treasure Museum. The museum has one of the oldest pirate treasure chests ever found and artifacts from shipwrecks. Now that you've finished your history lesson, you can go back to sitting on the beach.

3. Mobile, Alabama
Mobile was founded in 1702 as the capital of New France's Louisiana colony. While the French may be long gone, the historic district's buildings resemble that of New Orleans and the city still plays host to the oldest Mardi Gras celebration in the US. If you visit during Mardi Gras, you have to try crawfish. A unique dish to the deep south, Mobile is said to have some of the best crawfish in the region due to its proximity to the Gulf of Mexico.

4. Birmingham, Alabama
Montgomery may be the capital, but Birmingham is the most populated city in the state and is Alabama's cultural home. Birmingham is quickly becoming one of the trendiest places in the US to visit in 2018. To one of the best free art museums in the country to a beautiful mountain hike to a booming food scene, Birmingham has everything you want and more. The city is finally ready for its time in the spotlight.

5. Natchez, Mississippi
Located right along the Mississippi River on the Louisiana/ Mississippi state border, Natchez is a small town with a slower pace. It's a place where you can truly understand what the Deep South is all about. Take a stroll in Natchez' historic downtown district, take a tour of Natchez mansions (if only those walls could speak…), and visit Emerald Mound, a former Native American city that was built sometime around the 13th Century. It may take some time to get used to Natchez's friendly Southern charm, but when you do, you'll think people everywhere else are rude.
It's impossible to do a complete trip of the Deep South without visiting one of the most interesting and crazy fun places in the US, New Orleans. There is no better time to visit than in 2018 as New Orleans celebrates its 300 birthday. Sure, it is known for its insane Mardi Gras celebration that draws tens of thousands of revelers to Bourbon Street each year, but New Orleans is so much more than that. You could spend entire days in New Orleans just eating. If you choose to do that, you have to try local dishes such as po' boys, gumbo, jambalaya and beignets. At night, do a ghost tour to learn more about New Orlean's grisly past. To end your night, sit back and listen to some jazz with a cold drink. New Orleans is a unique city that invites you to explore more each time you return.

Dallas, Houston, and Austin get all of the love when people talk about cities in Texas, but if you want to discover the real Texas, you have to visit Fort Worth. Previously the home to the infamous Hell's Half Acre (red light district), bar fights, shootouts, and prostitution was all common in the late 1800's. The city attracted some of the most notorious gangsters of the day including Bonnie and Clyde, John Dillinger, and Butch "Sundance Kid" Cassidy (who Downtown's Sundance Square is named after). Today, the city is known for its laid-back, "cultures and cowboys" feel. Visit the old Stockyards and you might just see a real cowboy during the daily cattle drive. Take country dancing lessons at the legendary Billy Bob's dancehall. Fort Worth has the culture part down too. The city is home to two of the most well-known art museums in the country, Amon Carter Museum Of American Art and the Kimbell Art Museum. Be sure to check out Fort Worth's trendy Southside district. Magnolia Avenue is the heart of the area and is home to great bars, restaurants, coffee shops, and other stores. Fort Worth will surprise you more than you can imagine.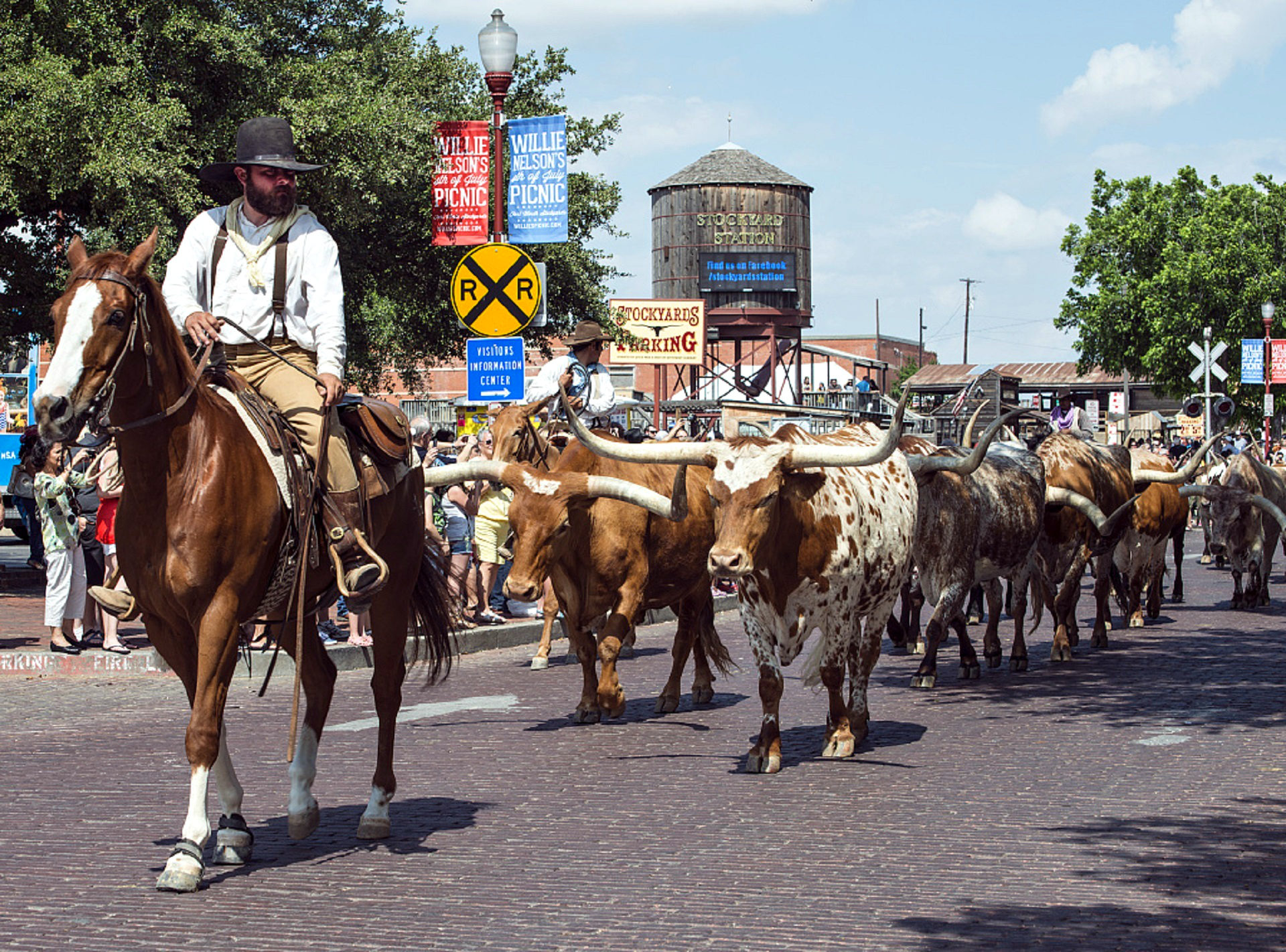 Suggested next reading: Why Chicago Is (Perhaps) The Best City To Visit In The U.S.