If you had all the time in the world and money was not an issue, what would your perfect American road trip look like? This is often a shower thought or something to daydream about at work. When you sit down with a map and really think about it, it becomes clear that the United States is really an incredible place filled with beautiful landscapes and unique regions. So, what do you see first? Of course, you could get in a car or RV and drive all over the place, but if you wanted to hit a specific area and really take a look—what would you do?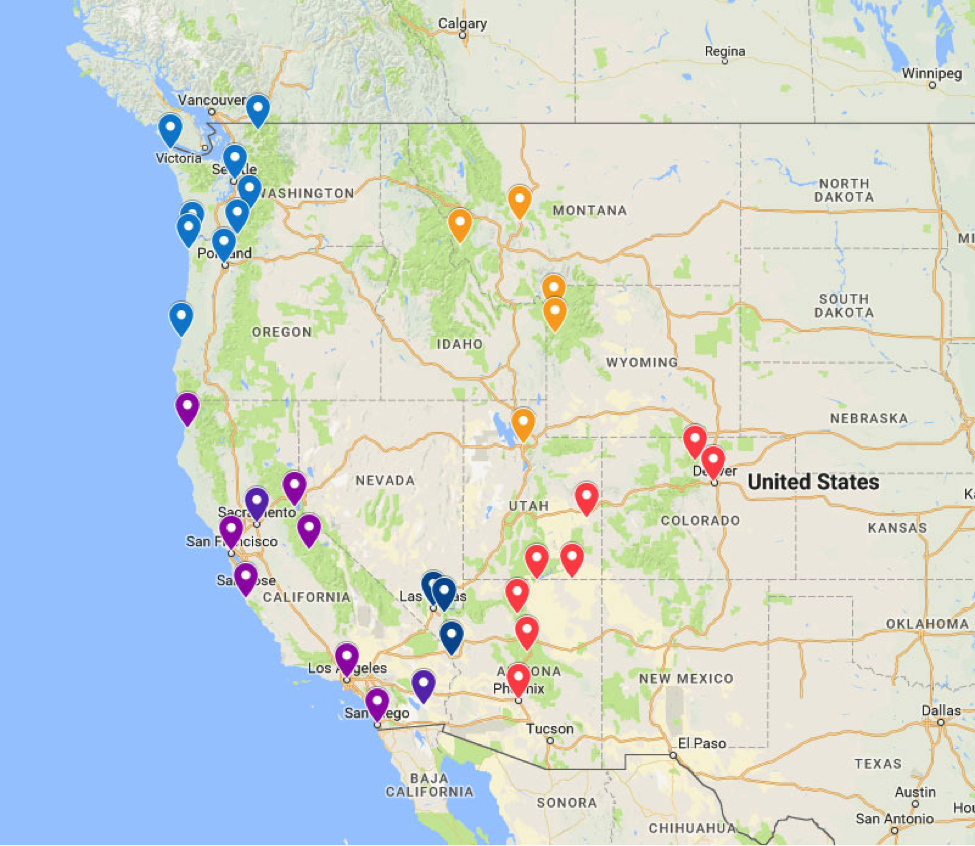 What I figured out is the ultimate West American road trip, however, for time/money/whatever restraints you might have, it can be broken up into individual parts or trips. Me being from the metro New York area, I would love to see more of the west.
Leg 1

The beginning of Leg 1 is Seattle. This is a good starting point because you can fly into Seattle airport or rent a car/RV/camper and see the city for a few days before you start this journey. Things of note to visit in Washington: North Cascades National Park, Olympic National Park, Cape Flattery, Mount Rainier National Park, and Mt. Saint Helens (among much more). Going into Oregon is Portland, which is a fun stop for its artsy and hipster scene—great food and brews too.
Another fun spot is Astoria, which if you are a big fan of The Goonies, makes it a go-to destination. Also see Cannon Beach, where much of the movie was filmed too. Then make your way down the Oregon coast, great for both Instagram posts and camping. Not too far after you cross into California is the Redwoods area, which is a 100% must-see in my book. Just thinking about how old those trees are blows my mind!

Then going east to (optional stop in Sacramento, maybe trying to find Arnold Schwarzenegger) Lake Tahoe and Yosemite National Park, you'll find lots of hiking, camping, and photo ops here. When you've had enough (if that's possible), swinging back west out to San Francisco and spending a few days there is a good idea. After SF, heading down the famed Route 1 Pacific Coast Highway—through Monterrey, Big Sur, Santa Barbara, Malibu and then eventually into Los Angeles. Spending a few days here would be fun too—Hollywood, famous beaches like Santa Monica and Venice beach, and of course Disney Land!
After that, heading down to San Diego, seeing other fabulous beaches along the way. Spend a day or two here as well—the Gas Lamp quarter has great food, brews, shopping and is just generally very nice. This could be a great end to a trip as well, however, if you feel like you want to keep going, there's still much more to see!
Leg 2

Starting on Leg 2 of the journey means leaving San Diego and either heading to Phoenix or Las Vegas. You can definitely do both, but if you go north, stop at Lake Havasu Falls, Hoover Dam, and Las Vegas (I don't think I really have to suggest things to do there). Or head east and drive along the Mexican border to Phoenix, which is a fun city filled with great hiking and food. After either Phoenix or Las Vegas, head to Sedona, which is known for its incredible red rocks. Great hiking and camping there, it will make you feel like you're in an old western movie. And of course, after that, going to the one and only Grand Canyon. The GC is like nothing you've ever imagined before, it makes you feel some kind of way, and it's so overwhelmingly big.

After that, go up to Antelope Canyon and Horseshoe Bend, and then Monument Valley. Continue seeing incredible rock formations as you cross into Utah and go to Arches National Park—again, lots of great hiking there! Then cross into Colorado and head east to Denver. You will be crossing through the Rockies seeing some breath-taking scenery. Spend a few days in Denver for great sights, food, brews, and more, while maybe also checking out Rocky Mountain National Park, which is a 1-hour and 30-minute drive away. You can finish Leg 2 of this trip in Denver, or if you still feel like trekking, head up to Wyoming!
Leg 3

From Denver, head northwest where you'll essentially cross the entire state of Wyoming going to Yellowstone and Grand Teton National Parks. Very convenient for travelers, the two parks are right next to each other, even though they are each very large. Incredible geysers, mountains, and wildlife to be seen. And since you've gone this far, you might as well go further into Montana and see some incredible scenery and the Missouri River (this is the Lewis & Clark region for the history geeks!) on your way to Helena, stopping for a minute in this small city. Then driving through Bitterroot National Forest and through the Mountains that border Idaho, then crossing into Idaho. From here heading down to Salt Lake City, Utah for the ending of your trip. Stay a day or two in SLC and then your 3 legged American road trip is complete!
A few other modifiers to this trip could be taking Highway 84 from Portland to Salt Lake City or cutting across Nevada on Highway 80 from Lake Tahoe/Reno to SLC—there are so many options in this region even though larger highways are somewhat limited, that's why backroads are great.

So, if you have the opportunity to ever do a grand American road trip, what would you do?
Suggested next reading: 7 Stunning Locations You Need To Experience In North America