What comes to mind when you think of South America? Maybe the Inca masterpiece Machu Picchu in Peru, the lively Copacabana Beach in Brazil, or the stunning Patagonia Mountains in Argentina. From beaches to jungles to mountains to deserts, South America has it all. In some places, you can hike a volcano in the morning and be swimming by mid-afternoon. With such natural beauty, friendly locals, and bustling cities, it is no wonder that South America is becoming one of the most popular continents for tourists to visit. Beyond the destinations that immediately come to mind, here are 7 stunning locations you need to experience on your next adventure in South America:
1. Valparaiso, Chile

Imagine your ideal travel destination. If it includes a colorful city on the edge of the water with sweeping mountain views, beautiful street art at every turn, and the most delicious seafood you've ever had, then you've named Valparaiso, Chile! The Jewel of The Pacific, as it's known, is located on the shores of the Pacific Ocean. Valparaiso has always been known for its bohemian feel and still maintains it today with murals, graffiti, and other artworks covering most walls throughout the city. Be sure to visit Caleta Portales (Fisherman's Cove) and wander the stalls of freshly caught seafood. The sight alone of so many fish is worth the trip! No trip to Valparaiso would be complete without a ride on the unique funiculars located throughout the city. Be sure to go up to the top of Cerro Alegre (Alegre Hill) for amazing views of the entire city of Valparaiso.
2. Ushuaia, Argentina

Have you always wanted to say that you've been to the end of the world? Well, now you can after your trip to Ushuaia! Known as the southernmost city in the world, Ushuaia is breathtaking. With the Martial Mountains as its backdrop, sunsets are spectacular. The city is a great base for exploring Tierra Del Fuego (Land Of Fire) National Park. You can go hiking, camping, or kayaking within the national park. Another day trip is to visit Isla Martillo to view penguins in their natural habitat. There are various types of species of penguins that don't mind visitors and will carry on as if you weren't there! If you can make it down this far in southern Argentina, Ushuaia will reward you with its natural beauty.
3. Atacama Desert, Chile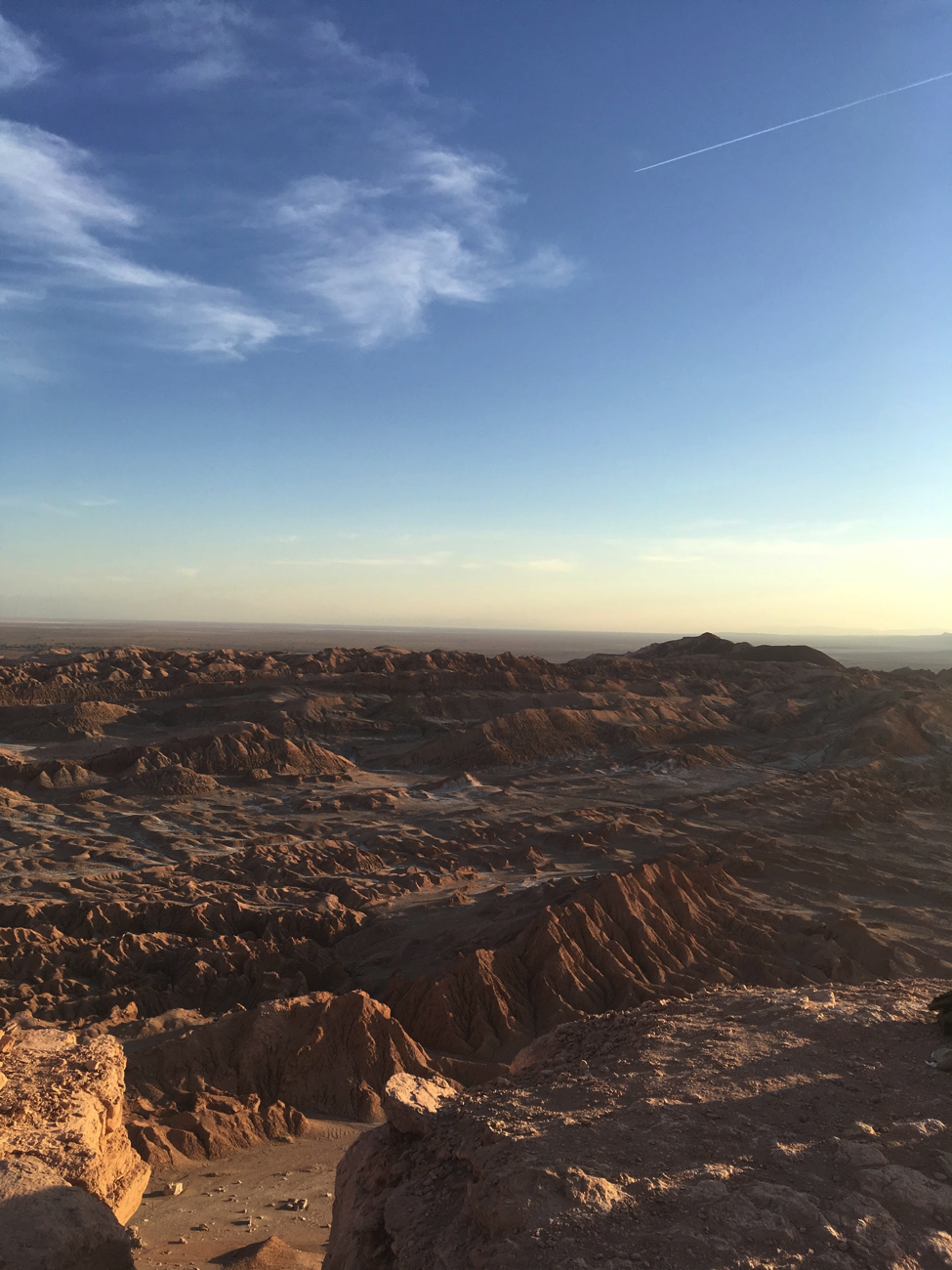 While Valparaiso is a few hours south of the Atacama Desert, you would never know that you are still in Chile as the two places are not even comparable. 4,000 meters above sea level, Atacama is known for being the driest place on planet Earth. It is also known for its Mars-like rock formations, geysers, salt flats, and blue lagoons. Some of these natural formations are only found in the Atacama desert. When night falls, Atacama really comes alive with one of the most stunning and clearest displays of stars one can ever see. If you get the chance, don't miss out on sandboarding. For many, it becomes the highlight of their entire trip!
4. Baños, Ecuador

At first glance, Baños is a small, sleepy town located in central Ecuador. With Tungurahua Volcano looming over the town, it makes its presence known with the occasional plumes of ash spitting from its peak. Just like the volcano, at second glance, Baños is teeming with activity. From adventures sports (canyoning, swing jumping) to sights (Casa Del Arbol/ Treehouse) to incredible nature (Ruta de las Cascades/ Waterfall Road), Baños is easy to fall in love with. Be sure to check out Pailon Del Diablo (Devil's Cauldron) for up-close views of this massive waterfall. At night, check out Luna Runtun Spa. Relax in various hot tubs after a long day of adventure and enjoy an incredible view of Baños. While Baños can be easy to dismiss, once you get to know it, you'll find yourself wanting to come back and visit this gem again.
5. Salento, Colombia

Hidden within the foothills of the Quindio region in central Colombia, lies a small town that is known for its palm trees and coffee. Most people visit the town to go see the Wax Palm Trees in the nearby Cocora Valley that is the national tree and symbol of Colombia. The hike is stunning and has an easy, circuitous route to follow. However, going to Colombia's "Coffee Triangle" and not visiting a coffee plantation is almost a crime. There are several in the region to choose from and you can't go wrong with any of them. Guaranteed you will have the freshest cup of coffee you've ever had! (No cream or sugar needed). At night, go play Tejo at Los Amigos. The Colombian game mixes alcohol, explosives, and horseshoes…nothing will go wrong! At least, you'll make new friends with locals!
6. Iguazu Falls, Argentina/Brazil

Waterfalls are beautiful. That's a fact. However, Iguazu Falls stands out among waterfalls. It is seen as a natural wonder of the world. Iguazu is actually a collection of 275 individual waterfalls that spans 1.7 miles. Located on the border of Brazil and Argentina, the area receives over a million visitors each year. You are able to view the falls from either side of the border, but 80% of the falls are in Argentina. While only 20% of the falls are situated in Brazil, it offers the most comprehensive view and the best lighting of the falls, so be sure to head there in the morning for Instagram worthy pictures.
7. Carrasco National Park, Bolivia

Bolivia is one of the most overlooked countries in South America by visitors. That may soon change as the country is teeming with nature, culture, and adventure. One of the hidden gems that are waiting to be discovered is Carrasco National Park. Located near the city of Cochabamba, Carrasco has incredible biodiversity due to a variety of ecosystems meeting together. It is possible to see jaguars, pumas, anacondas, various types of monkeys, and over 400 different species of birds to name a few! Be sure to hire a guide to get the most out of your trip to the national park. They know the best spots within the 6,000 square kilometer park and can help you find any flora or fauna that you are wanting to see.
The real question is: What are you waiting for? These destinations and many more in South America are just waiting for you to experience them!
Not done exploring? Why not check out: