Traveling is about experiencing and learning about different cultures. Eating is an essential part of a culture and also happens to be one of my favorite parts of traveling. I love learning about cultures and people through the foods they eat. Food brings people together and every cook has their own interpretation of dishes, which is what makes gastronomy so interesting. I love when immigrant populations bring their delicious foods to a new country and mix it with what they find in their new home.  My food philosophy is "live to eat not eat to live." Below are my five most interesting and delicious foods that I have tried while traveling the world.
1. Kangaroo Steak – Kings Canyon, Australia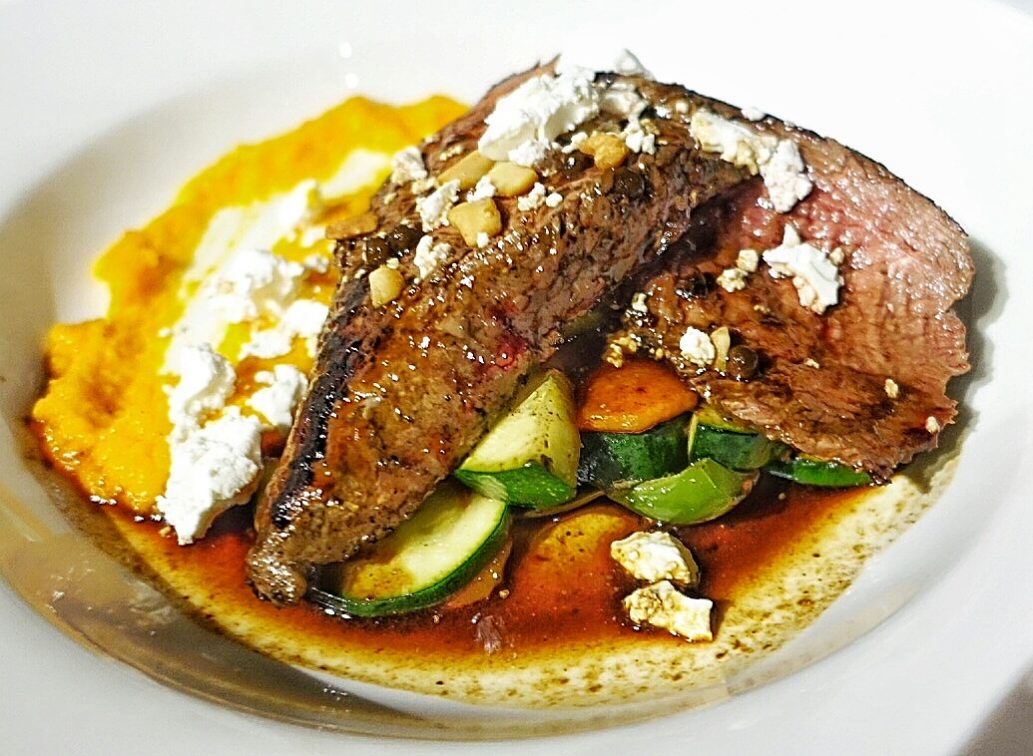 One of the first questions I always get asked when I say that I lived in Australia is if people eat kangaroo. While people abroad always believe it to be an exotic meat, it's widely eaten in Australia and sold in a majority of grocery stores, due to the abundance of the animal. The rumor is, however, that if you overcook kangaroo it becomes virtually inedible. Therefore I was always skeptical to try the food, but when I went to the Outback I knew that I had to try it.
I was at the Kings Canyon resort where I was served a beautiful kangaroo steak with grilled vegetables and a sweet potato puree. I asked the chef what the key to making good kangaroo was and he told me that it had to be cooked medium-rare otherwise it would be too tough to consume. Needless to say, I ate "'roo" (as the locals call it) on a fairly regular basis when I lived in Oz; it's lean, cheap, and abundant.
2. Black burger – Bangkok, Thailand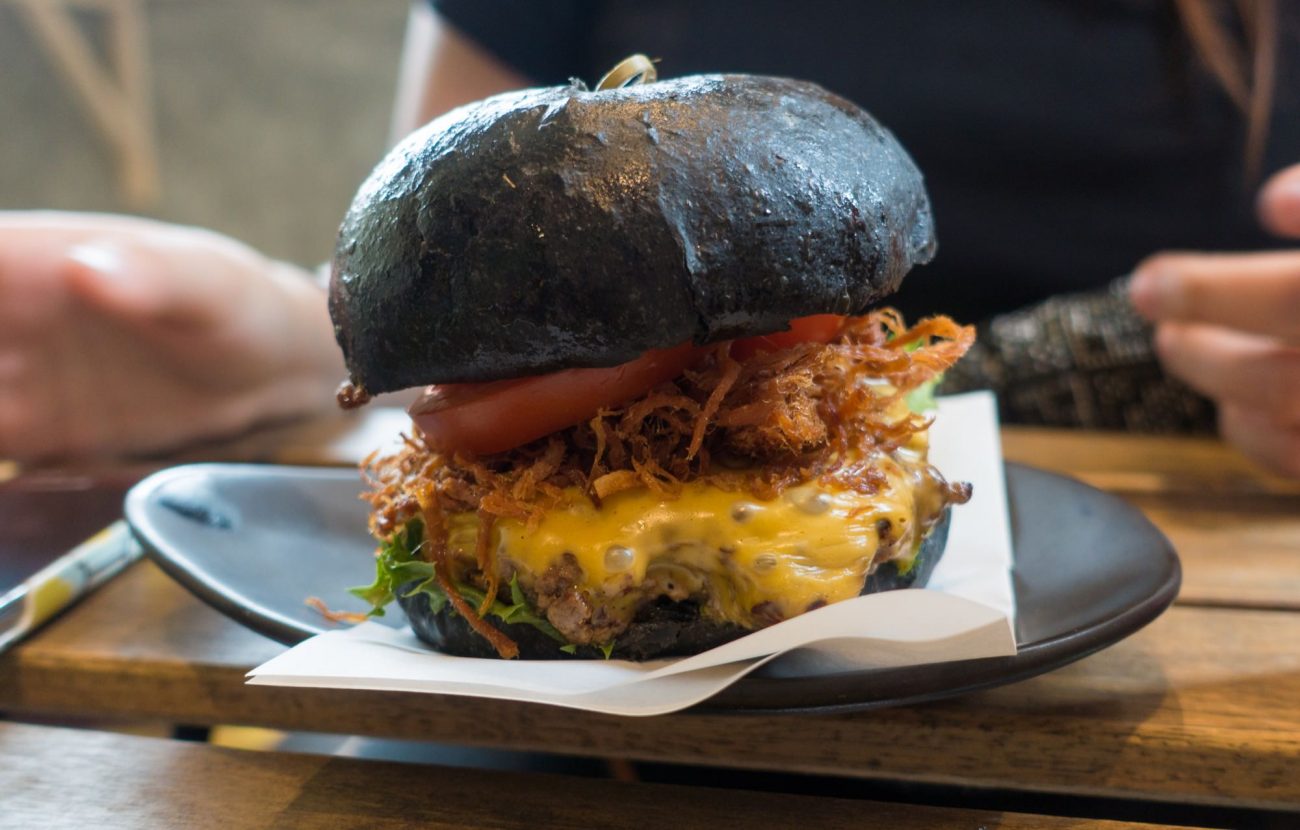 The black burger trend was rampant in Asia when I visited in 2015; even KFC had its own version! While the first concern of black burgers is, "how can this black bun be healthy to consume?" The reality is that activated charcoal is added to the bread dough to give it that signature color, and is not harmful to humans in any way.
This black burger is from PaperButter Burger in Bangkok, Thailand and dubbed the "Chiang Mai Spicy Burger." This incredible creation featured a spicy beef patty, cheddar, pulled pork, onion strings, and their PaperButter sauce. The most memorable thing about this burger was how flavorful it was, just how the Thai love to make their own food.
3. Filet mignon sushi – Florianopolis, Brazil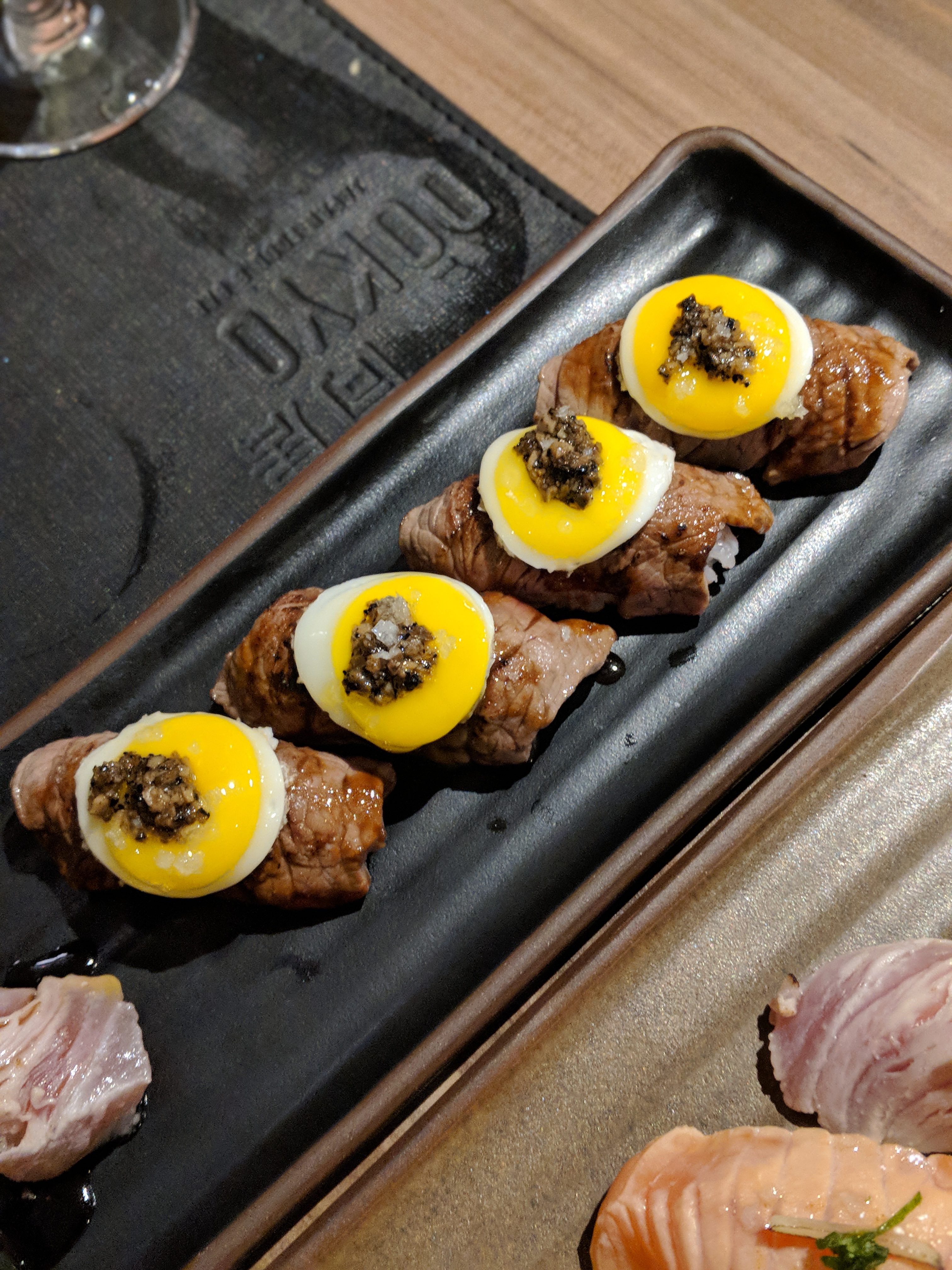 Brazil is home to the second largest Japanese population outside of Japan. That means that they are big on Japanese food, especially sushi. While most of the sushi in the country is similar to what you find in other countries, Dokyo Japan Food & Bar, on the island of Florianopolis, does things a bit differently.
I ordered the Dokyo platter that featured an amped up version of salmon and tuna nigiri along with some other varieties, such as tuna nigiri with a slice of foie gras. But one combination I will never forget is the "filé a cavalo", a nigiri "sushi" with filet mignon, a fried quail egg, black truffles and fleur de sal. While this isn't really "sushi" per se, it does show you the beauty that comes from two cultures melding together in a country.
4. Civet cat coffee – Indonesia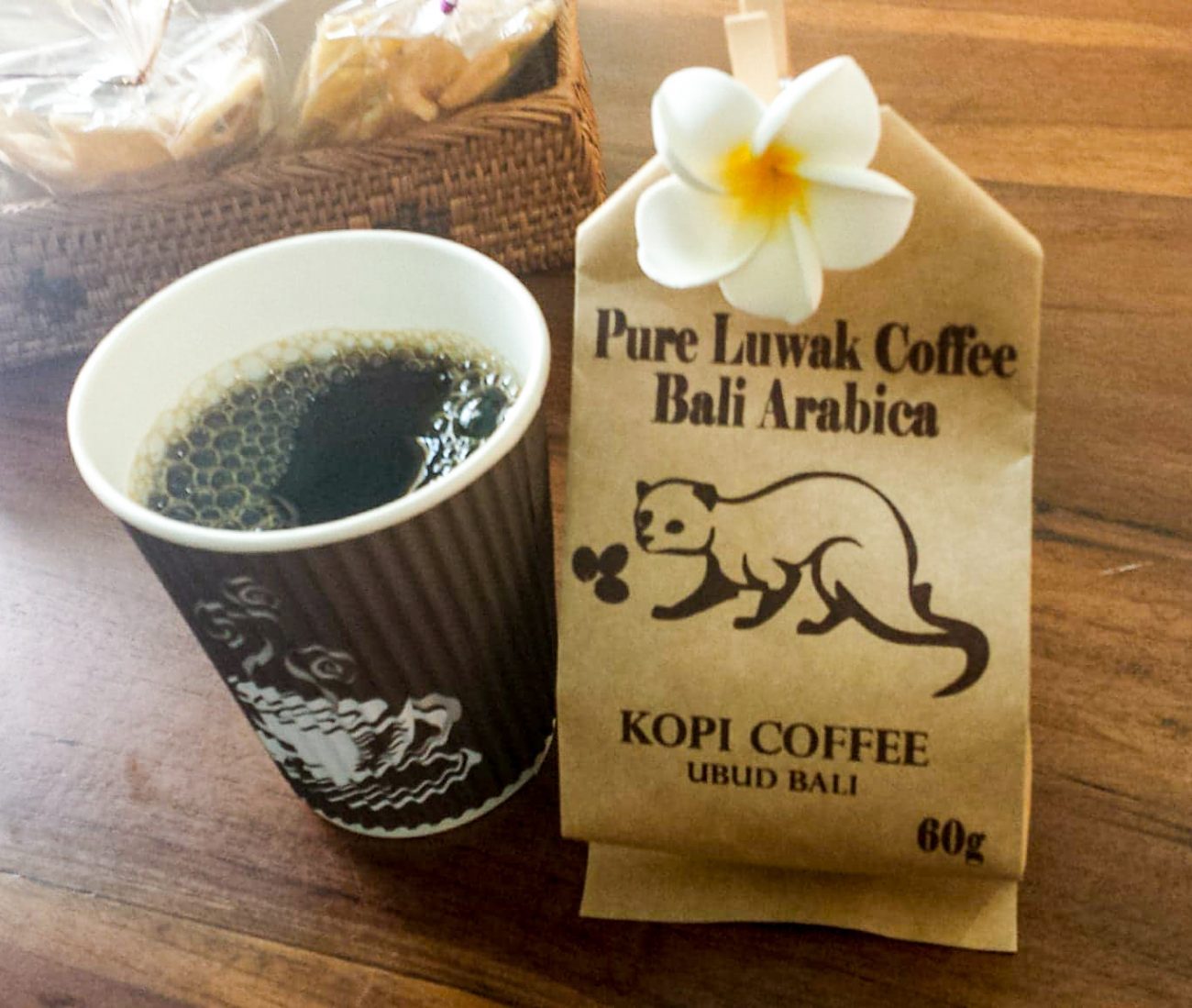 Coffee is essential in my house. I can't even look at someone before I've had a cup. So when I went to Bali I was eager to try the famous "poop coffee." This coffee is something I've heard about back home in the U.S. where it costs an exorbitant amount of money, which is why it's dubbed "the most expensive cup of coffee in the world." But in Bali, it's quite common, though still more expensive than a regular cuppa.
The way this coffee is produced is by feeding the Asian palm civet coffee cherries and waiting until they have passed through its system, which causes them to become fermented. The cherries are then cleaned and roasted before going through the normal coffee-making process. The result is a coffee so flavorful you'll never want to have the normal stuff again. Unfortunately, with prices being so high, it's not something I can have every day but definitely something I would recommend to any coffee lover heading to Bali.
5. Waffle burger – Cafe 51, Melbourne, Australia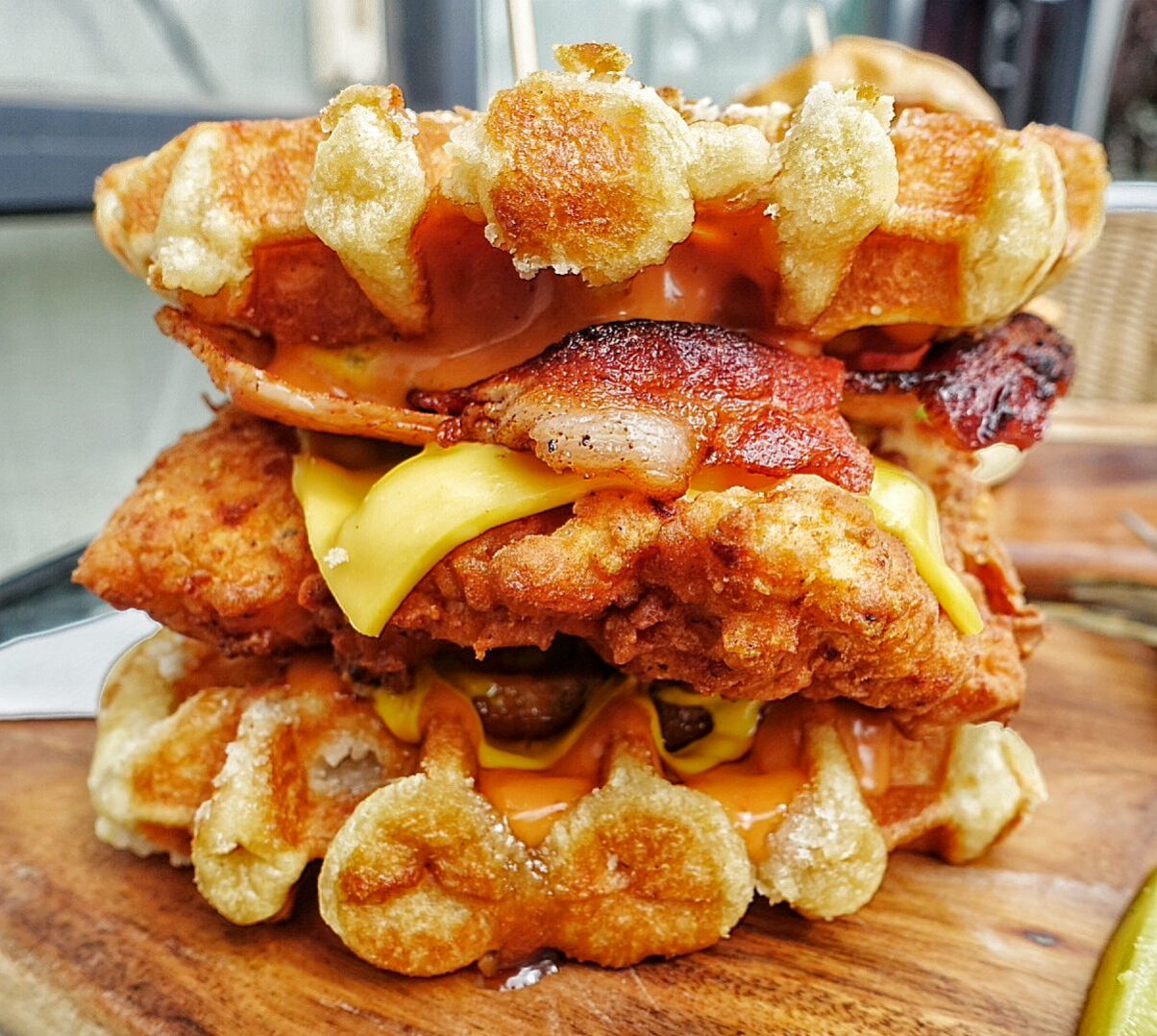 Anyone who's met me knows that I am a burgerholic. In fact, when I lived in Australia I had my own burger blog and needless to say, it was one of the best years of my life. Melbourne is abundant with amazing, delicious foods but their burgers are next level and unforgettable. And the best burger I had there was this incredible creation from Burgerlove, formerly known as Cafe 51.
The amazing people at this establishment reinvented the burger and dubbed this beauty "Soul Sister." The buns have been replaced with fluffy waffles that hold crispy fried chicken, bacon, American cheese, pickles, and a maple syrup, mustard, and chipotle sauce. Sweet and spicy never tasted so good together and it was everything I could have hoped for and more.
To read about a very special Spanish ham that costs $20 for a single ounce, click here!